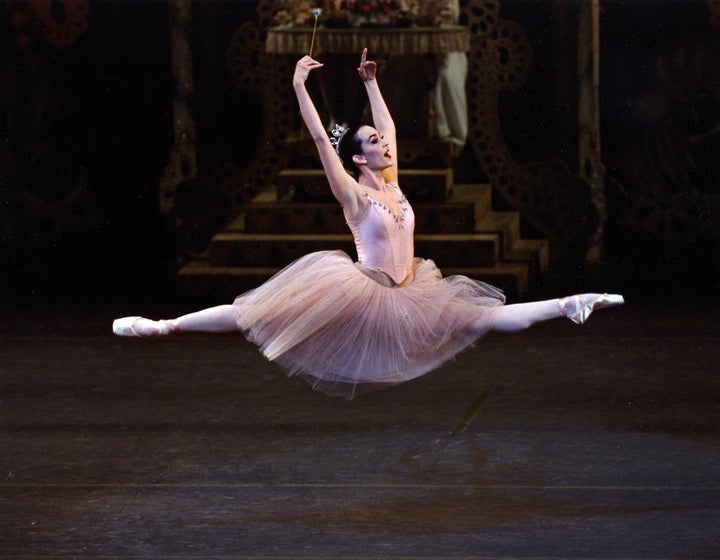 It's no wonder that young adult readers are fascinated by the world of competitive ballet. Even if they aren't dancers themselves, teens are drawn in by the all-consuming dance world (made more intriguing by the general absence of parents) and the focus on romance as male and female bodies intertwine. In time for holiday shopping, two books on young adult life in ballet companies have hit the shelves in the past month -- Sophie Flack's Bunheads and Stasia Ward Kehoe's Audition.
Sophie Flack, a former dancer (and one-time "bunhead") with the New York City Ballet who left her suburban Boston home at 14 to study at the School of American Ballet, has penned a well-paced, semi-autobiographical work of fiction. Her protagonist, Hannah Ward, also left her suburban Boston home for New York City as a young teen, and she now dances with the Manhattan Ballet Company. Flack's spot-on description of Hannah's childhood experiences with ballet (for example, "I'd change into my leotard in the backseat of our minivan and do my bun in the mirrored sun visor. I didn't fit in with the other kids at school, but when I got to the studio, I felt completely at home.") is surely culled from personal experience, and offers a window into the lives and experiences of thousands of young dancers.
Bunheads follows 19-year-old Hannah as she cycles through the annual ballet season, struggling with her identity as she yearns to see what friendship, romance, and daily city life looks like outside of a leotard and tights. As she is pursued by two different men -- one a collegiate musician and the other a wealthy son of a businessman with philanthropic ties to the ballet company --she also deals with the daily stress of competing with her only girlfriends and fighting off changes to her body. Hannah notes that she didn't get her period until she was 18 and while she watches what she eats, she does in fact eat, unlike some of her friends/rivals. As it is for many, Hannah's nineteenth year is a watershed one in which she finds out much about herself, relationships, and professional realities.
Stasia Ward Kehoe's teen ballet novel, Audition, also portrays a young, female, New England-born ballet dancer's struggles with identity, romance (this time with a fellow ballet dancer), and professional aspirations vs. realities throughout a ballet season. 16-year-old Sara has left her hometown in Vermont to train on scholarship with the Jersey City Ballet. Her life is turned upside down as she becomes the worst dancer in her age group and finds herself in a much more rigorous, but stimulating, academic setting. Kehoe's story is far more explicitly sexual than Flack's, as Sara loses her virginity to the older Remington, and then has a somewhat exploitative sexual relationship with him.
Written in verse Audition initially seems like a hefty read, but the pages turn quickly once the reader gets into the rhythm of the words and Sara's story. Kehoe can turn an evocative phrase, like the way she describes the "encrusted hairspray" of the dancer, or the minimalist way in which she describes a dancer's eating disorder:
"The way she counts out raisins -- only six/
To eat between afternoon technique class/
And a grueling evening of variations."
Both Bunheads and Audition emphasize the ways in which "every day is an audition" in the world of competitive ballet. There are many more similarities between the two works -- and to other fictional works about young people in ballet companies -- suggesting some common themes and stereotypes in the ballet world. If you have seen the movie Center Stage you will be familiar with the bad boy ballet dancer/choreographer who rides a motorcycle, like Kehoe's Remington. Or if you have read Toni Bentley's memoir Winter Season you will be familiar with the particular disdain dancers have for The Nutcracker and the horrible tasting fake snow they must dance with almost every night (Note that at times, Bunheads reads like an updated, fictionalized version of Bentley's young life in Balanchine's company of the early 1980s). All four works touch on eating disorders, homosexuality, and injuries. Most importantly they discuss the "ever-present fear of failure" that afflicts all teenagers, but which is heightened in the ultra-competitive, talent-and appearance-based world of dance.
Bentley also notes in Winter Season that ballet dancers are "a funny class of society -- we come from all backgrounds, from mailmen's kids to doctors' and lawyers' kids." This universality allows all of these works to appeal to a broad base, even if the readers aren't themselves dancers. (Another 2011 young adult release, Leap, by Jodi Lundgren, is also about a teen dancer -- though 15-year-old Natalie is a modern dancer living in Canada, so her tale may resonate with fewer readers.) Audition and Bunheadsare especially great picks for today's young readers as they are set in contemporary times, complete with text messaging dramas and traumas. They would make an excellent pas de deux together on any reader's bookshelf.
Calling all HuffPost superfans!
Sign up for membership to become a founding member and help shape HuffPost's next chapter