On Jan. 2, 2017, Memphis' Collage Dance Collective wished its fans and followers a happy New Year on Instagram, posting a stunning photograph of five of the company's ballerinas on Instagram.
The image was re-shared by Taji Magazine two days later and promptly went viral. You can see why.
The world of ballet has long been defined by an allegiance to classical, European tradition. Uniformity is prized ― if not outright worshipped ― and as such, dancers of color have to work twice as hard as their white counterparts to land a job at a dance company or score a coveted role simply because they stand out.
The company's portrait, however, boldly projects a new model for ballet's future, one in which skin isn't automatically presumed to be white. The photo depicts, from left to right, ballerinas Brandye Lee, Daphne Lee, Kimberly Ho-Tsai, Nikki Taylor, and Luisa Cardoso ― dancers of African-American, French Guianese, and Brazilian descent. The image envisions an environment where dancers are evaluated by their skill and style, regardless of skin tone, gender identity, or socioeconomic background.
The image's photographer, Andrew J. Breig, embedded subtle nods to ballet's outdated racial biases throughout his image. Each dancer, an "original swan of color," dons white apparel that was specially dyed to match the tone of her skin. The gesture alludes to the fact that, in the realm of ballet gear, "nude" leotards, tights, and toe shoes are made to match to a white skin tone ― framing brown dancers as anomalies.
In an interview with Yahoo! Beauty, the company's marketing director Shalishah Franklin explained the crucial necessity of diverse representation in the dance scene in 2017 and beyond.
"We are deeply concerned by the underrepresentation of black ballerinas, not only in mainstream media, but in professional companies and ballet schools worldwide," she said.
"This pervasive lack of representation within our industry and our media is a continued call to action for our company, to inspire the growth and diversity of ballet through a repertoire of relevant choreography and world-class dancers representative of our community."
For too long, ballerinas of color have been relegated to the sidelines because of antiquated traditions that unquestionably dilute the quality of professional dance.
But luckily, there are signs of change. In an interview with Mashable, Virginia Johnson, a founding member and artistic director of New York City's famed Dance Theatre of Harlem, predicted that race in ballet would no longer be a topic of discussion in just three to five years.
Let's hope 2017 takes us way closer to that goal.
Related
Before You Go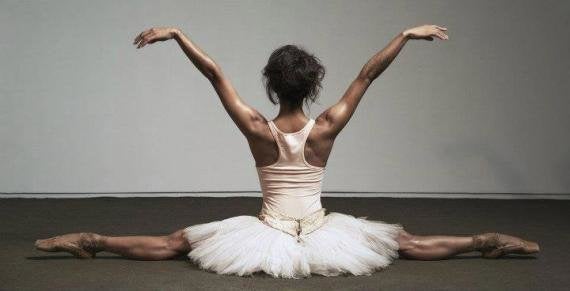 Ballet Dancers Changing the Landscape