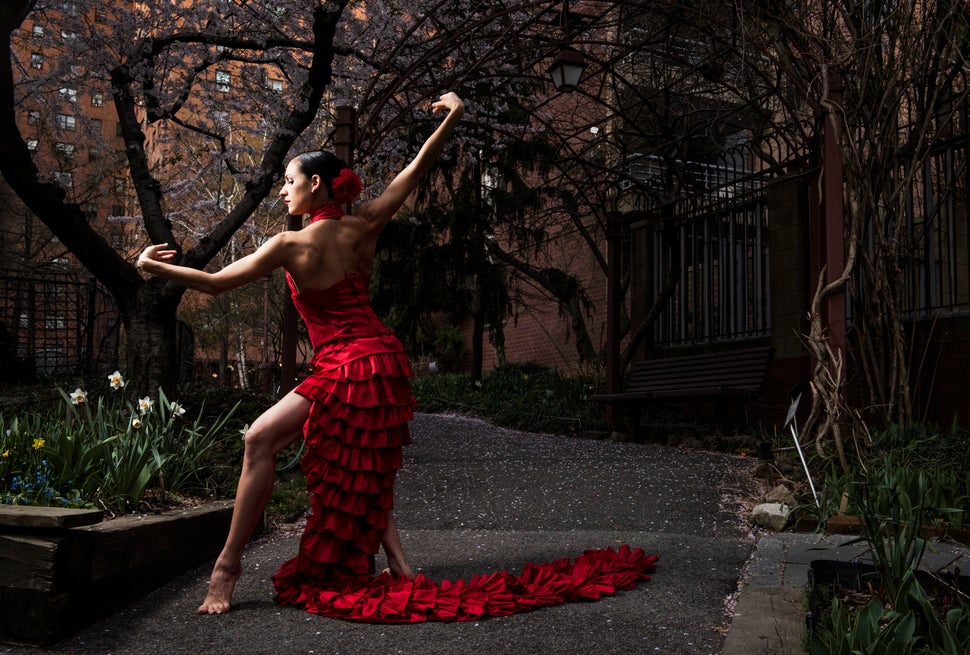 A small number of residents from Manhattan's Upper West Side gathered in a community garden on Tuesday to watch as members of Ballet Hispánico posed for a photo shoot. The dancers were dressed in the costumes they'll wear onstage at the Joyce Theater later this month, where they'll be performing three works by Latina choreographers, all of whom are women. 
Founded in 1970, Ballet Hispánico defines itself as a community-building institution dedicated to exploring the diversity of Latino culture, involving dancers and choreographers from Venezuela, Cuba, Trinidad, Puerto Rico, Mexico, Spain, Brazil, Argentina and Colombia in a mix of classical, Latin and contemporary dance. This year, its New York Season will not only celebrate the depth of expression found in the various corners of Latin America, it will shine light on the women creating art in a traditionally male-dominated field.
"Ballet Hispánico was born out of the need to give voice to Latino/Latina artists at a time when they did not have a strong presence in mainstream performing arts," Eduardo Vilaro, the artistic director of Ballet Hispánico since 2009, told The Huffington Post. Today, the company is taking its mission a step further, by choosing to honor the female choreographers who are seizing positions of leadership in dance: Michelle Manzanales, Annabelle Lopez Ochoa and Tania Pérez-Salas.
"It is imperative that we nurture and give voice to those who may not have opportunities within the field," Vilaro added. "By nurturing and celebrating the work of these Latina artists, Ballet Hispánico hopes to contribute to the process of making the dance field more equitable."
Vilaro's sense of duty to marginalized voices is heightened, he says, by the company's 46-year legacy in New York City. Since the 2015 opening of Ballet Hispánico's Arnhold Center on 89th Street ― with its unmistakable banners and open windows ― the organization has embarked on a five-year plan to nurture its relationship with the neighborhood it calls home. It's doing so by hosting free performances, outdoor events and Hispanic heritage celebrations. Judging by the public's captivation upon seeing dancers like Melissa Fernandez and Lyvan Verdecia leaping in front of a nearby parking garage, local interest is pronounced.
"The photo shoot certainly underlined the magic and richness of culture that Ballet Hispánico brings to the Upper West Side," Vilaro added. "It is our duty to continue this legacy and build upon it as we navigate the terrain of today's immigrant and race relations and the new challenges that our communities face."
Ahead of the company's April 18 debut at the Joyce, HuffPost's Damon Dahlen ventured to the Upper West Side to photograph members of Ballet Hispánico in the familiar spaces just beyond its front doors. Check out images of Fernandez, Verdecia and other members of the company paying tribute to their neighborhood in the best way they know how: through dance.
Ballet Hispánico's 2017 New York Season at the Joyce Theater will take place April 18-23, featuring "Con Brazos Abiertos" by Michelle Manzanales, "Línea Recta" by Annabelle Lopez Ochoa and "3 Catorce Dieciséis" by Tania Pérez-Salas.
Calling all HuffPost superfans!
Sign up for membership to become a founding member and help shape HuffPost's next chapter
BEFORE YOU GO