Earlier this month, Irish singer-songwriter Hozier debuted his newest music video for the Grammy nominated ballad, "Take Me to Church." The four-minute visual tease, directed by artist David LaChapelle, introduced ballet novices to Moscow-based dancer Sergei Polunin, a man who rebels against the dance establishment as much as he does standard laws of physics.
In the video, Polunin glides through a sun-lit building wearing little more than the tattoos permanently inked across his body, spending more time than the average human inches and feet above the floor. From one tortured step to another (all choreographed by by Jade Hale-Christofi), it's nearly impossibly to peel your eyes away from his effortlessly lithe body. Even for those unfamiliar with the world of dance, there's no denying the jaw-dropping beauty infused into every moment of Polunin's performance. Cue heavy breathing and mock fanning.
We posted the video last week and our readers responded accordingly -- nearly one million people have liked the work on Facebook alone. The comments range from "brilliant" and "extraordinary" to "I'm not sure why but this performance brought me to tears." It's as close as we've ever come to experiencing a critical consensus. In summary, people seem to agree that Polunin's sexually disquieting showmanship elevates Hozier's hit to new heights.
So, after rewatching the video several dozens of times more, we wondered: Why don't more musicians collaborate with ballet's greatest? It seems such a natural fit, emphasizing the strengths of pop music with the romantic aesthetic and athleticism of Polunin's kin? Sure, some performers like Beyonce and Bruno Mars bring their own dance talents to the mix, but nothing seems quite as captivating as an artist who's devoted the better years of his life to honing and refining every muscle movement and rhythmic twitch.
There is, of course, a brief history of pop music making nice with the fine art of ballet. And we were happy to readdress those moments here. Because, if not for the sheer enjoyment, we'd like this roundup of dance-centric videos to serve as a PSA of sorts: Dear pop musicians, please look to the world of ballet. Think tanks are pondering the future of ballet, and how the branches of classical arts can reach the masses, but you can provide an answer. We endured years of droll mashups like "Step Up" and "Center Stage," but finally, Hozier is giving us what we want.
Behold, a brief history of ballet invading pop music:
Florence and the Machine's "Spectrum"
Extra: David LaChapelle also directed this video.
If anyone can make the lyrics "let's have a toast for the douchebags" beautiful, it'd be ballerinas.
Money's "Hold Me Forever"
Directed by Cillian Murphy, this video zooms in on the intimate moments between two dance partners.
This 2014 video has only several glimpses of professional ballet, but the underlying narrative ends with two individuals finding solace in a "Big Ballet."
Polica's "Wandering Star"
Choreographer Yemi AD combines modern dance with ballet in a truly stunning, paint-splattered display.
Maddie Ziegler is classically trained as a ballet dancer. So.
Jamiroquai's "Canned Heat"
This is technically not a music video. But it might as well be.
Related
Before You Go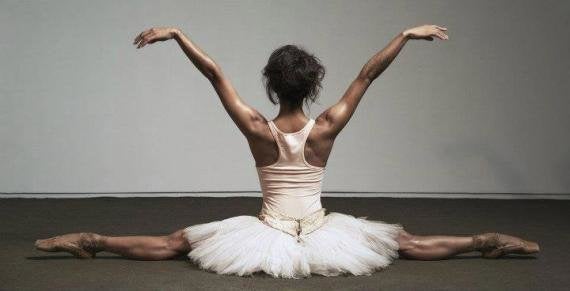 Ballet Dancers Changing the Landscape
Popular in the Community