Since the 1930s, George Balanchine's dancers have occupied the Upper West Side, gracing the streets with their heads up high, shoulders back and feet elegantly turned out. Those who studied under the prolific New York City Ballet choreographer had a very particular look, too: They tended to be fair-skinned and feminine with an innocent, doll-like quality.
But it's been 30 years since Balachine's death, and the New York City Ballet has certainly changed since its beloved co-founder passed. Nowadays, the NYCB dancers are more concerned with blending in with the city's trendy, contemporary style, as we learned on a visit to Lincoln Center to speak with the dancers themselves.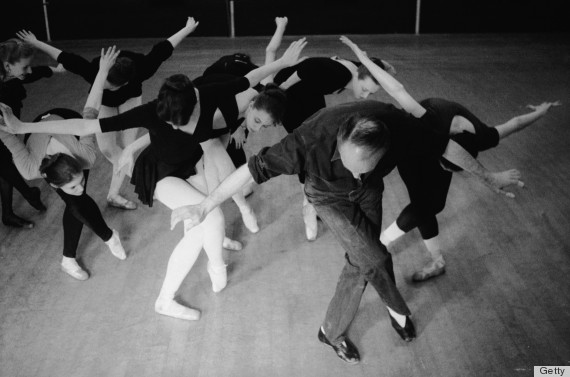 George Balanchine with dancers in 1962
"I definitely don't feel like I dress like a ballet dancer," says Tiler Peck, a principal dancer at NYCB who is performing in the current production of "All Balanchine Black & White." Peck hails from sunny California but has embraced dark colors, leather jackets and boots as her city uniform. As much as she loves "people clothes," however, Peck spends the majority of her time wearing a leotard and tights, like the rest of the company's dancers.
Take one peek into the rehearsal room, and it's clear that not one leotard style fits all, though. Peck wears a bright purple number with black tights and striped, thigh-high leg warmers, which she'll take on and off throughout the day as it gets pretty cold in the studio and pants are too cumbersome. Gretchen Smith, a corps de ballet dancer, shows up in a geometric printed blue leotard.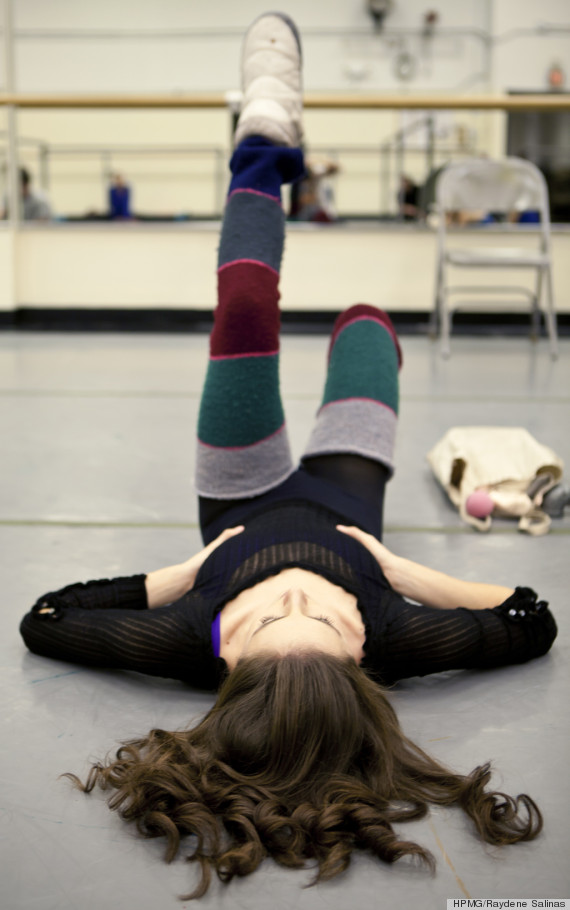 Tiler Peck
"I'm very scissor-happy when it comes to what I wear at work," Smith, an Indiana transplant, says. "A lot of people are just like, 'You cut that again?' I just don't like to feel inhibited."
It's not uncommon for the dancers to take matters into their own hands when it comes to rehearsal style. "A lot of times I think of something I want to wear, and I don't have it or it doesn't exist," says principal dancer Janie Taylor. "So I'm like, 'Well, I'll just make it.'" Fortunately, Taylor knows her way around a sewing machine, turning up in a solid turquoise leotard with ruched shoulders, one of her original creations.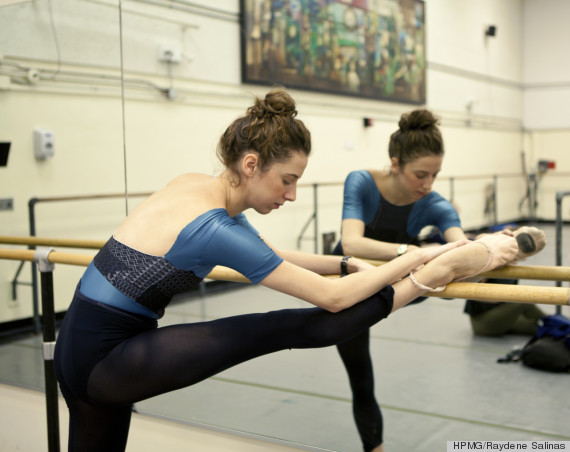 Gretchen Smith
Trends amongst NYCB dancers vary, with some opting to wear "trunks" (briefs worn under leotards during performances) and a t-shirt while others grab a pair of scissors to cut a bra-top out of a pair of tights (see photo in slideshow below). Then, of course, most of the ladies in rehearsal wear their footless tights over their leotards with the ends rolled up above their ankles because it "feels more casual," says Peck.
These nuances are just some of the ways ballet dancers can express their style in a week packed with up to 7 performances and 6-hour a day rehearsals. Often times, the outfits they wear to and from work only see the light of day during their brief commutes to Lincoln Center. So where does that leave their personal style?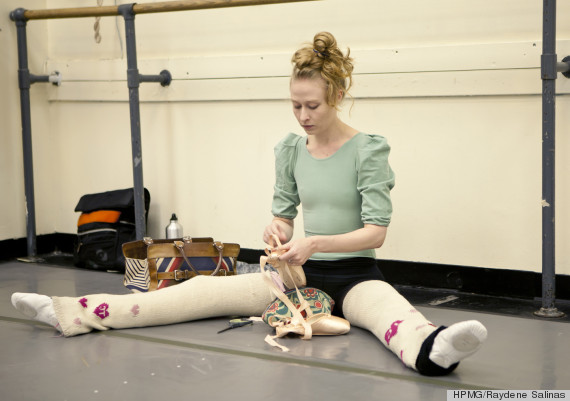 Janie Taylor
"When you know you're going to walk for five minutes and then take everything off again, it just kind of puts a damper on it," Taylor admits. It may be easy to feel discouraged, but Taylor goes for bright pops of color, bold accessories and layers when she's off duty -- hardly the look of a woman who's been defeated in the fashion department.
In fact, it seems like the dancers' rigid style schedule has only served as motivation to amp it up when they're not performing or in rehearsal. "I find a difference now in how I dress when I'm not working," Smith says. "I put a little bit more time and effort." Though she prefers flats, Smith has her go-to heels for when December rolls around and her calves are "blown out" from performing Balanchine's "The Nutcracker" for weeks on end: J. Crew's wedges.
"The plastic from the wedge absorbs your shock when you're walking," she says. "It gives your calves a break. And it's cute."
These ladies may not fit the mold of your archetypal, prissy ballerina, but they're sure unique and they definitely have style. Something tells us Balanchine would be proud.
See more photos of their style in the slideshow below: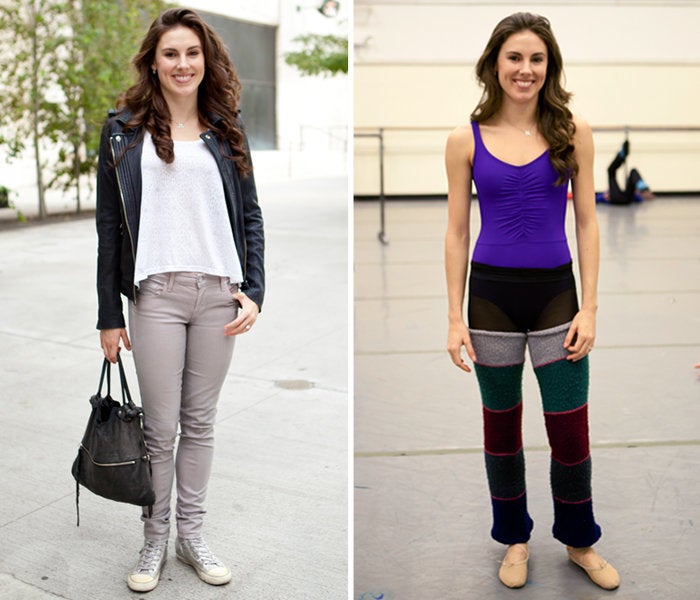 New York City Ballet Dancer Style
This story appears in Issue 78 of our weekly iPad magazine, Huffington, available Friday, Dec. 6in the iTunes App store.
Related