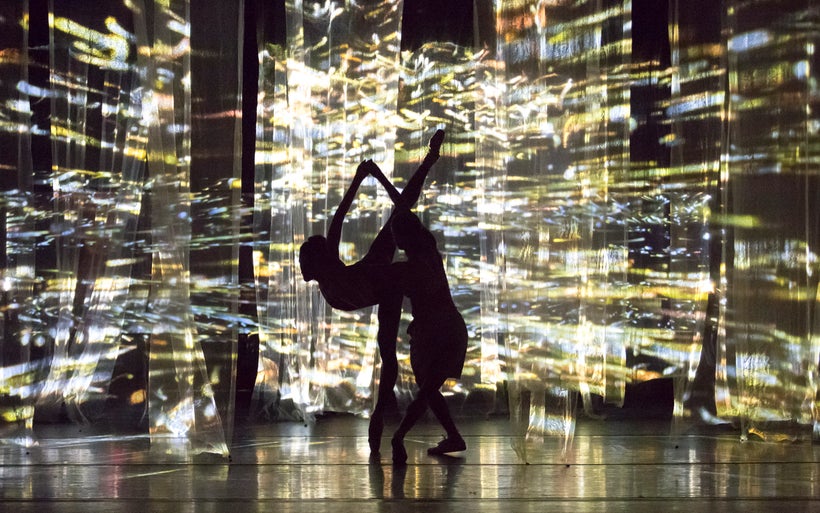 The moment the heavy curtains open to reveal BalletCollective's Translation is breathtaking. The projected lights scatter and blaze like luminous fireflies against the hanging translucent veils. We are suspended in silence, in captive reverie. Trails of light surround the slowly unfurling silhouettes of dancers. The only vibrations in the air are the rising ethereal chords and synthesized loops, performed live by commissioned composer Julianna Barwick. The layers of sound faintly resemble a choir of crickets at the end of summer, transporting us to an unmoored moment in a nameless place, tinged with the hues of nostalgia and foreignness.
BalletCollective's works are based on a unique multidisciplinary collaborative creative process, which brings together choreographers, composers, visual artists, and writers. Each BalletCollective project takes inspiration from a piece of source art and can take a year to develop. Translation is choreographed by New York City Ballet soloist and founder of BalletCollective Troy Schumacher and inspired by a commissioned essay, "The Plot of Our Lives," by speculative fiction Hugo Award-winning author Ken Liu. The piece is part of a collection of BalletCollective works performed at NYU Skirball. Other pieces include the premiere of "Orange," a deft piece marked by nuanced, detailed gestures, choreographed by Gabrielle Lamb and based on source art from Trevor Paglen.
As an admirer of the achingly rich emotional depth of Liu's work ("The Paper Menagerie" from his recently published collection of short stories won't just pull on your heart strings— it scoops one's heart out of one's chest) and the effortless, otherworldly nature of Barwick's compositions (listen to her wordless "Heading Home," "Labyrinthine," or "The Magic Place" for a taste of her hypnotic reverb), I was curious to see how their work would meet. The beauty is discovering that such collaborations can create something completely new and ingenious, more than simply the sum of its individual parts.
Translation has stunning grace and gorgeous, glowing visuals. The duets are spectacular and weightless. The piece has mixed undercurrents of yearning and separation, connection and alienation. At one point, a lone dancer stands still as the flecks of light fly past. The lines between being a passenger and bystander are blurred. It's uncertain if the journey is forward or backwards, coming or going, much as Liu describes:
We are children sitting in the last row of rear-facing seats in a station wagon traveling down time's highway, greedily drinking in the scenery only as it recedes into the past.
The blended visions of these artists (choreographer, writer, musician, composer, performers, set, costume, and lighting design)— apropos its title— translate beautifully.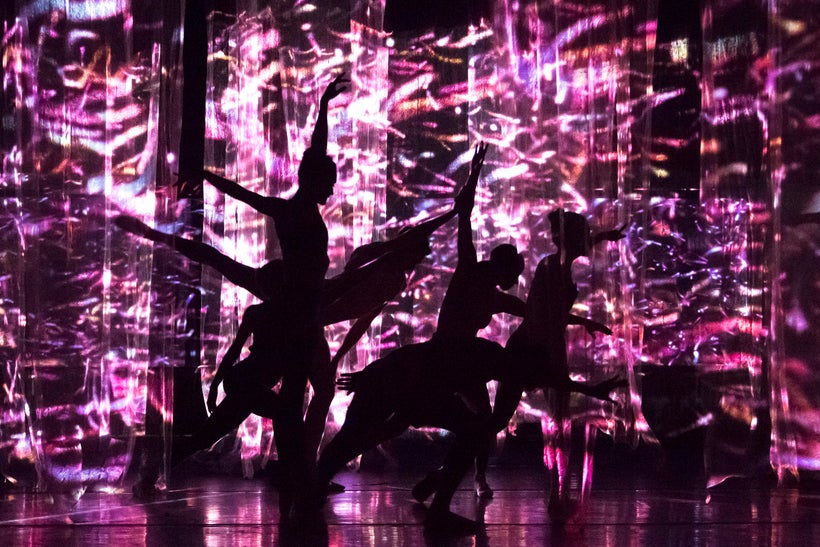 Calling all HuffPost superfans!
Sign up for membership to become a founding member and help shape HuffPost's next chapter
This post was published on the now-closed HuffPost Contributor platform. Contributors control their own work and posted freely to our site. If you need to flag this entry as abusive,
send us an email
.