HONOLULU, Hawaii ― People in Hawaii received alerts Saturday morning warning of an approaching missile and instructing people to seek shelter, but authorities quickly declared the messages were sent in error.
"BALLISTIC MISSILE THREAT INBOUND TO HAWAII," read a mobile push notification delivered around 8 a.m. local time. "SEEK IMMEDIATE SHELTER. THIS IS NOT A DRILL." In hotels, guests heard a similar message over intercoms as others were interrupted while watching TV.
The Hawaii Emergency Management Agency and Honolulu Department of Emergency Management assured Twitter followers there was no missile threat to the state shortly afterward.
Authorities confirmed there was no impending threat within 5 to 10 minutes of the alert, after contacting the state's civil defense, Cpl. L. Miller of Honolulu Police Department's Kahuku substation told HuffPost. But why it took so long to notify the public is still unclear.
"If the alert was real, the sirens would've went off at the same time," Miller said, adding that people would have around 15 minutes to take cover.
A correction was not sent to mobile phones, however, until around 38 minutes after the initial alert.
"There is no missile threat or danger to the State of Hawaii. False Alarm," it read.
Honolulu Mayor Kirk Caldwell and congresspeople from the state, including Rep. Tulsi Gabbard (D) and Sens. Brian Schatz (D) and Mazie Hirono (D), all posted messages to social media to quell fears, calling the alert a "false alarm."
The alert forced the U.S. Pacific Command, which is headquartered in Honolulu, to ensure the world via Twitter it was sent in error.
"I know first-hand how today's false alarm affected all of us here in Hawaii, and I am sorry for the pain and confusion it caused," Hawaii Gov. David Ige said in a statement released hours after the incident. "I, too, am extremely upset about this and am doing everything I can do to immediately improve our emergency management systems, procedures and staffing."
In a previous statement, Ige said that although he was "thankful" the alert was only a false alarm, "the public must have confidence in our emergency alert system."
Minutes after the message was broadcast across the islands, Rep. Gabbard told CNN that "the people of Hawaii just got a taste of the stark reality of what we face here of a potential nuclear strike on Hawaii."
"This is a real threat facing Hawaii," she added.
Gov. Ige told CNN that the alert was mistakenly sent after an employee "pushed the wrong button."
"It was a mistake made during a standard procedure at the change over of a shift, and an employee pushed the wrong button," Ige said. The false alert was broadcast statewide to residents' cell phones, and on TV and radio.
Vern Miyagi, the administrator of Hawaii's Emergency Management Agency, took responsibility for the scare during a press conference with Ige.
"It's my responsibility, so this would be my fault," Miyagi said. "We'll take action to prevent this from ever happening again."
Five hours after the false alert was corrected, Ige's office issued a timeline detailing what happened and how officials responded:
At 8:05 a.m., the Emergency Management Agency initiated a "routine internal test" as employees changed shifts. Two minutes later, the warning test was triggered statewide.
At 8:10 a.m., the U.S. Pacific Command verified with Maj. Gen. Joe Logan, the state adjutant general, that there was no missile launch and the Honolulu Police Department was notified of the false alarm.
At 8:20 a.m., the EMA alerted the public of the false alarm via Facebook and Twitter and Ige soon followed suit.
At 8:45 a.m., 40 minutes after EMA employees changed shifts and initiated the itnernal test, EMA sent out an official alert notifying residents of the false alarm. This alert was sent out to residents' phones, as well as radio and TV broadcasts.
In response to the false alert, the Hawaii Emergency Management Agency will require two people to sign off on alerts before they are broadcast, according to Ige's office.
The agency has also installed a "cancellation command" that can be automatically triggered within seconds if an error alert is accidentally broadcast.
All emergency warning drills are suspended until EMA completes a full analysis of Saturday's mishap.
In the remote town of Haleiwa, more than 30 miles from Pearl Harbor on the island Oahu, residents were confused and afraid when they received the alert.
Some residents pulled over in their cars to alert pedestrians to take cover.
Vanessa Denino, 28, was on the southeast side of Oahu visiting her boyfriend and his family in a suburban area when the mobile notifications were sent. Although they didn't hear sirens or any commotion outside, the group moved away from windows in the home and turned to the internet to figure out what was happening.
"We were really scared," she said. "It was a really scary time."
Jamile Qureshi, who lives on the north shore of Oahu, was at the beach with a handful of people including his wife and 5-month-old when everyone's phones started dinging in unison.
"We just started freaking out and running," he said. Qureshi, 40, and his wife put their infant and their dog in the car along with water and a few essentials before speeding over to his parents' home nearby.
Both Qureshi and Denino noted that there were few, if any, bomb shelters in the area and that homes are generally constructed without basements.
Chris Wall, a 33-year-old graduate student at the University of Hawaii, had just left his home in Honolulu to go bodysurfing at a beach on the island's east side when he received the alert. He immediately turned the car around and sped back to his wife and newborn child.
Once home, the couple began filling water bottles and latching windows shut. They tried to call 911 but the phone wouldn't ring, Wall said. Eventually they saw a social media post from Rep. Gabbard indicating it was a false alarm.
"It was just complete panic, with neighbors running around looking for insight, looking for cover," Wall told HuffPost. "Babies crying. Just pandemonium."
Wall added that state officials need to sort out what went wrong and ensure it doesn't happen again.
"Thirty-eight minutes is just unacceptable," he said, referring to the time that went by between the initial alert and the correction. "I'm sure that people were put in serious danger."
The Federal Communications Commission said it was launching a full investigation.
Hawaii House of Representatives Speaker Scott Saiki blasted emergency agencies, saying that they put in place to protect Hawaii residents had "failed miserably."
"I am deeply troubled by this misstep that could have had dire consequences. Measures must be taken to avoid further incidents that cause wholesale alert and chaos today," he said in a statement to ABC News. "Clearly, government agencies are not prepared and lack the capacity to deal with emergency situations."
Before You Go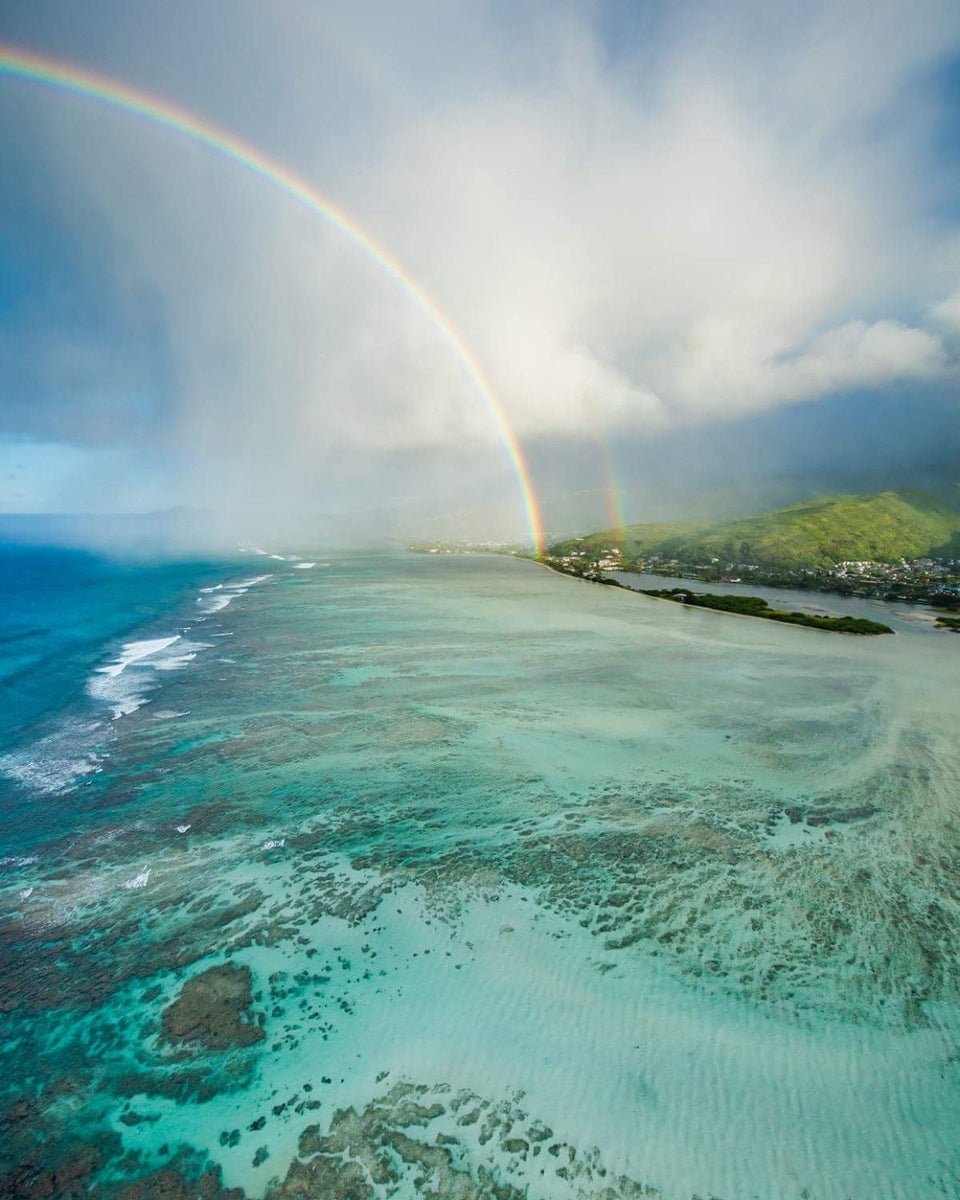 Aerial Hawaii Photos
Popular in the Community