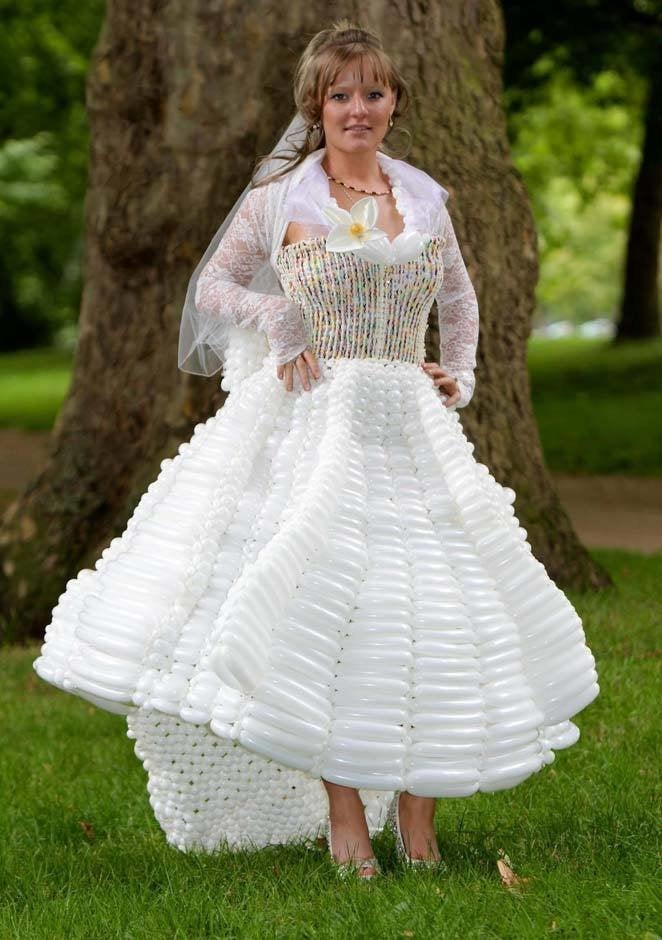 When a bride walks down the aisle, she should feel like she's floating on air -- so maybe a wedding dress made out of balloons isn't such a crazy idea.
One woman who likes the idea of balloons as clothing -- or at least wearable art -- is Thelma Levett, 55, a balloon artist in Leicestershire, England.
Now Levett's career is blowing up big, thanks to a wedding dress she recently made that was inspired by the one Kate Middleton wore at her wedding earlier this year.
"It's not a replication," she told HuffPost Weird News. "The Daily Mail said that and now I'm getting all sorts of comments. I never claimed it was Kate Middleton's dress -- that wouldn't translate to balloons -- but it is in the spirit."
Levett has spent the past 16 years expanding the notions of what a balloon can do. And it's finally paying off. Last November, she was declared "International Balloon Twister of the Year" by Ralph Dewey, a balloon artist from Deer Park, Texas, who annually gives out honors to folks like Levett who are furthering the craft.
"It's a very prestigious honor," she said.
Levett's latest dress has more than 5,000 balloons and took more than four days to blow up. But not every balloon was inflated.
"I did a bodice with inflated balloons, but my daughter, who modeled the dress, didn't like the way it added inches to her waist, so I weaved uninflated balloons together," she said. "It took a couple of months."
She designed the dress in such a way that there won't be an annoying squeaking noise when the bride walks down the aisle -- something that could put a pall on any wedding day.
"That won't happen," she emphasized. "Not unless the undergarments are balloons as well."
Levett says her one-of-a-kind wedding dresses usually have a short shelf life, so it's unlikely that any balloon-loving bride will be able to pass her dress along to her daughter.
"The air lasts about three days, less if it's helium, and more if it's filled with nitrogen," she said.
Levett would like to make other wedding dresses -- which she says cost at least $812 each -- but there is one potential customer who won't be buying: Her 22-year-old daughter, Vicky, who is the model for this balloon dress and who is getting married in February.
"She's had to put up with this for 16 years and, while she appreciates it more than she used to, I think she wants to wear something more elegant."
PHOTO GALLERY
Wacky Weddings and Proposals
Calling all HuffPost superfans!
Sign up for membership to become a founding member and help shape HuffPost's next chapter