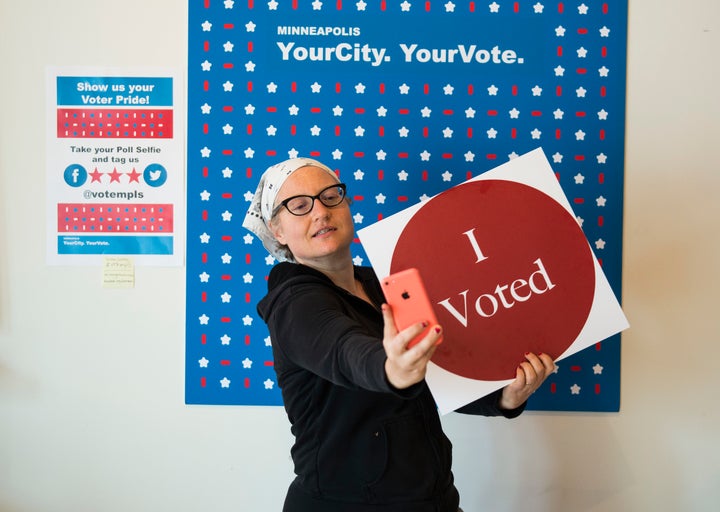 An appeals court on Wednesday ruled that a New Hampshire ban on snapping a selfie while casting a ballot violates the free speech rights of voters.
In a unanimous decision, the U.S. Court of Appeals for the 1st Circuit invalidated the ban, noting that it "affects voters who are engaged in core political speech, an area highly protected by the First Amendment."
"New Hampshire may not impose such a broad restriction on speech by banning ballot selfies in order to combat an unsubstantiated and hypothetical danger," said U.S. Circuit Judge Sandra Lynch in her ruling.
"We repeat the old adage: 'a picture is worth a thousand words,'" she added.
The American Civil Liberties Union of New Hampshire challenged the ban in federal court on behalf of three Republican voters who were being investigated for the offending conduct during the state's primary in 2014. One of them, unhappy with his party's choices for the U.S. Senate, had taken a selfie after writing in his dead dog's name.
The state defended the measure, arguing that it existed "to prevent new technology from facilitating future vote buying and voter coercion."
A lower court last year didn't buy that justification and struck down the prohibition, noting that New Hampshire had offered no evidence that either of those evils had happened since the late 1800s. The appeals court on Wednesday didn't buy it, either.
"New Hampshire admits that no such vote-selling market has in fact emerged. And to the extent that the State hypothesizes this will make intimidation of some voters more likely, that is no reason to infringe on the rights of all voters," Lynch wrote.
The ruling represents a victory of sorts for Snapchat maker Snap Inc., which filed a brief in the case and was hoping the state ban wouldn't survive constitutional scrutiny. The company got several shoutouts in the ruling.
"Amicus Snapchat stresses that younger voters participate in the political process and make their voices heard through the use of ballot selfies," the court observed in one footnote, which also pointed to research on how voters often flock to social media to publicize how and for whom they vote.
In a statement, the social media giant praised the ruling.
"Today's ruling is a victory for free speech in the digital age," said Chris Handman, Snapchat's general counsel. "We're thrilled the court recognized that ballot selfies are an important way for Americans ― especially younger Americans ― to participate in the political process."
As for everyone else outside of New Hampshire, check with local election authorities before you Instagram your vote in November.
Calling all HuffPost superfans!
Sign up for membership to become a founding member and help shape HuffPost's next chapter