Baseball is an American tradition, but over the years, Dominicans have started to claim the sport as their own, and rightly so, as more and more players have been recruited from the small island. Twenty percent of professional baseball players in the United States, in the minor and major leagues combined, come from the Dominican Republic.
In 2009, shot over the course of nine months, co-directors Ross Finkel, Trevor Martin and Jon Paley, collectively known as Gua Gua Productions, set out to the Dominican Republic to answer one question: Why are Dominicans so good at baseball?
"We thought we would find a simple answer to why Dominicans are so good at baseball. The reality is much more complicated than that," Jon Paley, one of the directors of the film, tells The Huffington Post.
Their documentary "Ballplayer: Pelotero" takes an eye-opening look at the questionable scouting system for young baseball players in the Dominican Republic. The film follows the story of two top shortstops, Miguel Angel Sano and Jean Carlos Batista, who are about to turn 16 years of age. This is the magic number for Dominican prospects, the age MLB allows them to sign, the age they command the biggest bonuses and can possibly move up to the majors.
Over the eight months, you will watch Sano and Batista's story unfold, which turns out to be a much more complicated endeavor that anyone could ever anticipate. However, their story, although an important one, doesn't shy away from the fact that the recruitment process in the Dominican Republic proves to be a potentially exploitative one.
"We made this film as much as for the Dominicans as the American audience. It's important to us that they see it because it's their story," Paley explains.
For the past 20 years, the Dominican system has produced superstar after superstar at "bargain basement prices": Miguel Tejada, Vladimir Guerrero and Danny Ortiz signed for less than $4,000 each, according to the documentary, compared to top American prospects signing for over a million dollars.
For children in the Dominican Republic, the choice to send a young boy to baseball training camp is a family decision. Around the age of 12, the child then drops out of school to play baseball full-time. It is estimated that there are 100,000 boys between the ages of 12-18 competing for a couple hundred contracts each year, so the chances of them signing is extremely slim. Baseball is seen as the only way out of extreme poverty.
"They play it because it's their only option. They don't have other choices. They don't have jobs that they could get if they went to high school or college," Paley said.
As one of the Dominican trainers in the film explains, young peloteros are a lot like sugar cane, the country's principal cash crop: You raise them and nourish them and ripen them, and then, when the time is right, you harvest and sell.
Investing in a young player is another story. Trainers in the Dominican Republic work off commission. They train, educate, house and feed the players for three to five years and get nothing in return unless their player gets signed. Trainers received 35% of the signing bonus which may sound outrageous, but if their player doesn't get signed they get nothing.
Paley said that if somebody is the best baseball player, it doesn't matter where they are from, they should be recognized and be paid accordingly. That is unfortunately not the system in the Dominican Republic.
However, even after uncovering many harsh realities, Paley still remains a die-hard baseball fan and that will not change, he says. "At the end of the day, what we want people to take away is that baseball is good for the Dominican Republic, we just need to make it better," Paley said.
"Ballplayer: Pelotero" opens nationally today at select theaters. It's also available on-demand from cable and satellite providers, and from iTunes, Amazon, VUDU and other digital providers.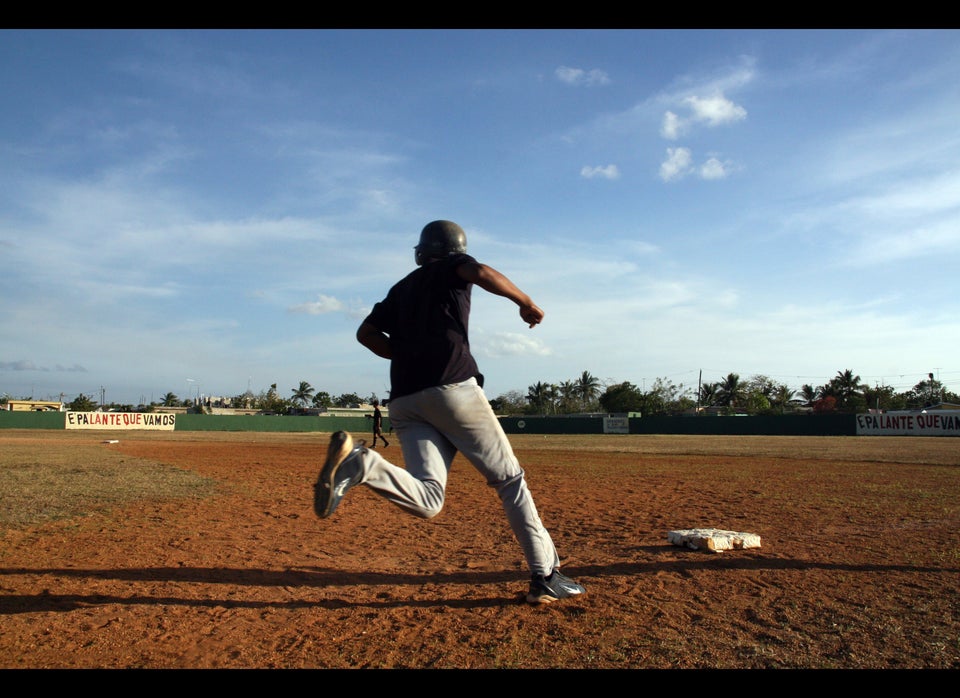 Ballplayer: Pelotero, Documentary Tells The Story Of Dominican Baseball Players
Popular in the Community