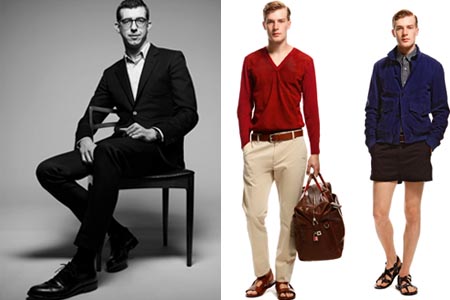 Since taking over the creative direction of the men's division of Swiss luxury label Bally, Graeme Fidler has made it his mission to bring Bally to modernity while remaining true to its DNA. "I want to evolve the menswear," Fidler said when I interviewed him at the Bally store in Hong Kong in late 2010, a few months after taking over as menswear designer. "I want to remain consistent to the fundamental philosophy and DNA of the brand and to build collections that are relevant for the future of Bally. The look is masculine, functional and honest. We want to create beautiful products that are honest to brand. Real product with no gimmicks."
Below, Fidler reveals that when all is said and done, there is nothing he loves more than being a father and husband -- while wearing Bally's iconic Scribe shoe, of course.
When I wake up... I open the curtains to check which wonderful city I am in.
Before I go to bed... I hug my children.
A well-dressed man/woman... turns heads.
Women should always... know their own style.
Men should never... think they can be without a Bally Scribe shoe.
The best thing that's been said about me... is that I'm a devoted a husband and father.
The biggest misconception about me... is that people expect me to be more complex that I am. I like simple pleasures and beautiful design. It's a pretty basic equation.
If I weren't doing what I'm doing today... I'd be retired and sitting on a beach with my family.
My legacy... is my children.
A great idea... should be celebrated.
Botox is... not for me, as you will see.
My mother... means the world to me.
The soundtrack of my life... would be Dire Straits' Walk of Life.
The future... is what we choose.
Happiness... is a Sunday roast.
There's a time and place for... having real good fun.
There is too much... selfishness in the world.
In the end... we are where we're meant to be.