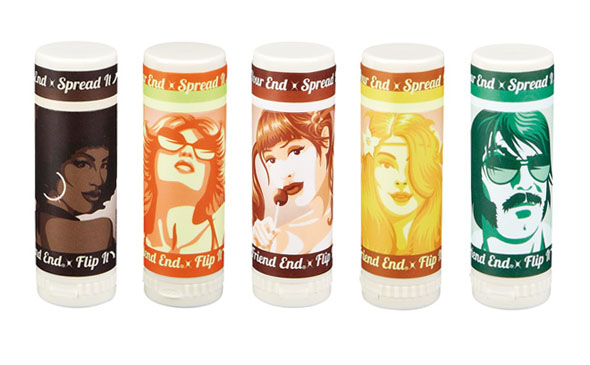 Balm Chicky Balm Balm is here to help keep your lips moistened while celebrating the certified-groovy days of adult films. And while the title sets the mood, Balm Chicky's stars provide the action. Flavors/talent includes Juicy Melons, Sweet Baby Ginger, Huge Cucumber, Wild Mountain Honey, and Hot Chocolate Love.
Each tube contains three-times as much balm as your typical lip balm. And, much like the adult film stars of the time, Balm Chicky is 100 percent-natural. But the real scene-stealer is each tube's patented Friend End™. Placed on the opposite end of the tube is a separate stash of balm with a flip-cap -- just the right size for the finger of a friend in need.
Balm Chicky Balm Balm is new and available at The Foodiggity Shop. As a special introductory offer there's $2-off individual tubes until 9/1/13 if you use coupon code 'balmchicky' in your cart. And, if one-on-one doesn't do it for you -- consider a Threesome of balm, or sample all of the talent with an Orgy of Flavors.