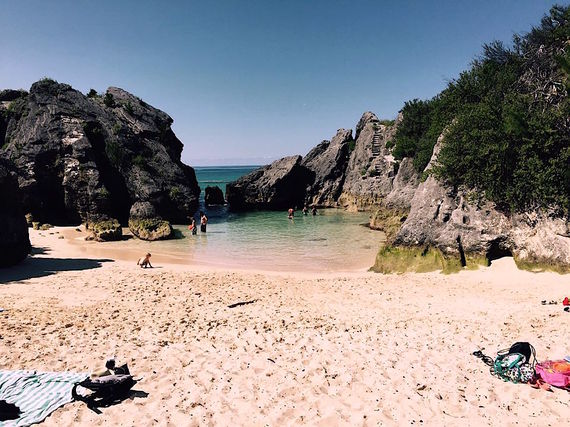 All the destination islands of the Caribbean have, more or less, their own appeal, but Bermuda is decidedly not a Caribbean island. It is in the Atlantic Ocean, 640 nautical miles east of the U.S. mainland, which makes it much more of a year-round attraction and one I tend to prefer for its own particular, fairly subdued character. Call it British reserve, if you like, but Bermuda does exude a far more genteel spirit than do the British Virgin Islands or Jamaica.
The pink sand beaches are truly spectacular, nudging along a rugged coastline of dramatic beauty, and, when it's not being pummeled by a hurricane-the last was Gonzalo in 2014-it has a subtropical climate with average monthly temperatures in the low 60s in winter (the record low is 43°) and in the low 80s in summer. When I was there in June many of the more secluded beaches were nearly empty, and, since you can't rent a car on the island (only scooters and bicycles), the pace of traffic is very civilized indeed.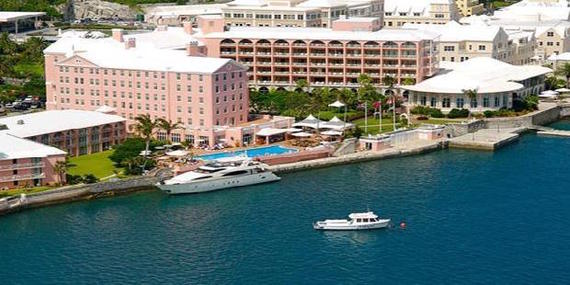 Mark Twain was a regular after the Civil War, proclaiming, "You go to heaven if you want to, I'd rather stay right here in Bermuda," where he found "no rush, no hurry, no money-getting frenzy, no fretting, no complaining, no fussing and quarreling; no telegrams, no daily newspapers, no railroads, no tramways, no subways, no trolleys, no Tammany, no Republican party, no Democratic party, no graft, no office-seeking, no elections, no legislatures for sale."
Well, that was then, and Bermuda now is far more modernized, with its major industry being re-insurance, which has had its ups and downs in the global recession. But, largely speaking, the island retains that calmness of which Twain spoke; the buildings are in every shade of pastel, the water as blue as anywhere in the Atlantic, and the pace of life unrushed.
As did Twain, I stayed at the Hamilton Princess & Beach Club, long nicknamed the Pink Palace. The original structure dates to 1885 and took its name from Queen Victoria's daughter Louise, who'd visited Bermuda a few years prior. Affluent Americans were the intended targets for the hotel and they've never stopped coming. During World War II, the hotel became an intelligence center nicknamed ''Bletchley-in-the-Tropics'' after the English country house where the ''Enigma'' code was broken.
Today the hotel is sister, though not twin, to The Fairmont Southampton on the island's south shore. In 2012 the Princess was sold to the local Green family under the Fairmont aegis and has been renovated to the tune of $90 million; the main lobby is now a veritable museum of modern art, including works by Andy Warhol, Damien Hirst, Banksy and others.
The 157 rooms are flooded with light and are all in view of Hamilton Harbor, with modern amenities, excellent bathroom facilities, dependable WiFi, access to the Inner Sanctum Spa and Riddell's Bay Golf and Country Club. Booking jet skis, kayaks, even a catamaran from K.S. WaterSports, gives you freedom to sail through gorgeous seascapes in view of some of the grand mansions built on Bermuda's hills.

There are three dining options at the hotel, including the open-air 1609 Bar and Restaurant, set on the marina, and the Crown & Anchor Bar, Restaurant & Terrace, which is open for very good breakfast, lunch and dinners. The big news when I visited was the opening of celeb chef Marcus Samuelsson's vast Marcus' restaurant (above), with a menu I felt fell way short of expectations. Marcus himself played greeter at the opening party, but was headed back to New York the very next day. A $20 appetizer called "Aunt Bonita's crab and codfish cake with charred mango, salsa, bacon, and salsa verde" was third-rate; the catch of the day, wahoo ($36), was overcooked; the blackened redfish and grits ($38) were bland, and Samuelsson's much ballyhooed fried chicken for two-$75!-could not even keep its crust on the meat.
Otherwise, dining out in Bermuda can be trying-and expensive-with the hotel restaurants trying to please everyone with similar menus that pretend to offer a few questionable items of Bermudian cuisine, which, I'm sorry to report, is barely identifiable in any case. I asked repeatedly of the locals where to eat something that resembled true Bermudian cooking, and, after visiting a few recommendations, found none that would give any foreign traveler much to talk, much less rave, about. Avoid at all costs The Spot in Hamilton, a kind of diner with terrible food. You'd do as well at the numerous pubs, like the Frog & Onion at the Royal Navy Dockyard, and, for a taste of something as downhome as you'll find, Art Mel's Spicy Dicy is a place where you line up to get a good fried fish sandwich, then eat it at the nearby park (but watch out for the beseeching beggars already on their third beer).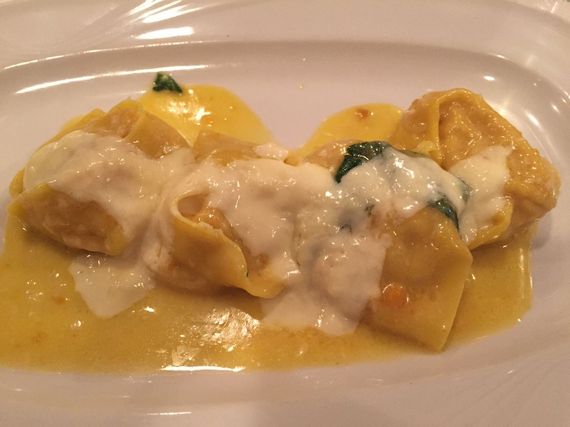 The best restaurant I dined at was very, very good: Little Venice (above) in Hamilton. It has been around for 40 years and has fine-tuned every dish, along with the ebullient patter and opera singing of owner-chefs Umberto and Tony, who have earned the respect of their guests enough to ask them for "Proper attire: collared shirts, trousers or Bermuda shorts, No tee shirts-No sleeveless shirts-No tank tops-No bathing suits or shorts, No baseball hats or bandanas-No sneakers, Ladies Dress Jeans Only." They also stock a wine list of tremendous breadth and depth.
Even though the food is not particularly Venetian in style, I would return again and again for Little Venice's roasted octopus brightened with lime juice and a pesto sauce along with roasted potatoes ($20.75) and any of the housemade pastas, such as the tortelli filled with pumpkin and crushed amaretti in a butter-sage truffle sauce ($25.75), gnocchi of pumpkin filled with ricotta and sauced with a tomato-basil coulis ($24.75), and Mario's ravioli alla caprese ($24.75).
Equally impressive was a risotto made with Arborio rice, rich with seafood and colored with squid ink ($29.75). For dessert consider the torta caprese.
While Hamilton is a fine town, though on the verge of overdevelopment, historic St. George's, a World Heritage Site, gives you a much more relaxed sense of the island's past. Settled in 1612, it is quiet and low in density, with its center at King's Square, where the Bermuda National Trust Museum is located.