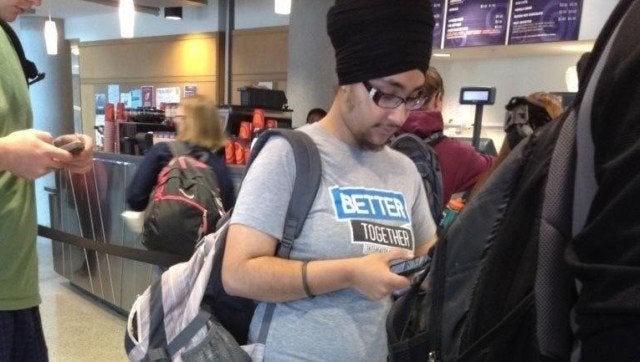 It started with a sneaky and ill-advised online potshot, but it ended with an apology and a positively heartwarming lesson in tolerance and kindness.
Kaur discovered her newfound fame, when a friend showed her the picture. Despite having her privacy violated and her picture posted to the supposedly humorous r/funny subreddit for the world to discuss, the young woman's response was dignified, graceful and generous.
"When I die, no one is going to remember what I looked like, heck, my kids will forget my voice, and slowly, all physical memory will fade away," Kaur wrote. "However, my impact and legacy will remain: and, by not focusing on the physical beauty, I have time to cultivate those inner virtues and hopefully, focus my life on creating change and progress for this world in any way I can."
The Internet, too, rallied in Kaur's defense, with Redditors like "MisterMT" adding their own messages of support. "This is overall a great story - and Balpreet is about to become a global icon. Even better, she is someone who genuinely deserves her recognition. Wonderful stuff."
Many took note of Kaur's true inner beauty, while others hailed her as a role model.
"I had tears in my eyes, reading this post," wrote "singhza". "Balpreet you are an inspiration to everyone and esp the Sikh youth who think they are a misfit in the society if they conform to our religious symbols."
I know that this post ISN'T a funny post but I felt the need to apologize to the Sikhs, Balpreet, and anyone else I offended when I posted that picture. Put simply it was stupid. Making fun of people is funny to some but incredibly degrading to the people you're making fun of. It was an incredibly rude, judgmental, and ignorant thing to post.

/r/Funny wasn't the proper place to post this. Maybe /r/racism or /r/douchebagsofreddit or /r/intolerance would have been more appropriate. Reddit shouldn't be about putting people down, but a group of people sending cool, interesting, or funny things. Reddit's been in the news alot lately about a lot of cool things we've done, like a freaking AMA by the president. I'm sorry for being the part of reddit that is intolerant and douchebaggy. This isn't 4chan, or 9gag, or some other stupid website where people post things like I did. It's fucking reddit. Where some pretty amazing stuff has happened.

I've read more about the Sikh faith and it was actually really interesting. It makes a whole lot of sense to work on having a legacy and not worrying about what you look like. I made that post for stupid internet points and I was ignorant.

So reddit I'm sorry for being an asshole and for giving you negative publicity.
Balpreet, I'm sorry for being a closed minded individual. You are a much better person than I am
Sikhs, I'm sorry for insulting your culture and way of life.
Balpreet's faith in what she believes is astounding.
Sometimes humanity surprises us for the better. This is simply one of those times.
Related
Popular in the Community