 Baltasar Kormakur, the Icelandic-born director behind "Contraband" and this week's "2 Guns," understands the value of a good genre film. It's why he cited "Butch Cassidy and the Sundance Kid," "Midnight Run," "Witness" and "Out of Sight" as some of his influences while discussing the new feature in an interview with HuffPost Entertainment last Sunday.
"I love those films because they are kind of adult affairs," Kormakur said. "They're not kids' movies. At the same time, they're very enjoyable. You can sit down with your girlfriend or your friend and just laugh and have a good time. Yet it's also elevated. I love it when good genre is elevated."
"2 Guns" elevates the buddy cop genre with its casting: Mark Wahlberg and Denzel Washington star as, respectively, an officer of the U.S. Navy and a DEA agent who form an unexpected bond after they unwittingly rob a drug cartel out of millions of dollars -- or so it seems. Soon, leaders from the cartel (played by Edward James Olmos), the U.S. Navy (James Marsden) and the CIA (Bill Paxton) are on their tails. In a summer of apocalyptic images and special effects, "2 Guns" gets its fireworks from a twisty script (written by Blake Masters) and the witty banter between the two guns of the title. (That said, the film is based on the Boom! Studios comic book series of the same name.)
Kormakur -- who flew to New York from Italy after location scouting for the upcoming drama "Everest," which may wind up starring Jason Clarke, Josh Brolin, John Hawkes and Jake Gyllenhaal ("All those actors interested in doing it, so I think they're just closing the deals," Kormakur said) -- spoke to HuffPost Entertainment about the challenge of making "2 Guns," why he didn't want to "put a hat" on the Western aspects of the film, and which ex-president inspired Paxton's character.
What made you pick "2 Guns" as a follow up to "Contraband"?What's that quote John Lennon said? "Life happens when you're busy making other plans." It came to me at a great time: I was in post-production on "Contraband" and Mark brought me the script and said, "Check this out." I loved the idea. I'm a big fan of movies like "Butch Cassidy and the Sundance Kid" -- those movies with a lighter tone. They don't take themselves too seriously and allow themselves to be movies. This is a movie. We're going to have fun, but it's not overly silly at the same time. There aren't any outward gags. That appealed to me. It also presented an opportunity: This is something I can have fun with and show a little more of auteur part as opposed to "Contraband," which is more straight down the middle.
When you have two bankable stars like Mark and Denzel in the lead, does it afford you an opportunity to take more risks since you know people will show up regardless of the film because of their past box office prowess?I don't really think about that too much. When I'm making the film, I'm just doing my thing and trying to get the best out of it that I can. Of course, though, when you have those two big guys, it's a very appealing idea. You just want to make the best of it and make a movie that I just want to watch myself.
It's nice to see Mark play the comic relief here, since he's usually cast as the straight man.It wasn't clear when I came to the table if Mark was going to play Bobby or Stig. I really wanted to have Mark play Stig, though, because Bobby could be too close to what he was already doing in something like "Contraband." So the idea was to have him do that and get somebody else for Bobby. We didn't want a comedian for that role. I wanted an actor who wasn't necessarily known for being a comedian but is still a fantastic actor -- and then to break him a little bit into a lighter tone. For me, when I saw "Midnight Run," I went like, "Wow. Robert De Niro? Is that possible? He does 'Taxi Driver' and he's slicing people's throats and suddenly he's in 'Midnight Run'?" You realize all good actors can be funny, because it's about timing. So, Denzel was our first choice for Bobby. With them together, then you get an electricity from the friction. Because it's new and fresh and people didn't expect it. [Producer] Adam Siegel and I talked about it a lot having those two alpha males coming at each other, because buddy movies have all become the straight guy and the funny guy. After "48 Hrs." it really went down that road. This is more like "Butch Cassidy" and "The Sting."
One of the things I really liked about "2 Guns" is how you've set the U.S. government up as the villain: The DEA, CIA and Navy are all corrupt on different levels. Was that in the script, or did you push to add that?We just went through a collapse in Iceland, and the government is hated by every single person. I don't think "2 Guns" is an indictment towards the American government, it's that the establishment in general has become corrupt. This was basically in the script. It's also, tonally, not like we're blaming the government; it's light and twisted. Bill Paxton, I love, with his bolo tie: This is a little bit how people saw Bush! What did he say in those difficult times? "We'll hunt you down"? Like a cowboy. This was the way the rest of the world sees Bush, like this character. [Joked producer Adam Siegel, who was also in the room during the interview: "Maybe you could say that we were interested in legal and illegal and right and wrong."]
Having Bill play the villain was a great idea.When the idea of Bill came up, it was like scary. Bill is a sweet guy; good looking and boyish. Then you realize he's actually a great actor. He, however, has never done anything like this. So that's why I was interested. Instead of going, like Hollywood often does, to the same guy for the same role for years, until you want to throw up, we went to someone different. Having Bill in the cast is the same as Denzel: it creates friction and electricity. For me, he showed up in costume for our first meeting. He had the haircut and the bolo tie and he knew every line. I thought, "Either he's wacko or he's going to kill." Fortunately, he did both. [Laughs.]
There are a lot of strong personalities in this film. Was it a difficult shoot to manage?It's a challenge, and you have to show up well prepared and be ready for curveballs. It's never going to be easy. It was a very tough shoot, because we were limited. We didn't have the endless resources that some of the summer movies had. We had 50 days to shoot this, and -- most times -- this kind of movie would be shot in 75 or more days. We had to be very clever about how we made this come together. But, in the end, there wasn't anything that we didn't get to do. Nothing was taken away. But there were so many fights -- hundreds of fights. "I got to have this!"
What was one thing you had to have?I really wanted to shoot it on anamorphic film. Also, the style. It has a little bit of a wink to Westerns. This was not a traditional way of shooting a Hollywood blockbuster. So getting everyone behind that, to give it a little twist -- you don't want to go right down the middle of the lane. They were totally up for it. At the same time, you don't want to alienate the audience and make it so arty that nobody is going to show up. So that's the balance.
For example, that was why we wanted to make a stylish shootout at the end. You don't want to make a total copy of a Western. You want to take that element -- a Mexican standoff -- and push it in another way. One good example of that is that we made Mark look like a cowboy, but in a modern way. He wears boots, but they're not cowboy boots. He has jeans on, but there was no way I was going to put a hat on him. The costumer tried it every day for 50 days: the hat. It became a benchmark for what we were doing: not the hat. Don't put the hat on the Western, because as soon as you put the hat on the Western, you've gone too far.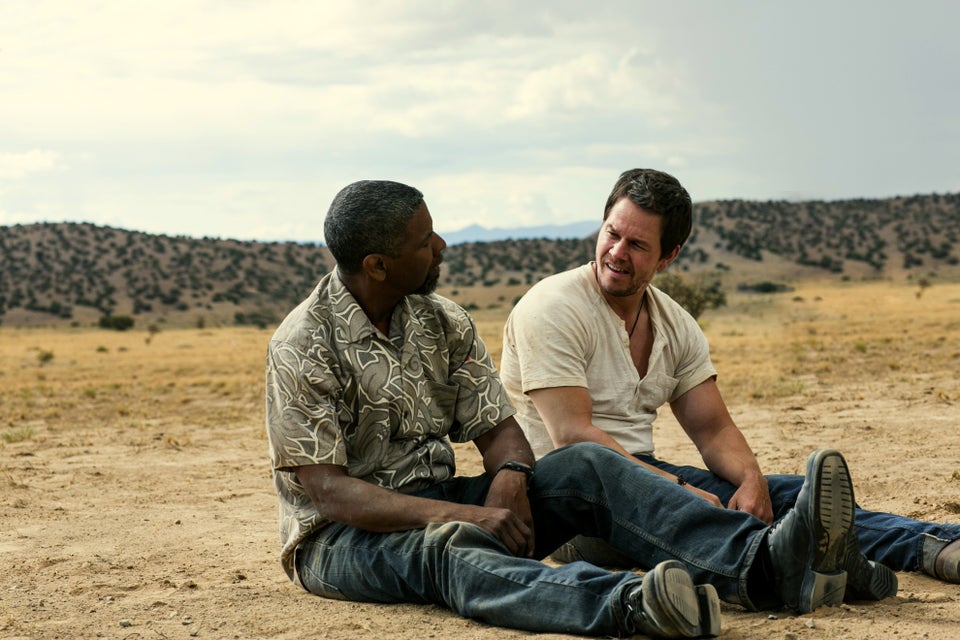 '2 Guns'
Popular in the Community