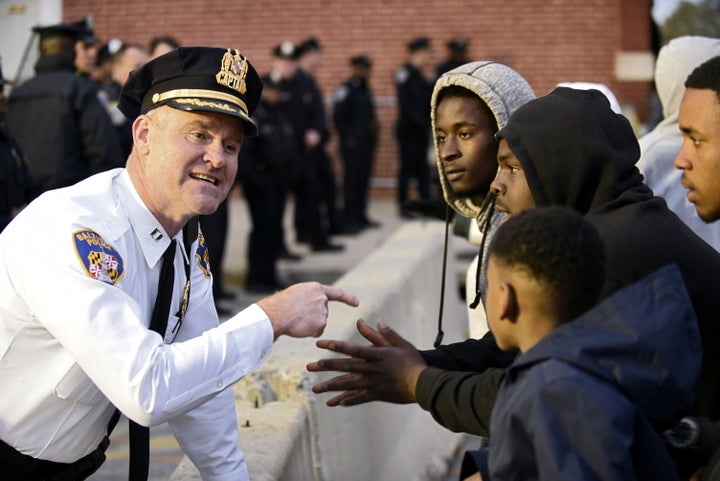 WASHINGTON ― The city of Baltimore and the Department of Justice agreed to a far-reaching deal Thursday that will require the Baltimore Police Department to implement a more transparent disciplinary system and prohibit officers from stopping city residents without reasonable suspicion.
"The agreement is robust and comprehensive. It includes a range of reforms to achieve our three main goals: to ensure effective and constitutional policing, to restore community's trust in law enforcement and to advance public and officer safety," said Attorney General Loretta Lynch at a press conference in Baltimore on Thursday. "It will help BPD gain the cooperation it needs from residents to fight and prevent crime. Most importantly, it reflects significant input from the people of Baltimore."
The decree that the Department of Justice filed in the federal court is "designed to enhance BPD's relationship with its community through increased transparency and public input, improve oversight and accountability systems to ensure that the Department will collect and analyze data on officer activities, impose discipline for misconduct fairly and efficiently, and enhance support for officers through robust employee wellness programs, law enforcement policies, training, and supervision," according to the text.
Lynch addressed concerns that Sessions would null the agreement on Thursday. While she and other key Obama administration officials within the Justice Department will be leaving, career staffers on the team that negotiated the consent decree will remain at the DOJ after Trump takes office.
"This agreement will live on. It is court enforceable," Lynch said. "There will be an independent monitor, and it will live on as a document of the court and as binding agreement between the city and the Department of Justice." 
Vanita Gupta, the head of the Civil Rights Division at the DOJ, said the practices "eroded trust" and "put the lives of officers and residents at risk."
"Under the consent decree, the city and BPD will implement comprehensive reforms to end the legacy of Baltimore's zero-tolerance policing," Gupta said on Thursday. "And in its place, Baltimore is empowering officers to engage in proactive, community-oriented policing."
Now all strip searches would need to be "approved by a permanent rank supervisor, lieutenant or above, and be conducted in a setting that ensures the privacy of the person searched," unless there are exigent circumstances. The provision is a response to the Justice Department's findings that civilians were strip searched for offenses as minor as having a broken car headlight.
The agreement also places restrictions on arrests for several low-level offenses, including disorderly conduct, failure to obey and officer, gambling, making a false statement and misdemeanor trespassing. When possible, officers must seek permission before making such an arrest, or must notify a supervisor as soon as practically possible.
Officers will be instructed to use the "least intrusive response appropriate under the circumstances" for quality of life offenses (such as public urination and littering). "In other words, a verbal warning and counseling is preferable to a Citation, and a Citation is preferable to a custodial Arrest," the agreement states.
The decree also includes First Amendment protections. "BPD will ensure that officers do not take any police action in retaliation for individuals lawfully exercising their right to witness, observe, record, comment on, or peacefully protest police activity," it states.
And it mandates that the department will update its oversight methods, how it tracks misconduct as well as officer training protocol. The city will form a Community Oversight Task Force that will help residents hold police officers accountable for misconduct. Civilians will also be tapped to serve on police trial boards (though the city's police union says that would violate the union's bargaining agreement with the city).
Read the entire decree below:
This article has been updated with new details, including comments from Lynch and Gupta.
Calling all HuffPost superfans!
Sign up for membership to become a founding member and help shape HuffPost's next chapter
BEFORE YOU GO
PHOTO GALLERY
Baltimore Celebrates Beginning Of Justice