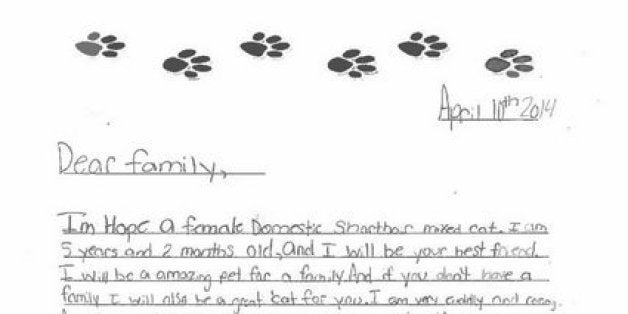 Recently adopted cats and dogs from a Baltimore animal shelter may have a group of local fourth-graders to thank for their new homes.
As part of a persuasive writing assignment, fourth-grade students at Ebb Valley Elementary School in Manchester, Maryland, wrote letters in the voices of homeless cats and dogs. The messages explained why the animals should be adopted. The letters, which were shipped to the Baltimore Humane Society, were then put on display next to the animals' cages, according to teacher Tiffani Murphy.
"They have been ecstatic about the whole project," Murphy, who recently took students on a field trip to the shelter, told The Huffington Post. "Before they went on the visit they would want to check the [Baltimore Humane Society] website everyday to see if it had been updated and see if their dog or cat had been adopted."
In one case, Murphy learned, a couple who adopted an animal from the shelter even took home a student's letter and got it framed.
But beyond the positive effect of the assignment, the letters are also adorable. Take a look at some of the letters that are helping find Baltimore-area cats and dogs homes.