A damaged school in post-Ebola Liberia is receiving a fresh start -- in part -- through art.
David Cogdill, a Baltimore street artist, has worked with local artists on murals to help repair a school in West Point, Liberia, which was torn apart by riots during the Ebola outbreak last summer.
The large, bold paintings featured on the walls of Nathaniel Varney Massaquoi Elementary and Junior High School depict peaceful seascapes and colorful wildlife -- a dramatic change from how the school looked just months ago.
Located in one of Liberia's most densely populated slums, the school served as an Ebola holding center during the peak of the disease's outbreak in August 2014. During this time, the building was raided and damaged, leaving local volunteers to spend 52 days on a restoration project, according to the Liberia News Agency (LINA).
Cogdill, who works under the name "Nanook," was brought to West Point to work with three community members to help rehabilitate the school with colorful artwork. One of the muralists he collaborated with, Abel Dassin, is just 14 years old and took part in the project to memorialize a teenage boy who was killed during the riots, NPR reported. Nanook and this young artist worked together to create the mural on the front of the school.
Nathaniel Varney Massaquoi Elementary and Junior High School reopened on May 8 with a joyous ceremony, as shown in the video below.
Since the beginning of 2015, the number of reported Ebola cases in the country have drastically fallen, according to the World Health Organization (WHO). Though WHO officially declared Liberia free of Ebola virus transmission on May 9, Doctors Without Borders advised in a statement that this achievement "should not lead to complacency," and efforts must not stop until the outbreak is over for all affected countries.
Related
Before You Go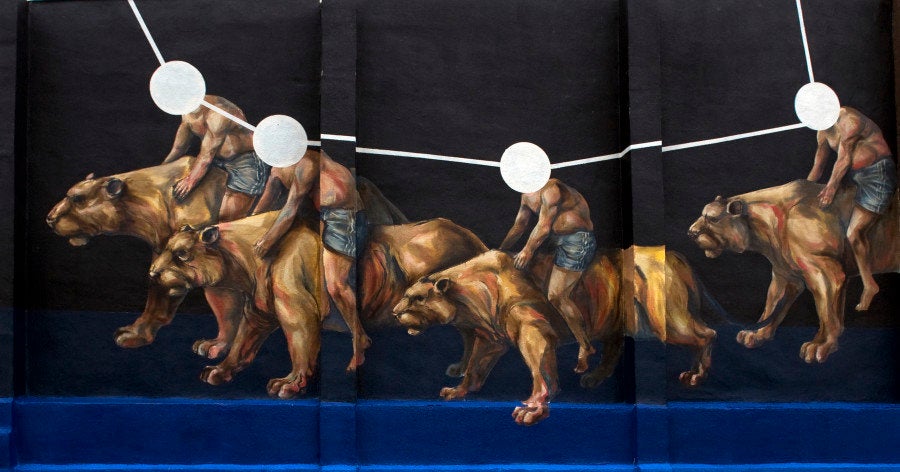 25 Street Artists From Around The World