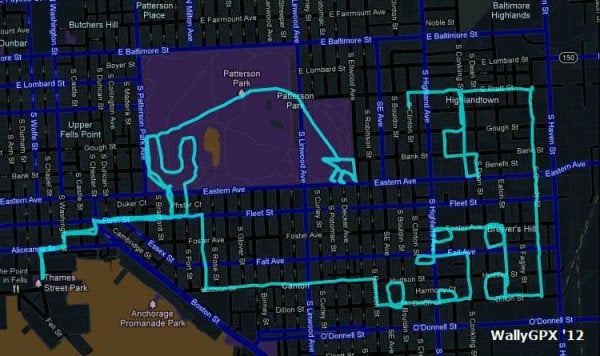 Bored with your Etch-a-Sketch? Feeling creative but not-so-sedentary? Take a tip from Michael Wallace.
Best known by his handle, WallyGPX, Wallace uses GPS technology to create art while riding his bike around southeast Baltimore. In addition to tweeting his carefully mapped adventures, he also maintains a gallery on his web site.
"Blending creativity with technology and exercise has turned out to be a perfect fit for me, and has seemingly generated a ton of smiles in the process," Wallace wrote in an e-mail to The Huffington Post.
Scroll Down To See His GPS Artwork
"Southeastern Baltimore has been an ideal canvas for my geoglyphic adventures, not only for the grid structure of the streets, but also for the large park that is situated within the grid," Wallace wrote. "I've discovered that the park space allows me more freedom to curve my lines, adding additional complexity to my images."
Slate produced a video about Wallace in which it requested the artist create a giant map-portrait of Omar from "The Wire." Although he told HuffPost that he hadn't considered it, he called the "'OmarGlyph'... possibly the most unique request I've received in a while."
LOOK: The Art Of WallyGPX:
Support HuffPost
The Stakes Have Never Been Higher
Related
Popular in the Community