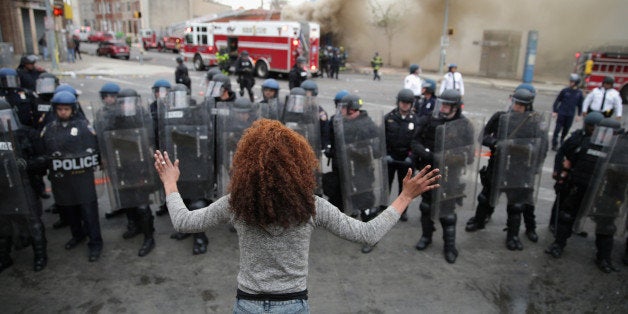 Some of Baltimore's biggest employers closed their offices on Tuesday, following the violence that erupted after the funeral of Freddie Gray, a 25-year-old black man who died after suffering a spinal injury in police custody.
Johns Hopkins University, which employs more than 21,000 workers in the city, canceled all classes and events on Tuesday and asked all nonessential employees to stay home.
"This is out of an abundance of caution and uncertainty about what conditions will be like today," Dennis O'Shea, a spokesman for the college, told The Huffington Post.
He said the school had not yet planned any outreach programs for after the unrest subsided, but that some student groups were in the city helping to clean up debris from the riots Monday.
Johns Hopkins Hospital and Health Systems, another top employer, remained open on Tuesday.
"The safety and security of our patients and employees is our priority," Kim Hoppe, a hospital spokeswoman, said in a statement. "We are advising patients to check with their health care provider to verify appointments."
Loyola University Maryland canceled all classes after 2 p.m. on Tuesday. It remains unclear whether the school will open on Wednesday.
"That's not something we know as of yet," Nick Alexopoulos, spokesman for the university, told HuffPost.
Constellation Energy, with its roughly 3,100-strong workforce in Baltimore, asked employees to work from home.
"In an effort to ensure employee safety, Constellation asked its Baltimore-based employees to work remotely," Christina Pratt, a spokesman, told HuffPost in an email. "We will continue to monitor the situation in the days ahead and stay in regular contact with our employees."
The city's two largest financial companies, money manager T. Rowe Price Group and the investment bank Legg Mason, also asked employees to work from home. T. Rowe Price sent employees home early on Monday as violence broke out across the city.
"As always, the safety and security of our associates remains our paramount concern," said spokesman Edward Giltenan, adding that T. Rowe Price employs 1,262 people at its evacuated downtown Baltimore headquarters. "We have maintained communications with our associates during this time and will continue to do so as circumstances warrant. We will also continue to monitor the situation in consultation with local authorities to determine what additional steps, if any, may need to be taken."
Bank of America, which maintains a sizable outpost in Baltimore, said it was also focusing on safety.
"We've taken appropriate steps to ensure the safety of our customers and employees, which includes closing branches and administrative facilities in the affected area," spokeswoman Nicole Nastacie told HuffPost.
Morgan Stanley also has operations in the city, but a representative did not return calls requesting comment. The University System of Maryland and the University of Maryland did not immediately respond, either.
The rioting Monday in West Baltimore marked the most violent clashes between citizens and police in the United States since the unrest in Ferguson, Missouri, over the shooting death of unarmed black teenager Michael Brown last August.
This story has been updated with statements from Johns Hopkins Hospital and Loyola University.
Calling all HuffPost superfans!
Sign up for membership to become a founding member and help shape HuffPost's next chapter