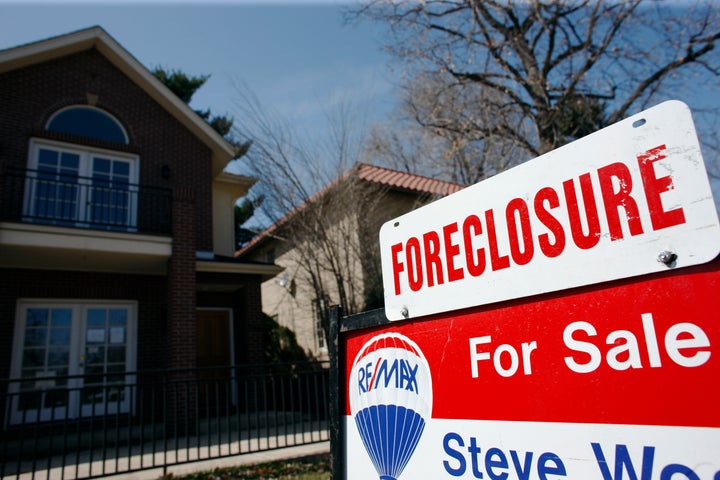 WASHINGTON -- Richard Faison didn't mind that a neighbor's home was seized and boarded up until the rats from the vacant house killed one of his dogs.
"That's when it hit me," said Faison, a Baltimore retiree. "That home is hurting mine."
Baltimore's continuing foreclosure epidemic is a particularly poignant example of the continuing national foreclosure crisis. The city has affixed some of the blame on one major lender, Wells Fargo. In a case that has captured headlines, the city sued Wells in 2008, arguing that it targeted African-American communities with subprime loans the bank knew would not be repaid. The lender denies the accusations and points to socioeconomic issues as a driver of the city's problems, bank spokeswoman Vickee J. Adams said in a statement.
But while that action plays out in the courtroom, a daily battle plays out on city streets, as homeowners try to maintain their properties in the face of abandonment and rot in seemingly every direction.
Faison has lived in the same Shirley Avenue house in northwestern Baltimore for about 30 years. Foreclosures aren't new to his neighborhood, he said. And he's never really cared, since the homes would eventually be filled with new residents and the effect on his property was short-lived.
At least, that was his attitude until 2009, when a record number of home repossessions in his city led to his home being infested with rats.
The rodents would find their way from the neighboring boarded-up house into his, chewing holes in his walls and running through his basement and kitchen. One of Faison's dogs got rabies from the vermin, forcing him to put the dog down, he said.
As foreclosures have increased in Baltimore, neighborhoods that had slowly been improving are experiencing a reversal of gains as borrowers miss payments, houses fall into disrepair and home prices erode. Neighborhoods that housed the city's middle class have seen an uptick in boarded-up homes. Some of the neighborhoods housing the city's working class are on the edge of falling into a state where more help, while needed, may simply be wasted due to the neglect of the past few years, experts say.
The rise in rats is an example of the declining quality of life in some sections of the city as foreclosures and vacant properties have begun to take their toll.
Since 2003, rat incidents in his majority-black city of nearly 621,000 are up more than 300 percent, according to the Baltimore Neighborhood Indicators Alliance-Jacob France Institute at the University of Baltimore. There were more than 37,000 reports of rats in 2009, data show.
The rate of dirty streets and alleys is up nearly 250 percent since 2003, according to the research institute.
Like urban centers across the country, Baltimore is fighting foreclosures with fewer resources at a time when home prices are still declining and a rise in home seizures remains a constant threat. While home prices shot up during the bubble, boosting neighborhoods that had been slowly making progress, the precipitous decline has wrecked what were up-and-coming sections of the city.
The Patterson Park community, an area just north of the city's harbor, had seen foreclosures fall from a rate of about 5 percent in 2000 to just 1.29 percent in 2006, according to the research institute at the University of Baltimore. It's nearly quadrupled since then.
Patterson Park had been making strides, said Matthew Kachura, project manager at BNIA-JFI.
The neighborhood, home to a large immigrant population, had seen house prices shoot up and an attendant rise in residents' wealth. The median sale price of homes in the area nearly quadrupled between 2001 and 2007.
"Patterson Park was a hip, gentrifying neighborhood," Kachura said. "It was home to lots of young professionals, and people were snapping up homes around the park. It became really desirable."
The neighborhood is still in demand, he said, but the costs associated with foreclosure are starting to pile up.
The number of vacant homes are increasing. Blight is spreading, sending home prices tumbling. One indicator -- the rat rate -- has skyrocketed.
Rat incidents surged from a rate of 49 per 1,000 neighborhood residents in 2006 to nearly 183 by 2008, according to Kachura's group. In 2009, Patterson Park's rodent rate was double that of Baltimore.
Meredith Mishaga, program coordinator for the Baltimore Homeownership Preservation Coalition, said the rise in foreclosures and decline in wealth in neighborhoods like Patterson Park has hit minorities the hardest.
Baltimore is about 64 percent black.
Working- and middle-class families that invested their money in their most prized asset -- their home -- have seen their wealth erode over the past few years.
"Baltimore had really started to grow its African-American middle class," Mishaga said. "But they were particularly hard hit by risky loans."
Those loans, a mixture of predatory mortgages and cash-out refinancings used to remodel homes or fill them with more stuff, eventually had a negative impact on the city, as falling home prices led to an upswing in defaults.
In some neighborhoods, home values plunged more than 50 percent, Mishaga said.
"It pains us to see these gains undone," she added.
Her group, a coalition of more than 50 nonprofits, government agencies and professional associations, is dedicated to helping homeowners avoid foreclosure and mitigating the effects of home seizures on neighborhoods. The rise in foreclosures drove her group to direct its limited attention to those neighborhoods where just a few more vacant homes could send them into a near-permanent state of despair.
In Faison's community, the rate of abandoned homes is more than double the city's average. The median price for sold homes has plummeted 62 percent since 2006, according to data compiled by BNIA-JFI.
His neighbor's home -- the one that was the source of those rats -- has since found a new tenant. Faison's new neighbor is remodeling the home in hopes of adding a daycare center, providing a steady stream of income.
He's happy for his neighbor and the residents of Shirley Avenue.
But the blight -- and the rodents -- remain. There are two freshly-abandoned houses across the street.
Calling all HuffPost superfans!
Sign up for membership to become a founding member and help shape HuffPost's next chapter