Rival Baltimore gang members came together Monday night to say that they never formed a truce to harm city police officers in revenge for the death of 25-year-old Freddie Gray, who died last week after being injured in police custody.
"We want the people of Baltimore City to know that the image they are trying to portray of gangs in Baltimore -- the [Black Guerilla Family], the Bloods, the Crips -- we did not make that truce to harm cops," a man who identified as a member of the Bloods gang told Baltimore's NBC affiliate station WBAL 11.
He was joined by about eight other self-identified gang members from the Bloods and Crips. "We did not come together to harm cops," he said. "We're not about to allow y'all to paint this picture of us."
On Monday morning -- before protests and violent riots erupted across the city following Gray's funeral -- the Baltimore Police Department said it had uncovered a "credible threat" that members of the three gangs, among other groups, were conspiring to "take out" police officers.
"We have soldiers out here right now," the Blood member told WBAL 11. "We dirty. We dirty. They threw bombs at us for trying to stop what's going on right now. Y'all not about to do that to us."
"So your game plan tonight has been to stop the violence?" asked reporter Deborah Weiner.
"To stop what's going on," the Blood member confirmed. "We just want justice for Freddie Gray. We believe in that."
Police Monday fired tear gas and rubber bullets at protesters, some of whom had been seen throwing rocks and bricks at officers wearing riot gear. Multiple stores were also pictured being looted. Fifteen buildings were set aflame, as were nearly 150 vehicles, and about 200 people were arrested, the mayor's office told The Associated Press.
Fifteen officers were injured, two of whom were hospitalized, police said. Mayor Stephanie Rawlings-Blake issued a curfew, and Maryland Gov. Larry Hogan declared a state of emergency, activating 5,000 members of the National Guard.
Gray died on April 19 after suffering serious spinal injuries while in police custody. A video from a bystander showed Gray being dragged into a police van. The six Baltimore police officers involved in the arrest have been suspended.
"It makes us look real bad, and it's backing up what they are saying about us," the Blood member said of the violence Monday. "They are saying we are animals, and we acting like savages out here. But I also don't agree with what's going on, but I understand what's going on. I understand why people are mad, but we have to handle things another way."
"Stop believing everything you hear in the media," he added. "If you were not at the protest on the day we protested for Freddie, you don't know what actually happened. They did not tell y'all that when we walked past the eateries downtown, people threw beers at us. People called us names."
"People called us 'niggers,'" another man chimed in.
A photo posted to Facebook on Saturday showed members of the Bloods and Crips posing together during a protest march from West Baltimore to City Hall. Members of the Nation of Islam claimed to have brokered the unlikely alliance.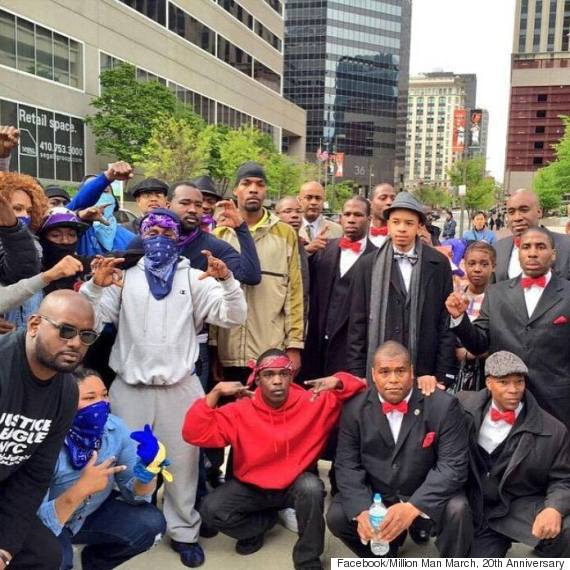 "Why don't they paint this picture in a positive way?" another gang member asked WBAL. "When a group of 30 Bloods walks up on a group of 30 Crips and everyone salutes and shakes hands and hugs and starts to take pictures. But then everyone says, 'Oh no, they're uniting to kill cops.'"
One of the Blood members added that they can't "control every gang in the city and state."
"I estimate that we were 30 people strong, out of the thousand of people who were down there," he continued. "You mean to tell me you point the finger at us because we have colors on. That is not what we stand for. Justice for Freddie Gray. Justice."
"Justice," the other men repeated.
The Baltimore Police department told The Huffington Post on Tuesday that it had no update on the "credible threat" it uncovered against law enforcement.
Popular in the Community