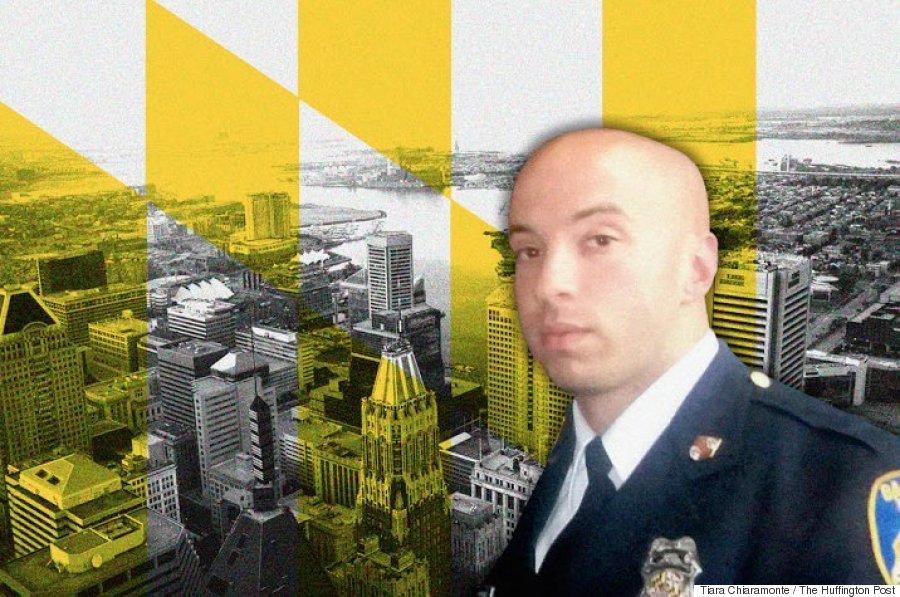 BALTIMORE -- Former Detective Joe Crystal sat at a back table in Martin's West Ballroom last Thursday, scanning the room filled with police officers for any friends he still had left.
Under glowing chandeliers, more than 500 law enforcement officials and their families mingled prior to an awards ceremony honoring Baltimore's finest. Crystal, 34, was one of the people up for an award, though few had expected him to show. He was a pariah. He had informed on two other cops who engaged in police brutality. And it had cost him his livelihood.
Earlier that day, Crystal showed off the house he was staying in while in town for the ceremony. He ran his hand over the marble surface of a bar he had made himself.
"If I still lived here," he said, "this thing would be packed with liquor."
Crystal once owned this home, but gave it to a friend when he left the Baltimore Police Department and moved to Florida. He feels he had no choice but to leave.
In 2011, Crystal witnessed two fellow cops beating down a drug suspect after the suspect, fleeing from the officers, kicked in the door of a home belonging to another officer's girlfriend.
For reporting the officers' actions to the State's Attorney's Office, Crystal was labeled a "snitch" and a "rat cop." The threats and intimidation -- which included someone putting a dead rat on Crystal's windshield -- are outlined in a multimillion-dollar lawsuit that Crystal filed against Commissioner Anthony Batts and the BPD.
The police department declined to comment on the lawsuit, citing pending litigation.
"You know that sickening feeling you get when someone is after you?" Crystal asked. "That's how I felt every day."
A Passion For Police Work
Ever since he was a kid in New Jersey, Crystal wanted to be a cop. His parents met while working for the NYPD. His father was forced to retire after his head was bashed with a bat during a bodega robbery attempt. At 18, Crystal joined the Coast Guard, where he would stay for the next six years. The day after the 9/11 attacks, Crystal went to Ground Zero, where he volunteered with the bucket brigade to sift through rubble.
Crystal applied to be a Baltimore police officer in 2008. He graduated from the police academy with top test scores. In 2009, he received the Commissioner's Award, given to the trainee who shows the most leadership. Sheila Dixon, then the mayor of Baltimore, was there to hand it to him.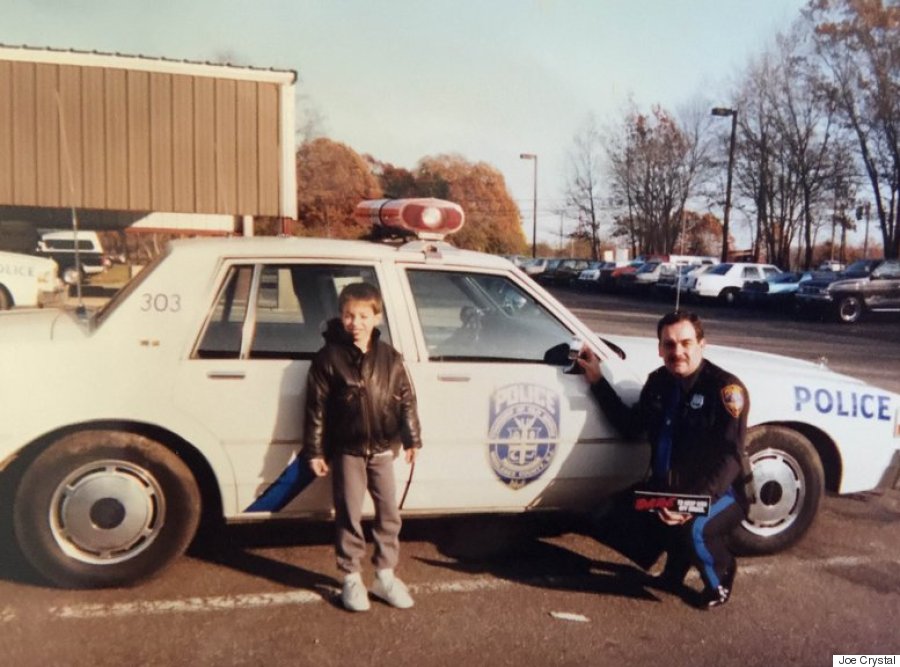 Crystal as a child with his father.
After just one year on the force, Crystal was made a detective with the Violent Crimes Impact Section, where he was tasked with getting guns and drugs off the streets.
"He was a really good detective when he was here," one BPD officer, who asked to remain anonymous due to the sensitivity of Crystal's case, told The Huffington Post. "He had a lot of passion, a lot of drive. He was a natural fit."
Crystal prided himself on his ability to talk to suspects as humans and not act like they were beneath him.
"I remember the first time I went to work with my mom and saw groups of homeless people. As a kid, it broke my heart," he said. "I went home that night and tried to give my mom my Donald Duck piggy bank to help them out."
Crystal liked working in Baltimore's poor communities because that's where he felt he could effect the most change. "You really impact somebody's life," he said. "In a lot of ways, it can be the most rewarding job you've ever seen."
But his run in the BPD came to an end when he decided to turn in his colleagues.
"Crystal has always been good to his word," one officer told HuffPost. "He screwed up his whole career over it."
'I Never In A Million Years Thought Something Like This Would Happen'
On Oct. 27, 2011, Crystal was wrapping up his shift when he was told he'd have to make one more arrest, a drug bust.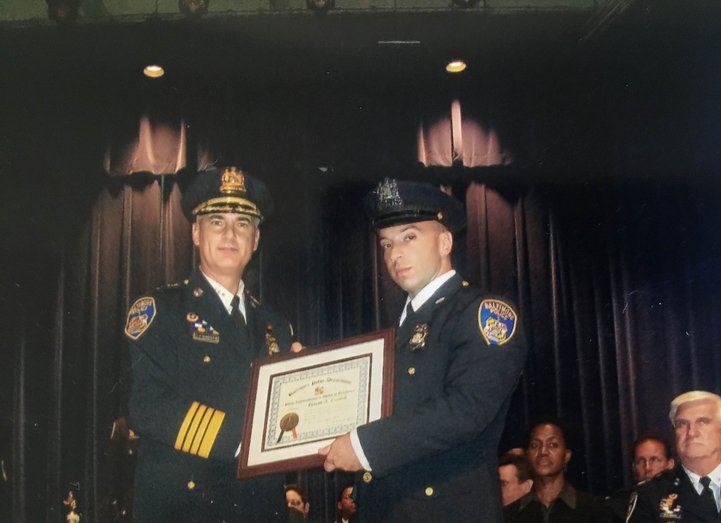 Crystal receives the Commissioner's Award.
Crystal, Detective Keith Tiedemann and Sgt. Mariano Gialamas rolled out towards Prentiss Place, a particularly nasty area known for drug deals. The cops drove up to a group of suspected dealers and saw one of them, Antoine Green, toss what appeared to be drugs on the ground and take off in a sprint. Crystal stayed back, unable to run due to a bad ankle.
Running down a row of mostly vacant houses, Green made the mistake of kicking down the door of a house where someone actually lived. Even worse for him, the home happened to belong to the girlfriend of off-duty officer Anthony Williams.
Gialamas and Tiedemann found Green in the home, cuffed him and loaded him into a police wagon. By this point, Crystal had arrived outside the house.
After the police wagon set off to take Green to jail, Williams showed up at his girlfriend's house and began speaking to Gialamas. Moments later, Gialamas radioed to the officer driving the wagon and asked him to turn around. Green was driven back to the home and brought inside. Crystal recalls that Green began shouting, "They gonna fuck me up."
Unsure what was going on, Crystal stood guard at the door just inside the house. He said that while there were some cops he didn't trust, Gialamas wasn't one of them. Crystal had never seen the sergeant do anything morally questionable.
But just out of view, Crystal heard Gialamas and Williams throw Green to the ground. For several minutes, he could hear the handcuffed suspect grunting and moaning as the officers kicked and punched him.
"They bring [Green] back and his shirt's ripped like he's fucking Hulk Hogan," Crystal said. "He's limping on his ankle, which I later found out was broken. I honestly mean it when I say this: I never in a million years thought something like this would happen."
The following day, Crystal went to Sgt. Robert Amador -- who is now a defendant in Crystal's lawsuit -- to report what he had seen. Crystal said Amador told him to keep a lid on it and not to tell internal affairs.
The detective was even more dismayed when he saw the police report Tiedemann had written about the incident.
"Once inside the wagon, [Green] calmed down and expressed a desire to apologize to [the victim] for breaking into her home," the report said. After he was taken back into the house, Green "attempted to charge and head-butt off-duty officer Williams."
Unsure what he should do, Crystal met with Assistant State's Attorney Anna Mantegna over brunch. Wracked with guilt, Crystal started to tell her what he had witnessed.
"She looks at me and goes 'Joe, ethically, if you continue to talk, I'm going to have to tell somebody,'" Crystal recalled. "She told me to tell her everything, or shut up and eat my goddamn pancakes. That's when I told her, and everything went to shit after that."
Crystal said that Mantegna reported what she heard to the State Attorney's Police Integrity Unit, which promptly opened an investigation. Mantegna did not respond to HuffPost's request for comment.
It would take several years for Williams and Gialamas to be convicted. But it only took a few days for Crystal to be labeled a "rat," guilty of betraying his fellow boys in blue.
For the next two years, Crystal documented the harassment he endured in more than 50 pages of handwritten journal entries, which he shared with HuffPost.
"Do you want some cheese?" one sergeant asked Crystal, offering him a hand-drawn picture of a block of cheese, according to an entry dated Nov. 7, 2011. In another incident, an officer pulled up to Crystal and yelled out of his window: "Hey, are you guys having a cheese party? I know rats like cheese!"
Just under a year after the incident, in October 2012, Williams and Gialamas were formally charged, and Crystal planned to testify against them. The abuse got worse.
"You are going to get charged with perjury when you testify," Lt. Tracey Geho told Crystal, according to the pending lawsuit. "Your story better not change even a little bit."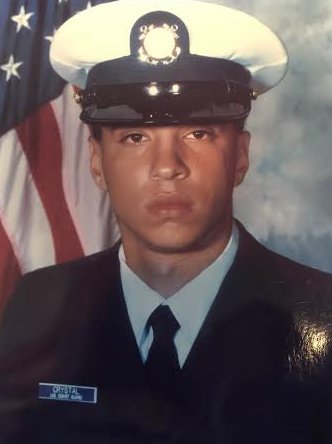 Crystal was a rising star in the Baltimore Police Department before blowing the whistle on two fellow officers.
Amador echoed the sentiment.
"You better pray to God you are not the star witness, because your career is already fucked," Amador told Crystal, according to the suit. "If you're the star witness, you may as well just resign." The police department declined to make Amador available for comment, citing his involvement in the lawsuit.
During this time, Crystal said he would sometimes call for backup while pursuing suspects on the job, only to be ignored outright.
On Nov. 14, 2012, Crystal went to Bob Cherry, then the president of the Baltimore Fraternal Order of Police. Crystal said he was scared for his safety, and asked Cherry if he'd look over the journal he'd been keeping. Cherry declined, according to the lawsuit, telling Crystal that cops were mad at him because it's "blood in, blood out."
"Cherry was basically saying that once you're in here, you die here," Crystal said. "What happens in the family stays in the family. They're mad at me because I went against that rule. I remember saying to him: 'Are we fucking cops, or are we in a gang? Which one is it? You can't have it both ways.'"
Cherry suggested Crystal look into joining a different police department, according to the suit. He did not respond to a request for comment.
Just over a week after speaking to Cherry, the day after Thanksgiving, Crystal was at his home with his wife, Nicole. He stepped outside to his car and found a dead rat tucked under the windshield wiper.
"I think the little kid in me wanted to cry," Crystal said of the incident. "I got teary-eyed and wanted to cry, but then thought, 'Fuck, my wife's here, she can't see me break down.'"
Crystal said he tried to laugh it off and reassure his wife that everything was fine. But she urged him to call the cops.
"This officer did observe a dead rat on the bottom of the windshield," a police report says. The incident was filed under witness intimidation.
Crystal said he never found out who put the rat on his car, though he has his suspicions.
The lawsuit alleges that Crystal lost his security clearance with the FBI, was put on midnight shifts working burglaries and was frequently transferred to new departments, told to clean out his office at a moment's notice.
Despite the efforts to intimidate him, Crystal still decided to sue Batts and the department shortly after the rat incident and testified against Williams and Gialamas in February 2014. Williams remained defiant during his trial, telling prosecutors that he had simply been concerned for his girlfriend. The prosecutor on the case accused Williams of instructing his girlfriend to lie about the incident.
"I don't feel as though I did anything wrong," Williams told the jury.
Williams was ultimately convicted of assault and obstruction of justice and sentenced to 45 days in jail. Gialamas was convicted of misconduct and put on probation. Six months later, the two cops left the force: Williams resigned, while Gialamas retired with a full pension. Drug, burglary and assault charges against Green were all dropped.
Rejected Cop Leaves Baltimore
Crystal said he continued to face harassment within the department, and finally resigned in September 2014, shortly after Batts said he would investigate the matter. Crystal says nothing came of that investigation.
Now, Crystal works as a deputy sheriff in Walton County, Florida. He says he went from doing heavy drug busts to handling loud noise complaints and other minor issues. He once responded to a burglary call and found a man who claimed someone had stolen raw chicken from his fridge. (The case remains unsolved.)
He continues to apply to jobs, hoping to move to a bigger city with more action, but in the past week alone, he's received rejection letters from three departments across the country. Crystal said he ranked fifth on a written exam to join the Las Vegas Metropolitan Police Department, but still got rejected. The department told HuffPost he passed his written, oral and physical exams but failed a background check, and declined to comment as to why.
Since Crystal blew the whistle, other Baltimore cops have become hesitant to report misconduct in the department. One officer, who is black, wrote a complaint about hearing another officer use the n-word in front of him. Later, the officer asked that his complaint be redacted, citing fears that he would face the same retaliation Crystal did.
"I just watched a detective that I know go through an enormous amount of stress and eventual severance from the department for a complaint he made against fellow detectives," the officer wrote in an internal email to his superior that was obtained by HuffPost. "I really do not wish to experience even a fraction of what he went through."
"I truly don't feel comfortable with going forward for my safety and continued career within BPD," the email continues. "I don't want to cause any problems, I just want to continue to work without fear of harassment or retaliation."
It's been a difficult few months for the BPD, which faced a massive backlash and days of protests following the death of Freddie Gray in police custody. Gray, a 25-year-old black man, died a week after suffering injuries during an arrest. Six Baltimore officers were indicted in his death.
Murders have shot up to levels not seen in four decades, while arrests have plummeted. One officer told CNN that police have "stopped being proactive." Crystal says a culture of keeping quiet about misconduct in the department will only lead to more situations like Gray's.
"People ask if I feel vindicated since those cops got indicted for Freddie Gray," he said. "I don't know exactly what happened to Gray, but if he died under suspicious circumstances and I knew about it but didn't say anything, I would feel like shit."
Crystal says this is why he doesn't regret coming to Green's defense.
"If I don't do anything," he said, "the system continues to get messed up."
'Baltimore Is Where My Heart Is'
At last Thursday's medal ceremony, Crystal was set to receive an award for helping four other officers apprehend a gang member suspected of robbing seven local stores. The arrest took place shortly before Crystal left the force.
"Deep down inside, I would love nothing more than to come back to the BPD. I can't deny that side of me," he said before the ceremony. "I know they don't want to give me this award, that it's going to be awkward, but I don't want to be controlled by my fear either."
Nicole Crystal said she felt anxious about attending the ceremony after all she and her husband had been through, adding that she started shaking while on the plane back to Baltimore.
"I've lived here my whole life," she said. "This shouldn't be something that scares me, coming home. But I'm terrified instead."
As guests dined on stuffed hen and crab cakes, Crystal had no appetite. He sat next to his wife and Dixon, the former mayor of Baltimore. Crystal says he invited Dixon as "extra muscle" and because he still often thinks about how she gave him the Commissioner's Award after he graduated from the academy.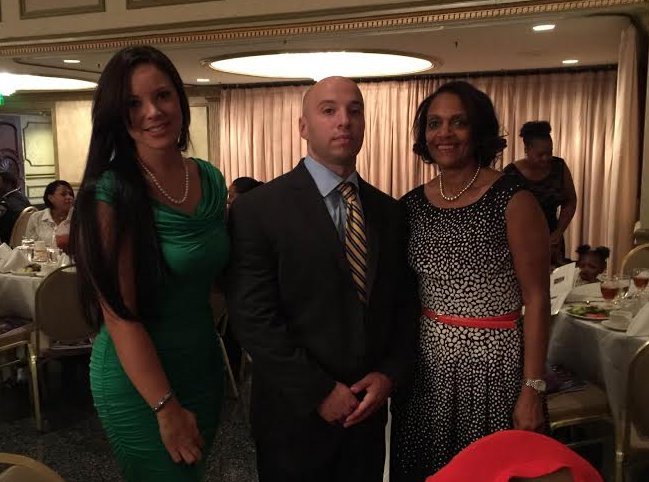 Joe Crystal stands between his wife, Nicole (L), and former Baltimore Mayor Sheila Dixon at the awards ceremony.
Batts, the commissioner, took to the podium to thank Baltimore's finest and their families for coming out. In 2008, when Batts was police chief for California's Long Beach, he was embroiled in a scandal that bore some similarity to Crystal's case. In what became known as "Lobstergate," a number of officers faced harassment after calling out colleagues who were caught fishing for lobsters while on the clock. Batts came under fire for not doing enough to stop the harassment, and one cop claimed the chief called the whistleblowing officers "malcontents." A lawsuit was filed, and the cops were awarded more than $1 million each.
Dozens of officers received awards at the ceremony, all of them walking up to the podium to accept their medals or certificates and shaking Batts' hand for a photo op.
But Crystal and three of the other officers involved in the robbery bust were pulled aside shortly before their awards were to be handed out and told they wouldn't be going up to the podium due to time constraints.
They were never even called by name. Only one officer involved in the incident was allowed to take the stage, since he was also receiving a Bronze Star. The other four were not acknowledged by the commissioner, instead receiving their commendatory letters after the ceremony. While everyone else had a framed certificate, Crystal and the other snubbed officers got limp blue folders, their letters stapled inside. Though the front of the folder had the commissioner's seal, the award itself was not signed by Batts.
A spokesman with the BPD told HuffPost that the department does not recognize sworn officers at award ceremonies who have received commendatory letters. Crystal and his fellow officers aren't buying it, however, noting that they were originally told they weren't being called up because of time issues and that sworn officers have been recognized for commendatory letters in the past.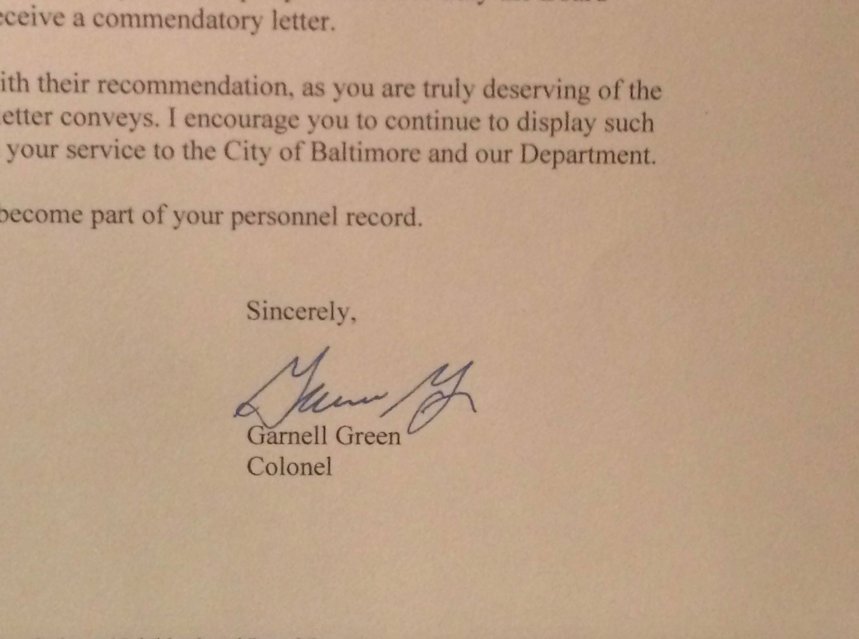 Crystal's commendatory letter was not signed by Batts.
The other officers said that they had flown family out for the occasion, but would not have done so had they known their names were not going to be read. They told HuffPost they were upset and that the experience was embarrassing.
"The department should have done what they were supposed to do and not hold a grudge," one of the officers said.
After Crystal's name wasn't read, Dixon stood up from the table, livid.
"Pathetic," the former mayor said, shaking her head. She curtly said goodbye and headed for the door. She later told HuffPost that the snub was "incredibly disrespectful and small-minded."
Batts could not be reached for comment.
Crystal held his wife's hand, the two of them quiet for awhile.
"It still hurts," he said. "Baltimore is where my heart is. This week I've gotten all these rejections, and now this, and you start thinking, 'What is your life becoming now?'"
As other officers were called to the stage and the ballroom filled with applause and standing ovations, Crystal received a text from a buddy working in homicide. He leaned over, and said with a sigh:
"One dead -- guy just got shot in the head in the southwest district."
The exasperation in his voice made it clear: Crystal still can't forget a city that seems to have forgotten him.
Like Us On Facebook |
Follow Us On Twitter |
Contact The Author
Related
Popular in the Community