Baltimore Mayor Stephanie Rawlings-Blake sat down with MSNBC's Andrea Mitchell on Thursday to discuss the criminal trial against police officers accused of killing Freddie Gray, a 25-year-old black man who died from injuries he sustained in their custody, as well as the rise of violent crime in the city. 
A judge ruled Thursday that the criminal trial against the six officers charged in Gray's death will take place in Baltimore. "It will be helpful, as we work to heal our city, that the public knows that jurors will be selected from the peers of the officers who work in the city, as well as Freddie Gray," Rawlings-Blake said of the decision.
Baltimore's police union has spoken out against the settlement. The news "threatens to interrupt any progress made toward restoring the relationship" between cops and Baltimore's city government, Lt. Gene Ryan, president of the Baltimore Fraternal Order of Police, told CNN.
Rawlings-Blake disagrees, and told Mitchell that the city has "multiple interests" that will be advanced by settling -- the primary one being to heal one of Baltimore's most recent wounds. 
"The focus should be on this trial, on the criminal cases, and we've put the civil part of it behind us," the mayor said. "It was important for me that we focus on the work that we're doing with the Department of Justice."
"We want to focus on that, reforming the police department, improving the relationship between the community and the police. And I didn't think it would be helped by having a protracted federal case," she added. 
"The fact that it's happening all over, you know, I think that it shows to me that this is not about Freddie Gray," the mayor said.  "This is a national trend in increased homicides that needs a national response." Addressing gang violence, gun and drug control are better places to start looking for answers, she added.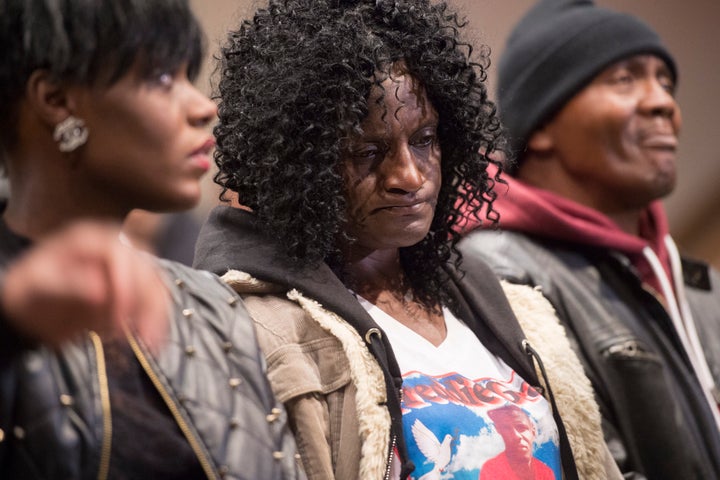 The money Gray's family received is one of the largest wrongful death settlements in police death cases in recent years, according to The Associated Press. Baltimore has paid out around $5.7 million in police brutality settlements since 2011, according to a 2014 Baltimore Sun analysis. In July, New York City awarded $5.9 million to the family of Eric Garner, who was captured on video as an officer held him in a chokehold that led to his death. The officer involved was not indicted.
In addition to this payout, Baltimore city police officers will be required to wear body cameras.
Gray sustained a severe spinal injury after being taken into custody by Baltimore police. He died on April 19. Autopsy reports showed Gray had a single "high-energy injury," most likely caused by a "rough ride" in the back of a police van. He was handcuffed and not secured by a seatbelt, and the injury likely occurred when the van decelerated quickly. His death was ruled a homicide, based on police failure to follow safety procedures.
The officers face a range of charges. Most seriously, Caesar Goodson, the officer who drove the van used to transport Gray, is charged with second-degree depraved-heart murder, as well as manslaughter, two counts of vehicular manslaughter and second-degree assault.
Officer William Porter, Sgt. Alicia White and Lt. Brian Rice face multiple charges, including involuntary manslaughter and second-degree assault. Officers Garrett Miller and Edward Nero also face charges of second-degree assault. In addition, all six officers are charged with counts of misconduct in office and reckless endangerment.
Each of the officers has pleaded not guilty.
Attorneys for the officers attempted to move the trial outside of Baltimore, citing fears that the case's national media coverage had tainted the jury pool. Their request was denied a day after the approval of Gray's wrongful death settlement. Rawlings-Blake acknowledged that the decision to settle the civil claim prior to a decision in the criminal case was "unusual," but emphasized that it is not an indication that the city suspects the officers of wrongdoing.  
Protests erupted in Baltimore following Gray's funeral on April 27. By  3 p.m. that day, dozens of teenagers showed up at Mondawmin Mall, where dozens of police officers greeted them. The Huffington Post reported from the mall, where one young woman picked up stones while officers fastened their riot helmets. The police and teenagers faced off across a narrow road off the mall's parking lot.
Soon, the officers started yelling at the teenagers, instructing them to leave mall grounds. Their demands were met with chants of "Fuck the police!" and "Don't shoot!" Some of the teens could be heard saying police had "started" things by killing Gray.
As officers' reactions began to intensify, teenagers ran to a 7-Eleven on the other side of the road -- they were upset, but still relatively peaceful.
This was short-lived. Soon, the teens began throwing bricks and glass bottles at the officers.
About 15 minutes after things heated up, an armored Baltimore Police Department vehicle arrived on the scene, chasing down groups of teenagers as they pelted it with rocks.
Del Conley, a Baltimore resident who was involved in some of the protests, told HuffPost outside of Gray's funeral that the media has been focused on what protesters are doing wrong, and that the world should be aware of why Baltimore's residents are so upset.
"People who don't live in my neighborhood or don't come from the same background as me or the same area as me -- they don't know how we live. They're outsiders looking in," Conley said. "They don't know what's going on in our neighborhood. They don't know what we go through -- they don't know anything, if you ask me."
Calling all HuffPost superfans!
Sign up for membership to become a founding member and help shape HuffPost's next chapter