Coverage of the unrest in Baltimore has once again proved that the media still believes "if it bleeds, it leads."
Following the funeral of Freddie Gray -- the 25-year-old black man who died of a spinal chord injury suffered while in police custody this month -- riots have broken out and sparked a larger conversation about police behavior and community relations.
But cable news has been flooded with graphic and disturbing images of burning cars, torched buildings and violent clashes between police and protesters. Newspaper front pages show only the destruction. Twitter is dominated by extreme photos and news anchors are playing the blame game rather than focusing on solutions.
Images of the peaceful protests or community members coming together are scarce. Like much of the coverage in Ferguson, the media has resorted to repeating only the negative while doing very little to move the story forward.
Fox News on Monday night played videos on loop of the damage and rage:
Laura Ingraham tweeted this controversial comment:
Megyn Kelly reported on a possible shooting ... in Brooklyn, New York:

During Fox News' coverage of the protests Monday night, host Megyn Kelly reported on a Brooklyn shooting before having any valuable information or confirmation -- or a real connection to the scene in Baltimore.

She told viewers that Fox News has been "keeping [its] eyes open for any related incidents. As we saw back during Ferguson, violence did break out in several other cities besides." Mediaite called it the "worst moment" of Fox's Baltimore coverage. Kelly risked misreporting a shooting simply to try to make a connection between Baltimore and Ferguson.
Others on Fox blamed the Obama administration for the situation in Baltimore:
Ablow said the unrest was driven by disrespect of the nation's laws, and a "tacit acceptance" of violent protests by people who may be frustrated.
"But the bottom line, Lou, is that if you want to change things, you work within the system, that is the way it has always been," Albow said. "If you want to tear down the system, you might be taking your cues, by the way, from a president who has given the appearance that there is every justification for any level of anger at our country because we're such despicable people."
Images of chaos in Baltimore continuously displayed:
MSNBC spent much of Tuesday only highlighting the worst of the data -- the exact numbers of fires and arrests -- as well as playing video of the looting on repeat. Their coverage was burning building after manhandling after car fire after rock throwing -- drowning the viewer.
CNN sensationalized its coverage with dramatic interviews and once again choosing to continually play mostly negative images. Slate's Justin Peters called the network's reporting "shallow, sensationalistic, reductive and statist."
And CNN's Twitter feeds gave more insight into the focus of their coverage:
Similar images dominated newspapers' front pages: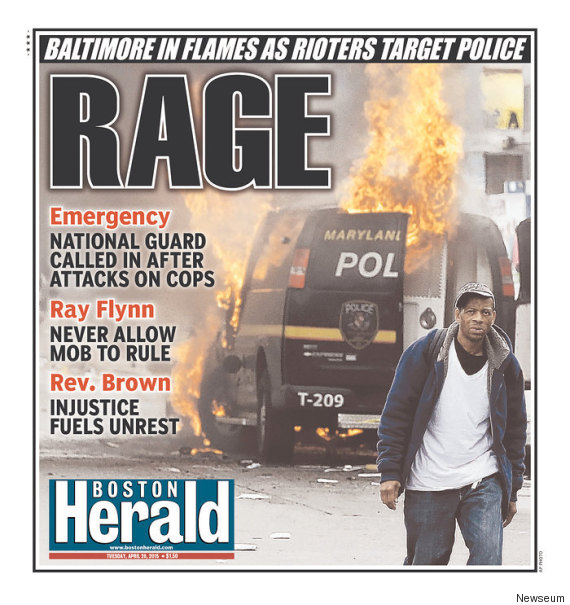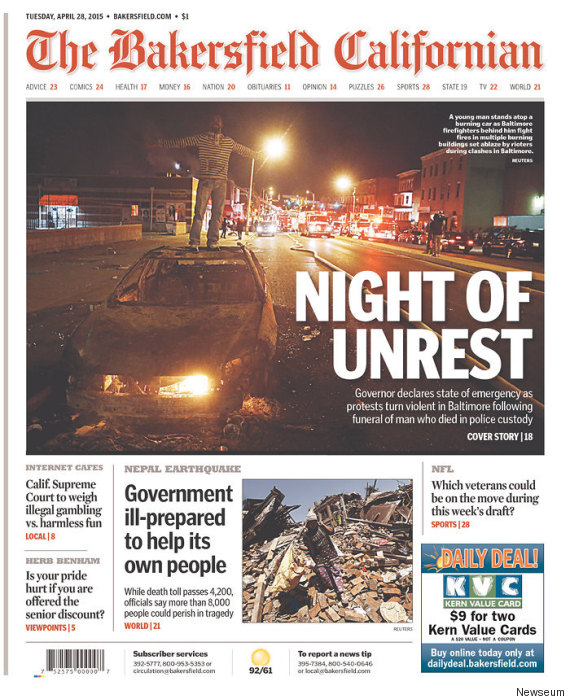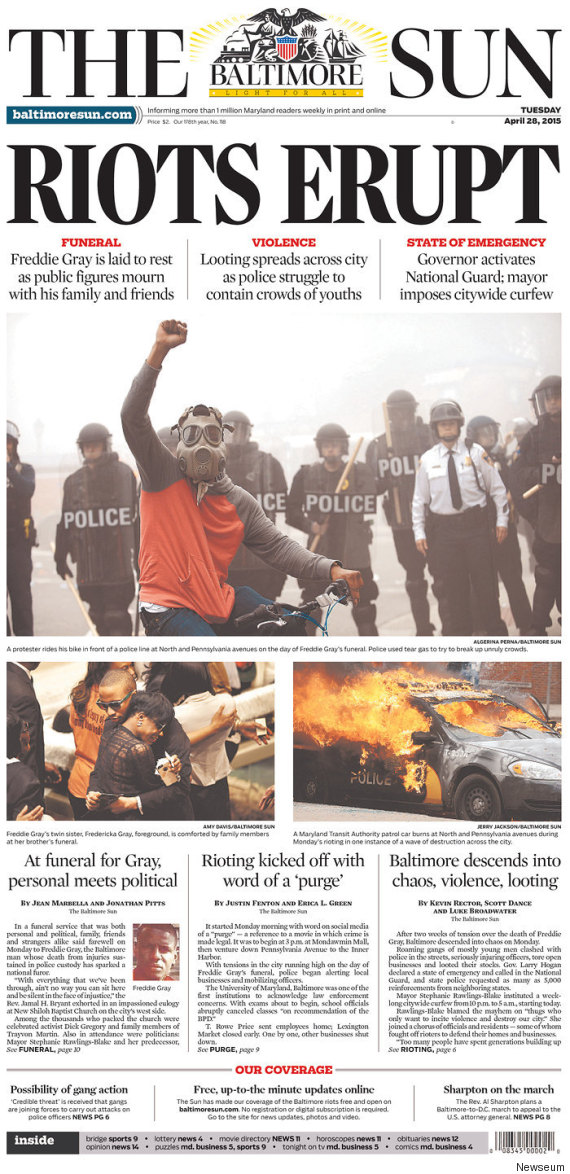 But there was more going on.

Alongside the arrests and chaos were people of all ages coming together to protect and restore their community.
A number of news outlets are highlighting these efforts, but we could all be doing more.
Support HuffPost
The Stakes Have Never Been Higher
Related
Popular in the Community