"The time has come," the Walrus said, "to talk of many things."
Not quite a century after publication of The Savoy Cocktail Book (London, 1933), contemporary mixologists in trendy bars and speakeasies have greatly expanded the available range of recherché refreshment. New York's glamorous Flatiron Lounge over on West 19th Street offers exotic cocktail trios. After your "Flight Back in Time" -- a Sazerac (originated late 1800s), then a Sidecar (1922), followed by an Aviation Cocktail chaser (1916) -- you might wing your way down to PDT (Please Don't Tell). Enter by slipping through a telephone booth located within a hotdog shop in St. Mark's Place -- sort of a contemporary riff on Through the Looking Glass and What Alice Found There (1872).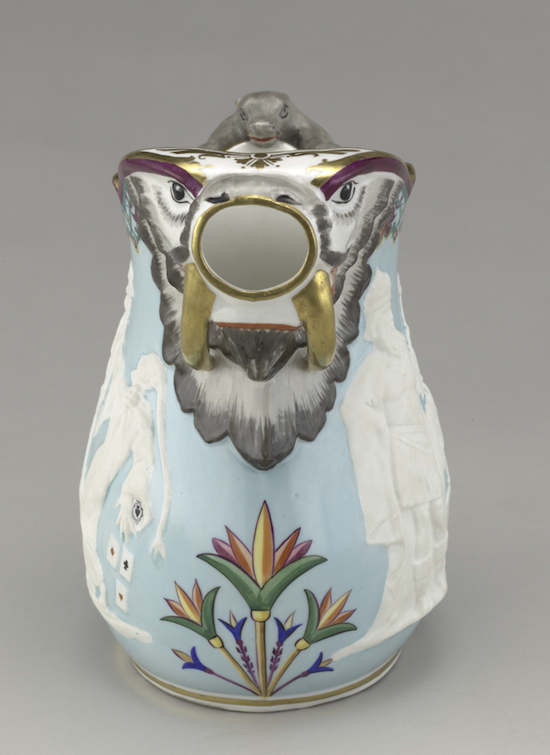 Apparently, nowadays it's through the martini glass. Beer -- even artisanal -- can it compete? Perhaps if served in a resplendent pitcher. Our arresting bit of visual mixology, another flight back in time, was modeled by Karl L. H. Műller (1820-1887). European political upheaval in the late 1840s stimulated the migration of many talented Teutonic artists and craftsmen, including Műller, to New York. He joined the Union Porcelain Works at nearby Greenpoint, an industrial center now absorbed by urban Brooklyn, gaining renown for his madly eclectic Century Vase. It illustrates events in American history coupled with scenes of her industrial progress, and was featured at the Philadelphia Centennial Fair of 1876. The Centennial also gave rise to the Colonial Revival, peppered with retold American tales such as the Pilgrim's (unlikely) landing on Plymouth Rock. A current website (beerhistory.com) irreverently suggests that the Pilgrims actually landed because beer supplies were running low.
Műller's walrus pitcher reflects some of his own past. On one side, left in unglazed white bisque, two convivial figures flank a keg. The portly King Gambrinus, legendary patron saint of beer, offers a heady brew to Brother Jonathan, personifying the United States. German immigrants introduced cold maturation lager beers to the American brewing industry in the mid-19th century. The king is accompanied by a goat, another symbol conjuring the pitcher's potential contents. Bock beer, a dark lager dating back to the 14th century, originated in the German city of Einbeck, hence "ein bock" -- a goat. The brewing business was further assisted by the development of commercial refrigeration after 1860. If the pitcher's walrus spout and the small polar bear crawling up the handle are any clues, beer should be served ice cold.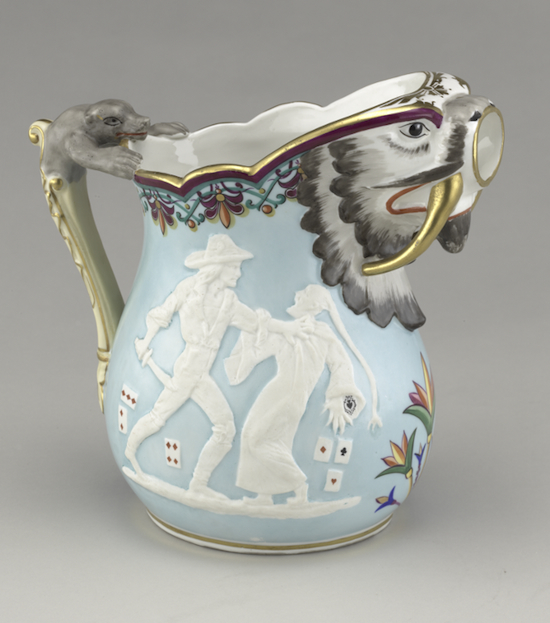 Painted decoration varies on examples of the pitcher in assorted public collections. Sometimes initials embellish the belly -- perhaps those of the original owner, for it is uncertain whether these vessels were intended for private or public use. Ours boasts a vigorous lotus, derived from an influential pattern book, The Grammar of Ornament (London, 1856). Bursting upwards in a brightly colored cocktail of red, orange, green, yellow and blue, the Egyptian blossom might seem incongruous, were it not that an early German poet, Burkart Waldis, wrote that King Gambrinus learned how to make beer from Isis, the ancient Egyptian goddess.
Poetry contemporary with the pitcher informs its ornamentation. Set in a San Francisco saloon, "Plain Language from Truthful James" brought national fame to poet Brete Harte when the first printing (September 1870) immediately went the Victorian version of viral as "The Heathen Chinee" in myriad republications, both official and pirated. The poem soon became a manifesto for restrictive immigration policies. Harte describes "Bill Nye," an Irish laborer, and "Ah Sin," a trenchantly named Chinese coolie, engaged in a card game. Both cheat. Mayhem ensues when Nye attacks his opponent, bellowing, "We are ruined by Chinese cheap labor" as he "went for that heathen Chinee." Műller's pitcher, today perhaps the most politically incorrect object in the museum's American collection, addresses labor problems between California's Irish and Chinese immigrants.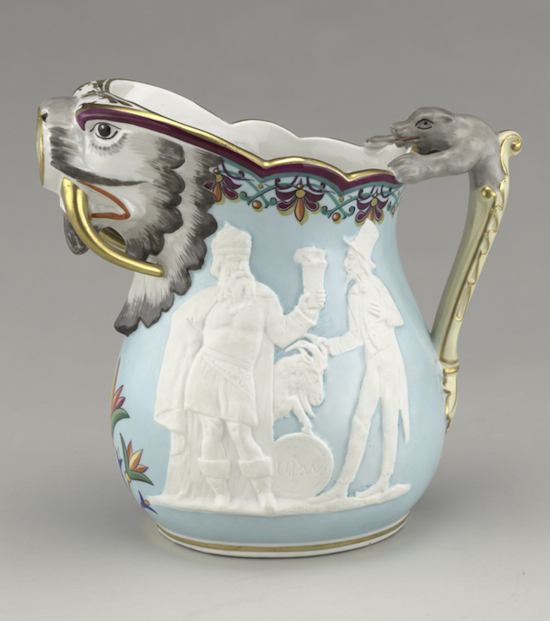 These troubles would have been the more poignant to Műller as a member of the immigrant group that preceded both. Illustrated versions of Harte's poem (1871, 1872) clearly offered a model for depicting the brawl. The published images show fisticuffs. But Műller upped the ante, arming Nye with an enormous knife. Like King Gambrinus and Brother Jonathan, the card sharks are rendered in white bisque -- the only color provided by their cards falling to the floor. Ah Sin held all the aces, but it doesn't look good for him...
The unusual walrus head that dominates the pitcher is poetically inspired as well. The pitcher was modeled only a few years after Louis Carroll published Through the Looking Glass, illustrated by John Tenniel. In the nonsensical poem recited to Alice by Tweedledum and Tweedledee, the Walrus and the Carpenter entice oysters to walk along the beach. The poem concludes:
"O Oysters," said the Carpenter,

"You've had a pleasant run!

Shall we be trotting home again?"

But answer came there none -

And this was scarcely odd, because

They'd eaten every one.
Saloons and public houses have long paired oysters with beer.
Peckish? Out of sorts? In Egypt, ancient texts recording medical prescriptions for beer date to 1600 B.C. If you're not a beer drinker, you might envision an alternate use for Műller's pitcher. Apotheke, another cocktail bar in New York, offers mixology lessons, calling its drinks "prescriptions." How about an icy pitcher of Dr. Ruth -- rosemary infused vodka, fresh strawberries, lime, topped with rosé champagne? The Walrus pitcher certainly holds enough to invite a friend; results could be interesting. As the Duchess says to Alice in Wonderland, "Everything's got a moral if only you can find it."
Beer Pitcher, c. 1876
Designer: Karl L. H. Műller (1820-1887)
Manufacturer: Union Porcelain Works, Greenpoint (Brooklyn), New York
Molded porcelain with overglaze enamels and gilding
H: 9 7/8 inches
The Baltimore Museum of Art, Middendorf Foundation Fund, and Albert H. Cousins Memorial Fund, 2003.234
Related