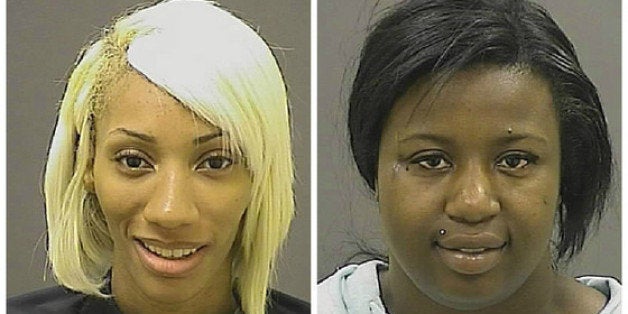 A pair of correctional officers in Baltimore were charged Wednesday with looting a convenience store during the riots that broke out last month following the funeral of Freddie Gray.
Police say Tamika Cobb, 29, and Kendra Richard, 28, can be seen in an April 25 video of people ransacking a downtown 7-Eleven store.
In the video, posted to YouTube, Richard is seen coming out of the store holding Slim Jims, while Cobb has Tostitos chips, police said. Police identified Richard as the woman exiting the store wearing yellow tennis shoes, black Adidas jogging pants and a jean jacket. They said Cobb was the one in yellow shoes, blue pants and a black sweatshirt with a large white graphic on the front.
Cobb and Richard had been placed on administrative leave while authorities investigated the incident, WBFF reports. They were previously assigned to a Baltimore Division of Correction facility.
Both women were charged with second-degree burglary, fourth-degree burglary and theft of less than $1,000 value.
Popular in the Community