WASHINGTON ― The Justice Department formally released a damning report on Wednesday detailing the routine abuse inflicted on Baltimore residents by the city's police department.
Baltimore police regularly performed unconstitutional stops, frisks and arrests ― which disproportionately targeted black residents ― and held an "us-versus-them" mentality, the report says. The Justice Department also found that officers retaliated against citizens, took a lax approach to sexual assault cases, employed excessive force too freely and used slurs against LGBT people.
Here are some of the most damning findings in the report.
A woman with a broken headlight was publicly strip-searched.
A black officer with a reputation for speaking out over misconduct was harassed by a supervisor, who placed signs warning him to "stay in your lane" and "mind your own business" on his desk.
An officer decided not to report a colleague for planting drugs because he feared retaliation.
An officer harassed a mother and her son outside their home, ultimately arresting the juvenile for "loitering."
The Justice Department found that officers had been accused more than 60 times of using the word "n****r," but the Baltimore Police Department didn't classify the language as a racial slur.
An officer used a Taser on a man who was yelling and swearing. In his report, the officer said the man's "weapon" was his "mouth."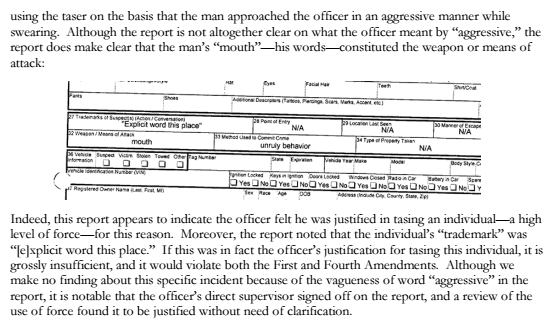 The Baltimore Police Department's "us-versus-them" mentality led officers to treat the city like a war zone. "You've got to be the baddest motherfucker out there," one officer said, explaining his approach to policing.
An officer cursed out a resident who asked why he had been pulled over.
In emails between a prosecutor and a police officer, the prosecutor called a woman who said she'd been sexually assaulted a "conniving little whore," and the officer replied "Lmao! I feel the same."
Baltimore officers themselves described stopping people without evidence of wrongdoing and detaining them.
Officers tried to discredit victims of sexual assault and put the blame on them.
During a DOJ ride-along, a sergeant told an officer to "make something up" to justify a bogus stop.
A single officer received 125 complaints in just a few years.
A commander instructed a sergeant to tell her officers to "lock up all the black hoodies" in her district.
A form for trespass arrests already had "black male" filled out.
A white officer allegedly threatened a black teen days after the acquittal of George Zimmerman, who killed black teenager Trayvon Martin, by saying he should "Put a hoodie on and come to my neighborhood."
Popular in the Community