A Baltimore police union says officers were inadequately prepared for and poorly instructed during civil unrest following the April 27 funeral for Freddie Gray, an unarmed man who died in police custody earlier that month.
Some officers didn't know who they were reporting to during the riots, according to a report released Wednesday by the Baltimore Fraternal Order of Police Lodge 3. The report also found that instructions to officers were unclear and that officers had "little to no training in riot/civil unrest situations."
The union "received many reports from members who were deployed to the defensive efforts, stating that they lacked basic riot equipment, training, and, as events unfolded, direction from leadership," according to the report. "The officers repeatedly expressed concern that the passive response to the civil unrest had allowed the disorder to grow into full scale rioting."
The union said it released its "after action review," which recommends giving on-the-scene commanders more latitude to make arrests, because Baltimore Mayor Stephanie Rawlings-Blake and Police Commissioner Anthony Batts had taken no action to do the same.
Mayoral spokesman Kevin Harris sharply criticized the union in an emailed statement, saying an extensive review of the city's response is underway.
"Our hope was that this report would shed some additional light on how we can better prepare our officers should there be future unrest," he said. "Instead this report is no more than a trumped up political document full of baseless accusations, finger pointing and personal attacks."
In the report, one 14-year veteran officer even said Batts "led us officers to slaughter."
Batts previously apologized to officers for putting them in harm's way during the unrest, The Baltimore Sun reported in May.
The unrest started after Gray's funeral, when a line of officers faced off with a crowd of angry teenagers in a parking lot at Mondawmin Mall in West Baltimore. Word had spread on social media earlier that day that in retaliation for Gray's death, there would be a "purge" -- essentially, a riot named after "The Purge," a 2013 movie about a 12-hour period of total lawlessness. Some commentators, however, have wondered whether the police presence itself could have escalated the situation, which eventually resulted in rioting, looting and arson that shut down parts of West Baltimore.
Officers at the mall fastened their riot helmets as teenage protesters arrived and one young woman began picking up rocks. Cops soon started yelling at the teens and instructing them to leave mall grounds.
Pushback from the police line heated up, causing the upset, yet fairly peaceful, teens to run to a 7-Eleven across the street from the mall. Soon, rocks, bricks and glass bottles were being thrown at the officers who pushed back the crowd and formed lines in the street but didn't try to arrest the protesters.
"At first, there were just a few objects being thrown," the unnamed officer said in the report. "But when the crowd realized that we were not moving forward and not engaging them, they began to throw more and more objects/rocks, all getting bigger in size. I had never in my 14-year career been as afraid as I was at that moment. I was struck with a piece of concrete that I did not see coming. The blow buckled me to my knees."
Earlier that day, Baltimore Police Media Relations sent out an unverified dispatch claiming that several of the city's gangs were collaborating to "take out" officers. The report called this an "unconfirmed rumor," adding, "circulating this rumor undermined the credibility of law enforcement and unnecessarily inflamed tensions." The dispatch contributed to the decision to close Mondawmin Mall at noon, mall officials said at the time, but store managers had also been hearing the "purge" rumors all morning.
The report from the police union in Baltimore differs greatly from a forthcoming after-action report on the police response to protests and riots in Ferguson, Missouri, last August. The study on the police response in Ferguson, which will be finalized in the next few weeks, was conducted by outside policing experts at the request of a component of the Justice Department. This analysis has found that many of the strategies deployed by police -- such as training sniper rifles on crowds of peaceful protesters in broad daylight -- incited additional unrest, according to a draft of the report obtained by The Huffington Post.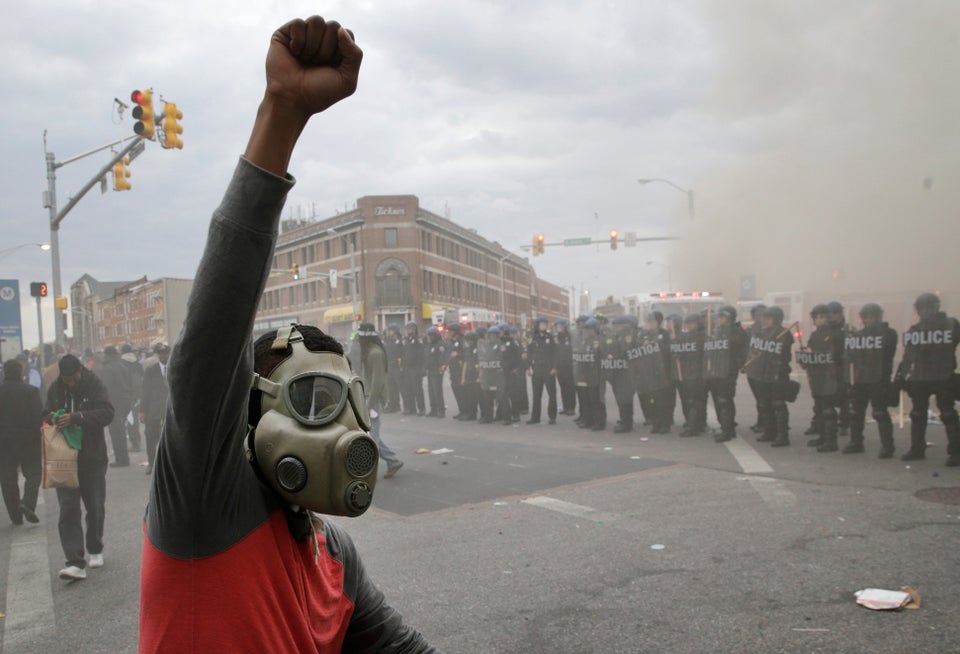 Baltimore Protests
Popular in the Community