For the black residents of West Baltimore, just hanging out with friends can draw unwanted police attention.
One young resident, identified in a new report as Mr. P., recalled how eight police officers in unmarked cars decided to search his group of friends in "vulgar" and invasive ways. He said officers ordered the students, who were chatting on a corner, onto the ground, and one officer allegedly put his hand into Mr. P's underwear, groped him and slapped him. Mr. P's friends were also searched. No one was charged with any crime.
Mr. P's experience is among the hundreds of accounts that shape "The People's Findings Regarding Police Misconduct in West Baltimore," a just-released report from the privately run West Baltimore Commission on Police Misconduct and theNo Boundaries Coalition, a local advocacy group.
Interviewers for the report found some 450 residents of the largely black neighborhood who were willing to speak about police misconduct, but only 39 who were willing to be quoted, even using a pseudonym. An overwhelming number of respondents feared retaliation from police, the report said.
"I understand we need to speak up on the way the police treat the community," one individual said, according to the commission. "But certain things ain't nobody going to talk about."
The commission collected West Baltimore's stories to present to the U.S. Department of Justice, which launched a civil rights probe into the Baltimore Police Department last year.
Freddie Gray didn't live to tell his tale. By age 25, the Baltimore resident had been arrested multiple times for everything from drug possession to playing dice at a public housing development, according to a BuzzFeed investigation. Charges were almost always dismissed.
Massive protests erupted in the wake of Gray's death, and soon after, DOJ began looking at the Baltimore police.
DOJ should consider the West Baltimore Commission on Police Misconduct's findings before reaching any agreement with the city on police department reforms, said Charles Cange, a visiting lecturer at the University of Maryland-Baltimore County who worked on the report.
Formed a month after Gray's death, the commission set out to document patterns and practices of police misconduct through residents' stories, said Rebecca Nagle, a member of the No Boundaries Coalition who helped conduct the interviews. But its main goal, according to Nagle, is to advocate for policy change.
The commission began with a public hearing in May at which residents of Sandtown-Winchester, Gray's mostly black neighborhood in West Baltimore, testified about the police violence they had experienced. Over the succeeding months, the commission also distributed fliers, set up a hotline and knocked on doors to speak with hundreds of people.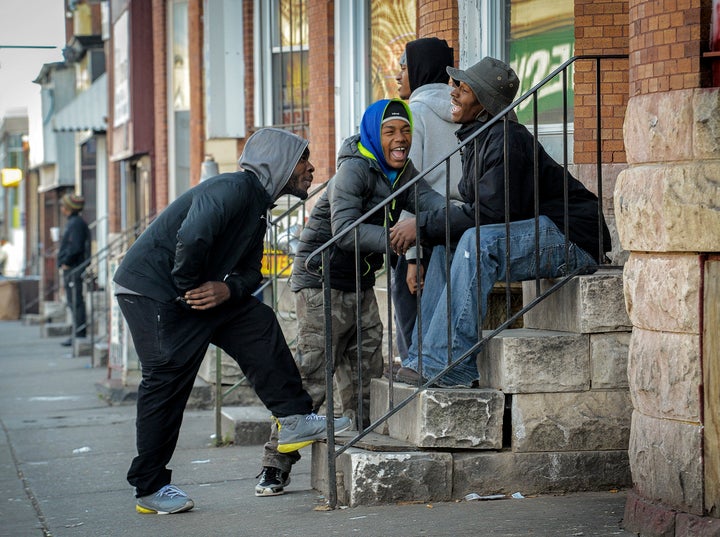 Though 9 out of 10 with tales of police misconduct weren't willing to be quoted in the commission's report, those who did talk said a mouthful.
"The officer picked me up and slammed me on my face, took my backpack off and threw all my books out, and when they didn't find anything kicked me in my stomach. I was just happy they didn't lock me up and bounced," one resident referred to as Mr. K told interviewers.
A police officer allegedly said to one resident who complained about kids throwing rocks at his dog, "I don't know what you expect living around these animals."
Sixty-nine percent of those who spoke with the commission at length said they felt anxiety or fear as a result of police encounters. Fifty-nine percent expressed a sense of "shame or humiliation," while 28 percent reported longstanding psychological distress as a consequence of their interactions.
Ray Kelly, another No Boundaries Coalition member who conducted interviews, told HuffPost that the coalition, founded in 2010, has pushed for better police-community relations and even created a community policing model.
"What the No. 1 concern was is that our residents didn't feel like they had a voice, that they weren't recognized by their representatives," Kelly said. The coalition has actually advocated for more police visibility -- not less -- in the form of foot patrols throughout West Baltimore.
Last year's civil unrest drew attention to uneven policing practices and assumptions across the city.
One resident of South Baltimore, a whiter section of town, told the commission that a police officer once said to her, "We don't have the same problems here in South Baltimore. We know you, you know us. We love you, you love us. We don't have the same problems here as in West and East Baltimore. You all are going to be fine."
Other respondents noted the disparity in police protection during the protests, when police reportedly maintained a strong presence in Inner Harbor, an upscale neighborhood and major tourist attraction, but lacked one in the economically distressed Sandtown.
"The city was pretty much saying Sandtown doesn't matter; the Black neighborhood can burn," one resident told the commission. "They were protecting the White people, the richer people."
West Baltimore residents told the commission that higher levels of crime in a neighborhood do not excuse excessive force or brutality by law enforcement.
"It used to be that if you did something illegal, they patted you down, they arrested you, and they locked you up," one resident testified. "Now, they don't even arrest you, they just take you in the alley and they beat you up. It doesn't matter what you do."
Seventy-four percent of the stories of police encounters in which gender was a factor described abuse that was gendered or sexually inappropriate. Female residents said they faced derogatory language and unnecessary roughness from male officers. Male residents said they were routinely "emasculated" with embarrassing and invasive strip searches.
Most of those who alleged police misconduct said they had not been arrested or convicted of any crime in relation to those incidents. Those who were arrested said their cases were thrown out.
"I ask my granddaughter, "Do Officer Friendly come in y'all school?" She said, "What that, ma?""
People repeatedly characterized the presence of police as distressing -- except if that presence was needed for protection, when they said it was nowhere to be found.
Decades of such policing has resulted in an "us vs. them" mentality for many residents and police officers. And those patterns don't seem to be changing even with the youngest generation.
"Do Officer Friendly come in y'all school?" Sandtown resident Ms. M. said she asked her granddaughter, referring to the longtime model program aimed at acquainting children with police in a positive way.
"She said, 'What that, ma?' I said, 'Lord, have mercy.'"
Despite tensions, the report said West Baltimore residents also expressed "a deep respect for police officers, and earnestly desire that relations can be rehabilitated."
Sandtown resident Mr. D summed up the community's ultimate goal.
"I want to teach my children, if you are ever in need and you need help, go find a police officer," Mr. D told the commission. "And right now, the way this thing is going, it's hard to teach your child to look for an officer for help, because they fear that the officer is not going to be the one to help them."
Before You Go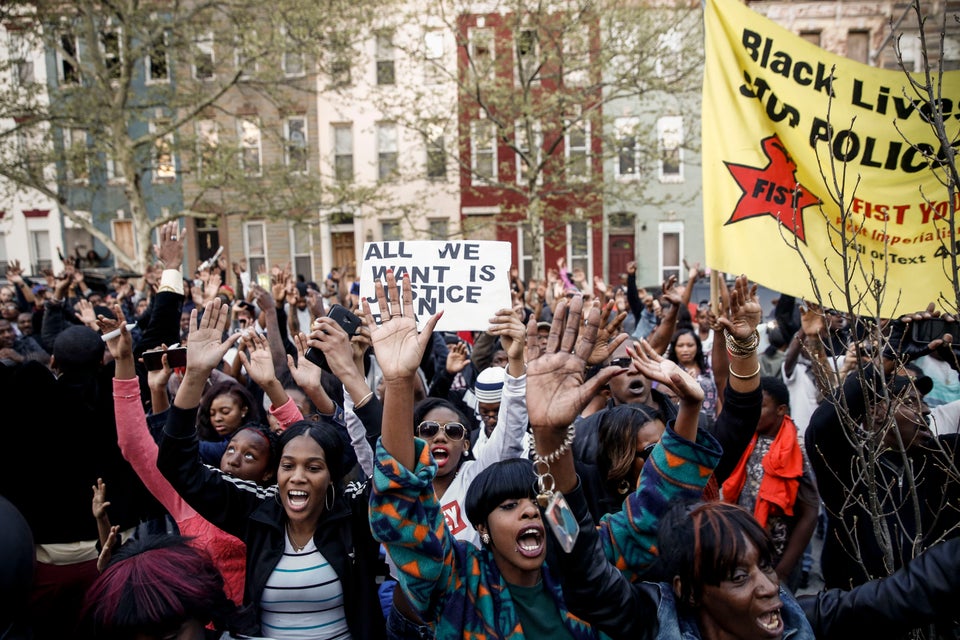 'Justice For Freddie Gray' Protests
Popular in the Community