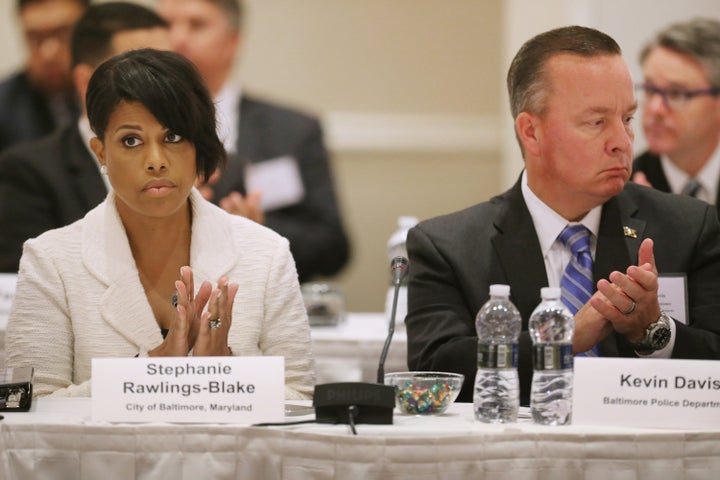 WASHINGTON -- On April 30, 2012, Ashley Overbey called the police because someone had broken into her Northeast Baltimore apartment while she was at work.
The responding officers were "very rude and unprofessional," Overbey, now 28, told The Huffington Post. She said one officer indicated she should expect to be robbed, given the location of her apartment. Overbey called the police department again to file a complaint about the officers, and two others arrived to take her report.
A crime technician came to dust for prints after the police left. By then, a group of people had gathered in the apartment to comfort Overbey, who was still vocally upset about the burglary and how she had been treated. The technician requested police assistance "because he was alone in the apartment and was concerned about the commotion outside the bedroom door," according to a memorandum filed by Baltimore city lawyers.
Officer Fred E. Hannah responded to the technician's call. Overbey said she remembers hearing a loud bang at the door before Hannah opened it. The officer's badge was not visible and he didn't announce himself. According to Overbey, he walked through the apartment without addressing her attempts to ask who he was. When Hannah finally identified himself, Overbey said she told him, "That gun you're holding and badge don't give you the right to disrespect my home or myself."
It was then that Overbey says she was told she was under arrest.
"I put my arms behind my back and he walked me over to the wall closest to the exit. As he's attempting -- or what I thought was an attempt -- to put the handcuffs on, I turned my head and I asked him what was I under arrest for," Overbey said. "And then he grabbed me by my hair and threw me out into the hallway and up against the wall across the hall. And that's when he just started beating me."
Hannah called for backup, and Officers Martin Richardson and Grant Galing responded, according to a lawsuit Overbey filed against the city. Richardson threw Overbey on the ground and began "violently and maliciously striking" her, the suit alleges, and Galing shocked her twice with a Taser.
Last September, the city paid Overbey $63,000 to settle her complaint.
But there was one big condition: If she wanted to keep the money, Overbey couldn't talk about how the cops had treated her. This condition, called a nondisparagement clause, is included in around 95 percent of Baltimore city's police-misconduct settlements.
"The city does it to keep people who have beaten up by the police silent," said Ben Jealous, former president of the NAACP.
Baltimore's nondisparagement clause is similar to those employed by other major cities like Atlanta, Boston, Minneapolis and Colorado Springs, Colorado. But officials in Minneapolis told HuffPost that they rarely use the clauses, if ever.
"The City of Minneapolis does not generally use non-disparagement clauses in case settlements," city spokesman Casper Hill wrote in an email. "As a public entity, we believe maintaining a certain amount of openness and transparency helps build public trust in the city."
These clauses are common in settlement agreements, and usually prevent recipients from slandering the other parties involved, discussing the amount awarded and the terms of the settlement. But most legal understanding of cases involving nondisparagement clauses are between two private parties, not a citizen and a city.
"Generally, the commonplace area you see nondisparagement agreements is in the general contracts between consumers and sellers," said Michael Smith, a civil litigation lawyer in Los Angeles. "But they have been done in settlement agreements like this before and they have been done in Maryland before. And … the law between private parties in Maryland says that's perfectly fine from a contract perspective."
Baltimore's nondisparagement clauses are designed to prevent victims from sharing the alleged details of a case or the names of the officers involved. Maryland doesn't legally require that this type of clause be used in police misconduct settlements -- they are simply a provision added by the city, according to the ACLU of Maryland.
"It creates an environment where it's easier for there to be more of these cases," Jealous said. "It protects officers who are prone to violence and ends up costing the city more money at the very least -- not to mention a trail of victims across the city."
Baltimore paid out around $12 million in police misconduct cases between 2010 and 2014, according to a Wall Street Journal analysis published in July. The city's most expensive payouts resulted from civil-rights violations and other forms of misconduct such as alleged shootings, beatings and wrongful imprisonment.
The city's solicitor has discretion not to include these clauses in settlements and makes the decision to do so on a case-by-case basis, said Howard Libit, Baltimore's director of strategic planning and policy. One example is the $6.4 million settlement awarded to Freddie Gray's family, which did not include a nondisparagement clause because media coverage had already made the facts of the case widely known.
Baltimore's nondisparagement clauses are quite vague, said Alexander Bush, a litigation attorney in Baltimore. They don't say whether plaintiffs can discuss the officers' involvement in other incidents of misconduct or if they are barred from speaking ill of the Baltimore Police Department in general.
The city's lawyers once said the clauses are "not an act of secrecy or concealment but of resolution, satisfaction and peacemaking," according to a Baltimore Sun editorial from May. The lawyers believe media coverage could blow the claims out of proportion and be "even more exaggerated than [those] in [the plaintiffs'] original complaint." City officials also see the clauses as good business decisions that save taxpayers money since it costs more to litigate each complaint.
The city could sue plaintiffs for defamation if they make demonstratively false claims outside of court, Bush said.
"If nondisparagement clauses are to get people to stop spreading lies and shaming police officers, then why did you settle it in the first place?" Bush said. "If it's so obvious that their lawsuits have no substance … take it to trial and show the public that. The only reason you'd hide something is if you're afraid of it ... as an attorney, you love taking those cases to court."
The main purpose of these clauses is to aid the city's public image, he added. They give the city leeway to claim there's no pattern of police misconduct -- a claim that the clauses prevent settlement recipients from disputing. They also make it difficult for attorneys to find prior victims to put their clients' incidents in context when filing civil suits against the police department.
"They're settling cases that they don't want people to hear about," Bush said. "And it helps them that they tack on this clause so that the person who's best able to really explain what happened now can't talk to people about it."
Jealous maintains that the clauses are used "to silence and bully victims of police brutality."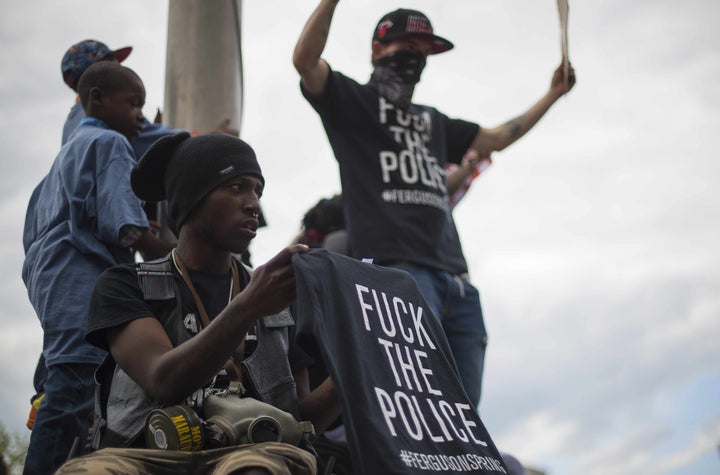 Darrien Hunt, 22, was shot and killed by Utah police last year. In September, his mother rejected a $900,000 settlement offer from the police department because accepting the funds would have barred her from publicly discussing what happened to her son.
"To me it was a gag order [that said], 'Here's hush money, don't ever say Darrien's name again,'" Susan Hunt, Darrien's mother, told Utah's KSL news.
"My biggest concern is for the truth to be told," she added.
Overbey, however, couldn't afford to do this. She lost her apartment and couldn't find a job while her civil suit dragged on -- in part because Baltimore refused to drop seven criminal charges against her until she settled. She and her children were homeless for a significant portion of the time. She planned to use her settlement money to furnish a home, catch up on her bills and make a donation to a youth program in the city.
"It had been two long years and I was really tired of dealing with this," she said. "A lot of people give up altogether or don't pursue it because they can't afford to. I could not work for two years, which means I could not provide for myself or my children, but I felt so strongly with not letting them get away with it."
Overbey was glad the ordeal was over -- until she saw her name and picture in the newspaper. Despite the limits they place on victims' speech, nondisparagement clauses usually allow the city to disclose basic facts and circumstances surrounding the settlement.
"I found out that my name, my picture and my settlement amount had been released on the front page of the Baltimore Sun," Overbey recalled. "This all started because someone had broken into my home. It's like my life was just finally starting to come back together and then they do that. I'm terrified that someone is gonna come kick my door in for money I don't even have."
The public exposure triggered online abuse from anonymous commenters who claimed Overbey concocted the incident in order to receive a payout.
When Overbey defended herself against these accusations, city lawyers said her comments about what happened too closely reflected statements in the lawsuit and thus violated the settlement's terms. This triggered the nondisparagement clause, and the city seized half of Overbey's settlement.
"It devastated me, honestly," Overbey said. "Me and my children suffered for two whole years. It wasn't about the money but if they aren't going to take their badges and get them off the streets then the least they're gonna do is give me something -- some kind of compensation. And then for them to turn around and even take that, it drove me crazy."
Now, Overbey says she feels obligated to speak out about what happened to her.
"It's not fair [that] they beat us -- they're the real criminals but we're the ones who suffer," she said. "They can speak freely, put our names in the papers but the whole time the gag order protects these officers."
It doesn't have to be this way. Many cities, including Las Vegas, Philadelphia and Washington, D.C., often choose not to use nondisparagement clauses even though there is no explicit policy against them.
"Our view is that we generally don't need such language," a spokesman from the Philadephia mayor's office said.
Popular in the Community