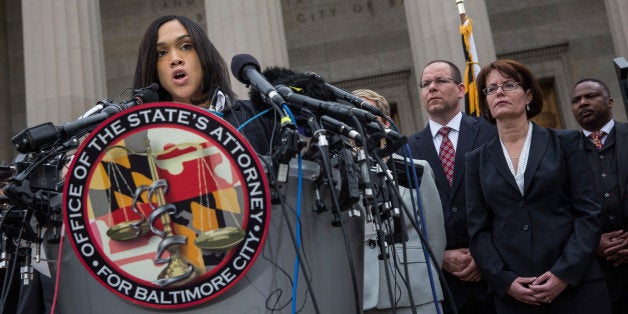 (Adds reclassification in murder count)
June 4 (Reuters) - Baltimore's top prosecutor plans to seek a protective order that would block the release of Freddie Gray's autopsy report and other documents as she prosecutes police over his arrest, the Baltimore Sun reported on Thursday.
State's Attorney Marilyn Mosby told the newspaper that prosecutors "have a duty to ensure a fair and impartial process for all parties involved" and "will not be baited into litigating this case through the media."
Gray, a 25-year-old black man, died on April 19 from a spinal injury suffered in police custody. His death triggered protests and a day of rioting in the largely black city, and came amid a national debate on police brutality.
Mosby has charged six officers with violations ranging from misconduct in office to, in one case, second-degree murder. All the officers have been released on bail.
She outlined her intention to seek the protective order in a filing on Monday in Baltimore City Circuit Court. She also asked for more time to respond to defense motions that she and her office be removed from the case and that the case be tried outside Baltimore.
The move is the latest effort by Mosby's office to restrict information in the high-profile case. Prosecutors have sought a gag order to prevent participants from discussing the case in public, and have broken with a long-standing practice by not giving a copy of the autopsy report to Baltimore police.
Ivan Bates, who represents one of the accused officers, Sergeant Alicia White, criticized Mosby's request, saying she had made a nationally televised speech about the evidence.
"Now that it is time to turn over the evidence, to ask for a protective order is beyond disingenuous," the Sun quoted him as saying.
Bates said the protective order would allow only prosecutors and defense attorneys to see the documents, and could require the court to seal all new filings that make reference to information in the documents.
The court wrangling comes as Baltimore is suffering from a sharp upturn in murders which police blame on drug gang turf wars. Police Commissioner Anthony Batts said on Wednesday the city was seeking more federal help.
Initially, Baltimore had counted 43 killings in May, the highest monthly total since 1972. A police spokeswoman on Thursday said detectives had reclassified one murder as justified, which dropped the May figure to 42, the highest monthly total since 1990.
(Reporting by Ian Simpson in Washington; Editing by Lisa Lambert)