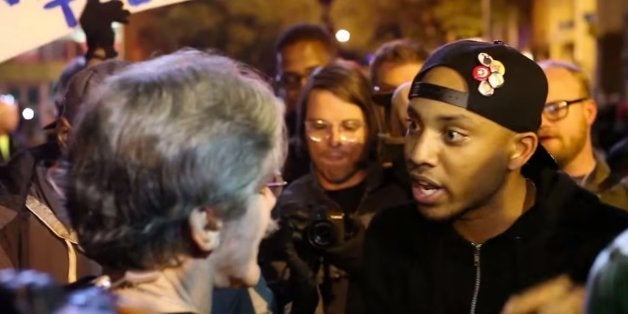 "I have been out protesting for almost two weeks now without being on one camera," he said. "After Monday night when the media started pouring in, I sat at work and watched how the media basically forced people to believe that Baltimore was some Third World city."
Tuesday night, Rose made headlines when video captured him telling Geraldo and Fox News to "get out of Baltimore city" until they start reporting "the real story."
"You're not here for the death of Freddie Gray," he shouted at Rivera. "You're here for the story."
He told Media Matters in an email that he never thought the video would go viral, but said he just needed to let people know that "this generation refuses to be misinterpreted." Rose added that much of the media, like Fox News, is exploiting the situation in Baltimore and lying to viewers by not showing the entire story.
"I sat and watched the media set up their camps in front of boarded up homes ... while we were cleaning up the streets as one community," he continued. "The cameras weren't rolling, nobody cared."
"Geraldo is like the majority of America," Rose concluded. "He fears a Black man so much that he [would] rather try to instigate a fight than to engage in a conversation."
Watch Rose's confrontation with Rivera:
Support HuffPost
The Stakes Have Never Been Higher
Related
Popular in the Community