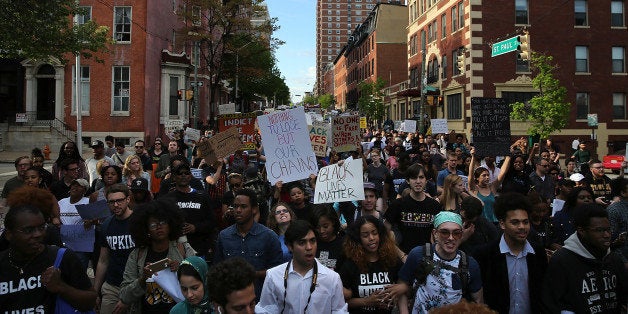 BALTIMORE -- At the Mondawmin Mall in West Baltimore Wednesday afternoon, members of rival gangs banded together to make sure local high school students got home from schools safely.
"We all met up today to make sure the incidents that happened in previous days don't happen again," a 21-year-old who asked to only be identified by his nickname, Trag, told The Huffington Post. He had a burgundy bandana around his neck, and those around him wore bandanas of different colors to signify their affiliations, be it with the Bloods, the Crips or the Black Guerilla Family.
On Monday, high school students looted the stores at the mall, as the city erupted in riots after the funeral for Freddie Gray, the unarmed, 25-year-old black man who died in police custody earlier this month.
"We [are] out here to regulate everything, making sure the kids get on the bus from school, to just make sure they clear this area out," Trag said.
Niko Ramon Caldwell, 25, said he was there "to protect these people ... from running into the mall and causing a ruckus, so they won't get hurt by the police."
"As long as people like me [are] out here, my brothers, the Crips, the Bloods, we'll keep the peace," Caldwell said.

The students got on the buses peacefully, as police helicopters buzzed overhead and as state troopers and members of the National Guard -- all in full riot gear -- stood in a phalanx nearby.
Several blocks to the east, outside a CVS store that was looted on Monday, church groups handed out free hot dogs and bottles of water. One man said he had traveled from Washington, D.C., to the neighborhood to "help clean up" from this week's riots, only to find that everything had already been cleaned.
On the CVS store's brick wall, next to a boarded-up window, someone had drawn a peace sign.
And later Wednesday evening, thousands of protesters -- many of them students from local colleges -- held a peaceful march from Baltimore Penn Station to City Hall.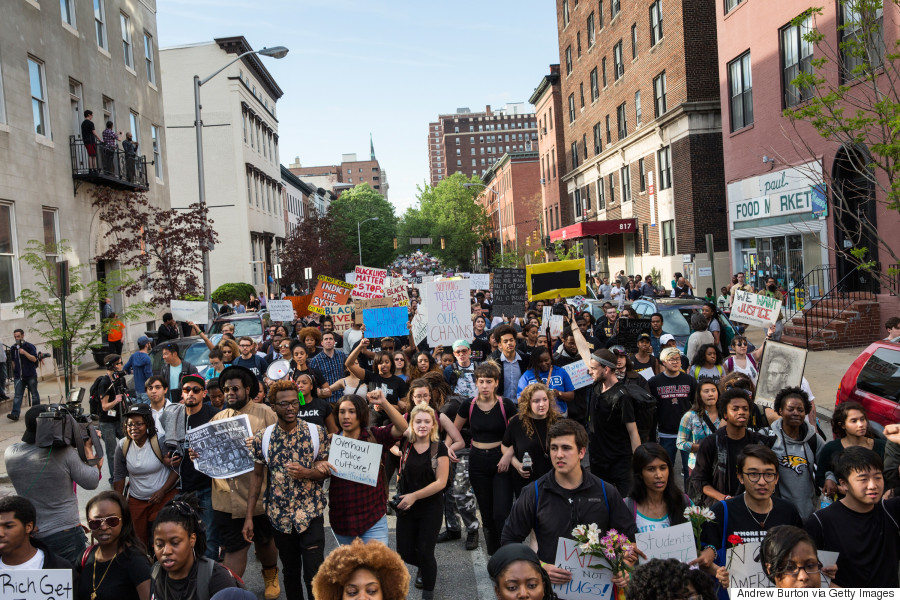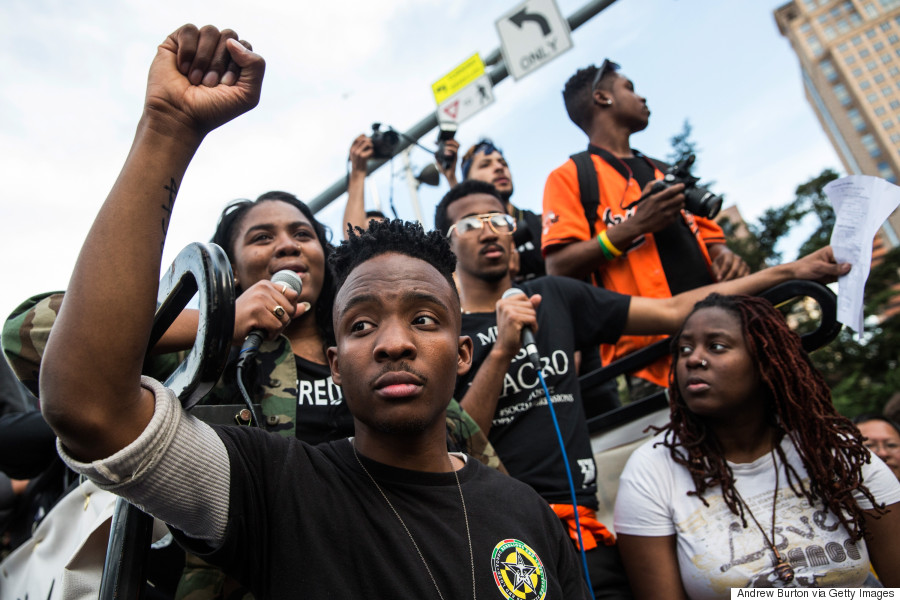 Among the leaders of the march was John Gillespie Jr., a student at Towson University who stood in the bed of a red pickup truck as it drove slowly through the streets.
He helped lead the massive crowd in the same chant that has echoed in streets across the country in recent months. In Ferguson. In New York City. In Charleston.
"Black lives matter!" the group shouted. "Black lives matter!"
Gillespie also took time to criticize Maryland's Law Enforcement Officer Bill of Rights, a 40-year-old statute that largely shields police officers in the state from oversight, and impedes the public's ability to know the details of police misconduct.
"These police officers are granted an internal investigation," he called to the crowd. "We'd like the people to have a part in this investigation."
The exact circumstances of Gray's death are still unclear. Police say Gray made eye contact with officers in West Baltimore on April 12, before running away. They chased and arrested Gray, loaded him into a police van, then cuffed his arms and legs. The officers did not, however, buckle his seat belt -- a violation of department policy.
Gray repeatedly asked for medical care during the 30-minute ride in their van, police say. At some point while Gray was in police custody, lawyers for his family say, his spine was nearly severed. He died a week later, and the six officers involved have since been suspended.
After Gray's funeral Monday, riots erupted across Baltimore. There was looting, buildings set on fire and violent clashes with the police, all of which attracted around-the-clock coverage from the cable news channels.
But all week, many criticized the media's coverage, saying it focused too much on the riots, brushed over the systemic racism that caused the riots in the first place, and ignored the many peaceful protests that had occurred elsewhere in the city.
At one point during Wednesday's protest, everyone linked arms as they marched.
"This is what a Baltimore united looks like," Gillespie said, looking out over the crowd, which at times stretched as far as the eye could see.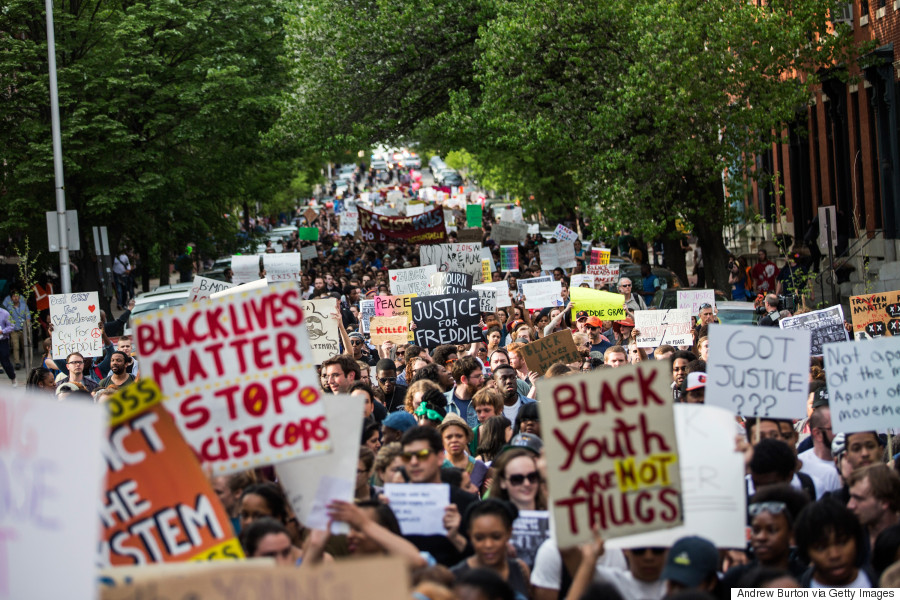 "The overwhelming majority of protests have been extremely peaceful like this," 21-year-old Nkechi Mezu, the president of Towson University's Black Student Union, told HuffPost.
"We just want things to be changed and that's why we're protesting," she said. "We're protesting for a purpose. We want laws changed and policies changed. It's not just to make noise."
Twenty-five-year-old Brion Gill, a born-and-bred Baltimorean and member of a coalition of local social justice groups called Baltimore United for Change said the media should focus on "what led us to this point."
"It's interesting to me that the only thing the media is willing to talk about is what's happening right now because there has been more black arrests and more communities that are being destroyed," she said.
"But I think it's interesting also that no one talked about what those communities looked like before the fire started," she continued. "They were dilapidated and burning before. And the reality is, it's more entertaining to talk about what's happening now than the extreme injustice that always is here and probably will continue to happen because this city just doesn't care about the black people that live here."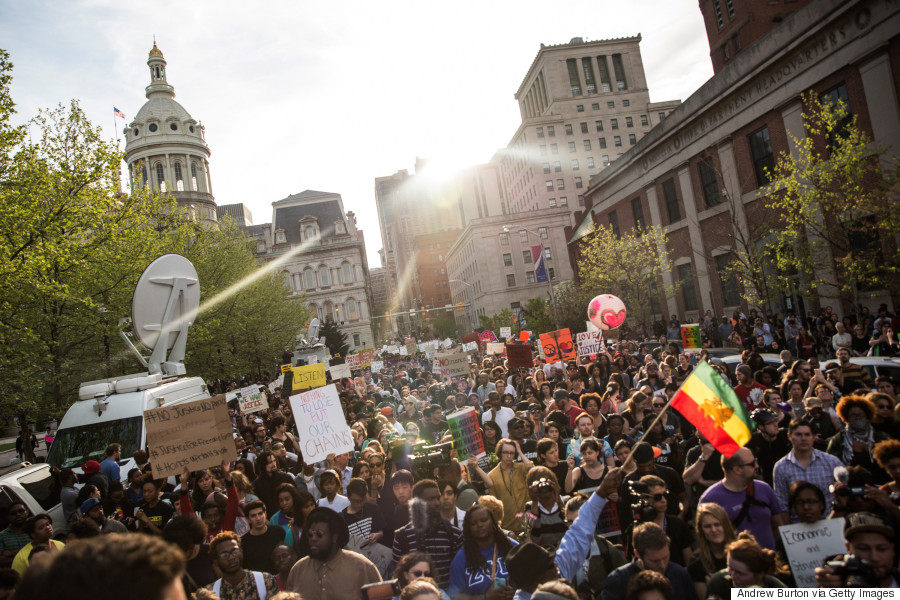 The evening ended on a triumphant note, as protesters danced to "They Don't Care About Us" by Michael Jackson -- which blared from a truck's speakers -- before piling into shuttle buses or onto the light rail to head home. Mayor Stephanie Rawlings-Blake, after all, had issued a 10 p.m. curfew for the city.
Back in West Baltimore, gang members were now out in force to make sure people stayed off the streets. They, too, linked arms and marched, moving people out of the intersection of North Avenue and Pennsylvania Avenue, where the CVS had been looted.
By late Wednesday night, a live CNN feed showed the intersection quiet and empty, save for some journalists and police officers.
Calling all HuffPost superfans!
Sign up for membership to become a founding member and help shape HuffPost's next chapter