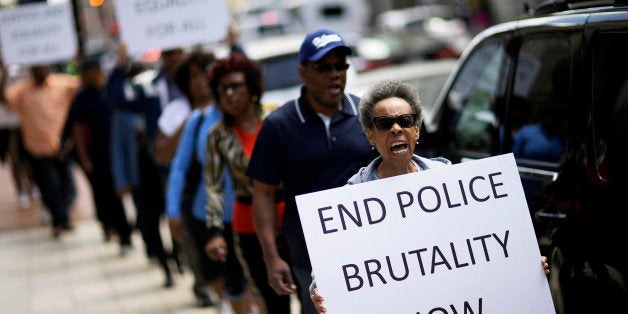 Students who engaged in violent behavior this week in the wake of Freddie Gray's death will be held accountable for their actions, the CEO of Baltimore City Public Schools Gregory Thornton said in a statement Tuesday night.
Thornton closed schools Tuesday amid citywide riots and violent unrest. Violence broke out in the city on Monday afternoon, following Gray's funeral, and according to reports, some local students helped initiate clashes with the police.
Thornton made it clear in his statement that students who participated in violent behavior on Monday would not get off the hook for their actions. "First, I want first to acknowledge and thank the thousands and thousands of students who made good decisions yesterday and avoided the violence and law-breaking," he wrote. "Many faced challenges, including difficult journeys home, and they did so with maturity and responsibility. We're proud of you."
It continues that a "small minority" of students "did not make responsible decisions." Thornton said he was "deeply angered" by those actions and that he's working to identify the particular students involved in violent acts. Representatives from the district did not immediately respond to The Huffington Post's requests for comment regarding how they might be held accountable.
Freddie Gray died April 19, after suffering severe spinal injuries while in police custody.
Students who initiated the violent behavior Monday attend Frederick Douglass High School , located across the street from where the riots broke out in the northwest part of the city, according to The Baltimore Sun. When speaking with the outlet, Thornton called the students' behavior "inexcusable."
Still, he noted that these inner-city students also face a dearth of resources and opportunities compared to their more affluent peers. "These are things kids have all across America, but when they look at their communities, it's not afforded to them," Thornton told the Sun. "Many of our kids feel that as a community we have not served them well."
The statement released by Thornton Tuesday said that teachers and mental health professionals would be working with students on Wednesday to help them process the past few days.
"Principals and teachers are planning activities that will help students learn from the past days' events," it reads. "Counselors, social workers, and psychologists will be on hand to support students' emotional needs."
REAL LIFE. REAL NEWS. REAL VOICES.
Help us tell more of the stories that matter from voices that too often remain unheard.
BEFORE YOU GO
PHOTO GALLERY
Baltimore Protests