WOODLAWN, Md. -- Late Monday night, while fires set by rioters in West Baltimore were still burning, word went out on social media that there would be another round of chaos the next day.
Fliers shared by young Baltimoreans on Instagram called for a "Purge" Tuesday afternoon at malls on the outskirts of the city. It was the same language used to draw hordes of teenagers to the Mondawmin Mall on Monday, where violent protesters attacked police before rioting rocked the city that evening.
Fearing a repeat of the violence, the Security Square Mall here shut down on Tuesday morning, with barricades blocking the vast parking lots surrounding its more than 100 stores. Several other nearby businesses, including a Popeye's, boarded up their windows and closed. A large number of police officers posted up in the parking lot, and a helicopter circled above.
Around noon, the Baltimore County Police Department said it was aware of the messages and ready to respond, even though a gathering didn't appear to be imminent.
Here's what one of the Instagram fliers looked like: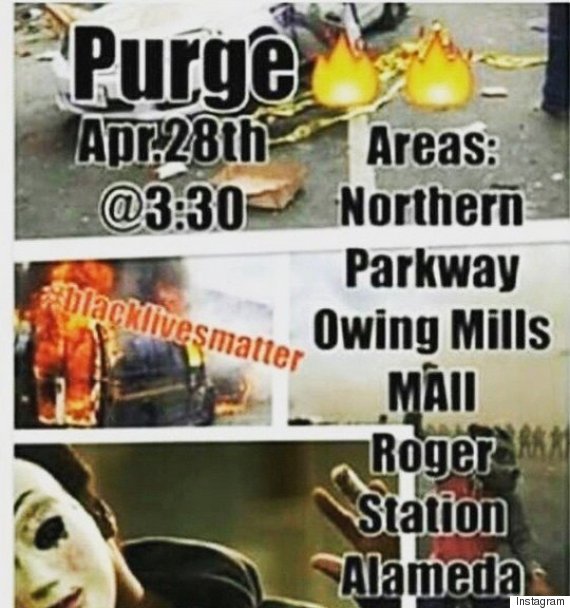 The purge didn't happen. Instead, the few masked protesters who showed up were vastly outnumbered by prayer groups and gang members who were at the mall in an effort to dissuade violence. Several families came with children, including Mekai Hines, a 12 year old who was there with his mom and brother.
"People have been talking about rioters coming to Security Mall, and I'm here with a prayer group and we're praying that people don't come up here and riot," Hines said.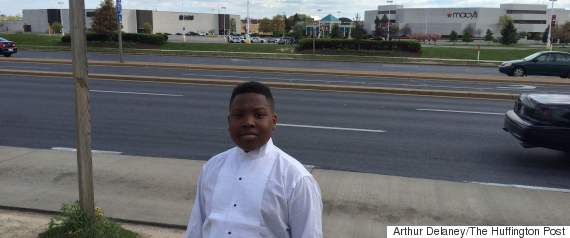 A half-dozen young people from Baltimore walked into the parking lot of a Weis Markets, where contractors were putting plywood boards over the store's windows at 3 p.m.
Devon Winfield, 23, told HuffPost he and his friends came to witness what might happen after seeing an Instagram flier calling people to the Security Mall at 3:30. Winfield said he and his friends had no intention to riot.
"[We're here] not to be part of the group or anything, just to see what's happening," Winfield said. He added that he thought the protesters angry about Freddie Gray's death were right to be mad, even if he disagreed with their violent methods.
A Weis spokeswoman said in an email that the store closed over fears of violence. "Out of an abundance of caution, we closed our store located in Woodlawn, Maryland at 12:00 p.m. today. As always, our priority is the safety of our customers and our associates."
The next morning, the store reopened. No mayhem.
In West Baltimore later Tuesday evening, police remained vigilant. At least 10 people were arrested after the 10 p.m. curfew went into effect, according to Baltimore Police Commissioner Anthony Batts.
Two people were detained for looting, one for disorderly conduct and seven for curfew violation, Batts said during a press conference late Tuesday night.
"The curfew is, in fact, working," he said. "Citizens are safe. The city is stable. We hope to maintain it that way."
It appears as though Batts was, for the most part, correct. Wesley Lowery, a reporter for the Washington Post, tweeted that most of the crowd at the intersection of Pennsylvania and North Avenues last night were media.
But not everything was peaceful last night. Some journalists covering the city post-curfew found themselves in the line of fire.
Helicopters patrolling the intersection of Pennsylvania and North told media members to go home or face arrest around 10:15 p.m. About 20 minutes later, Baltimore Police gave the OK for media to remain in the area.
REAL LIFE. REAL NEWS. REAL VOICES.
Help us tell more of the stories that matter from voices that too often remain unheard.
BEFORE YOU GO
PHOTO GALLERY
Baltimore Protests