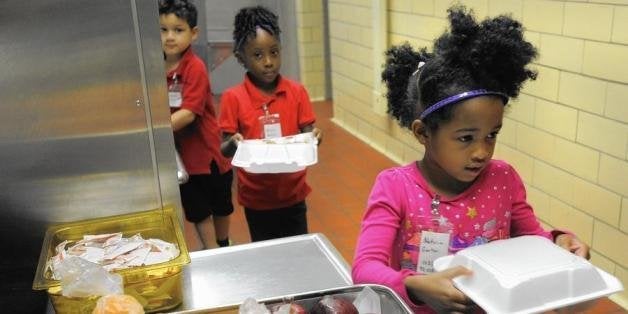 Baltimore children attending public schools won't have to go another day in class hungry thanks to a new state program.
On Tuesday, Maryland State Delegate Keith Haynes (D) spoke at Beechfield Elementary/Middle School in Baltimore to give the good news, the Baltimore Sun reported. Haynes is the chief sponsor of The Hunger Free Schools Act of 2015, a state law that allows any school and school district with at least 40 percent of its population considered low-income to offer free meals to all its students.
That number means every single school in Baltimore is eligible, Haynes told The Huffington Post.
Last year, 84 percent of city students qualified for free or reduced-cost meals. Baltimore is one of many Maryland districts currently taking part in the new program.
"There is an increasing number of homeless students within the Baltimore school system," Haynes told HuffPost. "Under the old system, if the student was homeless and didn't have a parent or guardian to complete the proper paperwork, they weren't getting any meals at all. Other times, families who are homeless don't want people to know, so would never fill out the forms. This new law removes those barriers, so everyone is equal."
"It's a win for everyone," Haynes told HuffPost. "Students, whether they can afford to purchase food or not throughout the school year, now have the same access to balanced, nutritious meals while they're in school, and I believe that's the great equalizer."
Haynes said he understands the important correlation between a healthy meal and good schoolwork.
"We know being able to eat at school is directly tied to better academic performance, better success and outcomes, and it lets students focus on getting through the day without having to be hungry," he said. "We believe this is going to be tremendously successful for all the schools."
"It makes you focus in school because you can't do any work with an empty stomach," Katia Stanford, a Beechfield student, told local TV station WBALTV.
The program will also bring federal money to participating schools, according to the Associated Press.
Beechfield's principal, Renee Browning, told the Sun she often sees her students sharing lunches when they can't afford to buy food. Browning won't have to anymore.
"[F]rom day one to day 180, every child will have a free school lunch and they will be focused on their academics," Browning told the Sun.
"It's good, and kind of crazy because kids should have been getting free lunch from the beginning if they knew kids was hungry," Stanford told the Sun.