But lost in the resulting criticism of the Baltimore Police Department was another, equally concerning aspect of the report: It revealed that the city "has essentially used the Baltimore School Police as an auxiliary force to BPD." School police can "exercise full police power anywhere within the jurisdiction of the City of Baltimore," according to the report. This includes making arrests, aiding Baltimore Police officers in investigations and following up on criminal cases.
So if Baltimore city cops are systematically violating the rights of black adults in the city, how are their buddies in the school police force treating black kids?
They're arresting them ― a lot.
Putting cops in schools leads to the "criminalization of regular, normal adolescent behavior," said Jenny Egan, a Baltimore public defender who represents juveniles. "When we put police officers in school who aren't trained, who don't know anything about adolescent development, and you tell them this is a crime, they're going to do what police are trained to do ― arrest people."
The data bear that out: Students in Baltimore City Public Schools make up just 10 percent of Maryland's K-12 school population, but account for 45 percent of Maryland kids arrested in schools. At least 3,390 juveniles were arrested in Baltimore during fiscal year 2015. Ninety-four percent of them were black and 12.6 percent of them (around 427 kids) were arrested in school, according to the Maryland Department of Juvenile Services.
Despite all those arrests, Baltimore school cops aren't catching a ton of hardened criminals: Around three-quarters of the kids arrested in Baltimore schools have their charges dismissed or are found not guilty, according to Egan's analysis of more than 400 school-based arrests from the 2013-2014 and 2014-2015 school years.
Baltimore School Police officers are trained to operate not as social workers or adolescent behavior specialists, but as warriors, a March investigation by Mother Jones found. One piece of their training literature quotes "One Warrior's Creed" by retired cop Steven R. Watt. "You may defeat me," it says, "but you will pay a severe price and will be lucky to escape with your life."
That "warrior" attitude can lead to abuse. Last year, Lakisha Pulley, a school officer, pleaded guilty to three counts of second-degree assault for hitting a middle-schooler in the head with a baton and pepper-spraying two others while they were restrained. This March, officer Anthony Spence was caught on mobile phone video slapping and kicking a teenager. And this sort of behavior has been happening for years: In 2002, school officer Marlon Lynch shot and killed a 13-year-old who was allegedly smoking marijuana and drinking behind an elementary school.
So if Baltimore school cops aren't actually stopping crime — and are sometimes assaulting or killing kids — why are they in schools in the first place? It's all about history and segregation.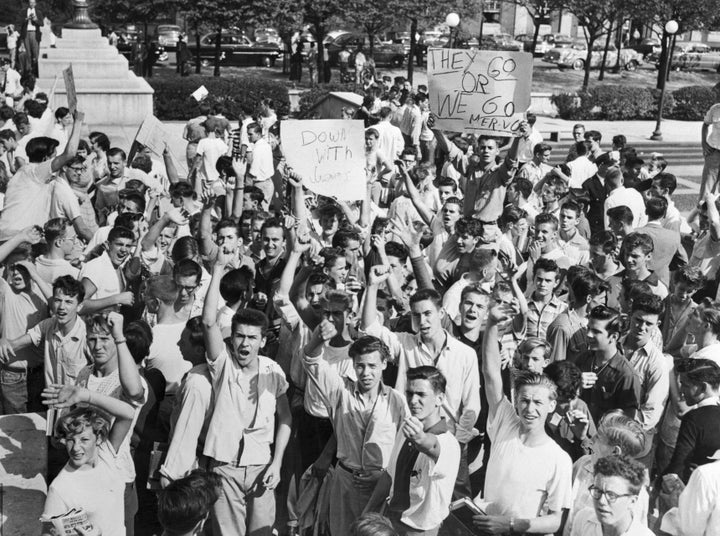 A security division for Baltimore public schools was founded in 1967, the same year that Thomas D'Alesandro III became mayor having run on a school integration platform. The timing wasn't a coincidence, Egan said.
"When they got serious about desegregating schools, it was the exact moment that they created a separate [police force] for Baltimore City schools," she said. "We took these formal ways of segregation and started … using the criminal justice system and police measures to criminalize, in this case, just the presence of black students in Baltimore City public schools."   
Although Baltimore had immediately merged its separate school systems following the 1954 Supreme Court ruling in Brown v. Board of Education, it didn't redraw any district lines to mix black and white students. Between 1955 and 1963, the number of black children attending all-black elementary and high schools actually increased by 13,000 and 4,500, respectively. Baltimore schools remain de facto segregated to this day, according to a 2013 report from the Civil Rights Project at UCLA. And nearly 82 percent of students in the public schools are black.
Shortly after the school security force was established, the Maryland state legislature passed a law making it illegal to disturb school activities, Egan said. This gave officers the green light to arrest students.
"The origins of the school police as well as the origins of laws focused on students and children ― like disturbing school activities and making that a crime ― come out of that very charged racial moment," she said.
In 1984, as the crack cocaine epidemic hit cities, then-school Superintendent Alice G. Pinderhughes redesigned the security division to function as an official police force. Personnel titles were changed and, during the tough-on-crime era of the 1990s, the Maryland General Assembly passed a bill confirming that the division held the same powers as a regular police force.  
Linda Flood moved from the city's police department to become the Baltimore School Police chief in 1994. Under her leadership, the force received more training and was equipped with marked police vehicles, professional uniforms and firearms.
When the No Child Left Behind Act became federal law in 2002, schools across the country were required to report data on student suspensions and expulsions and to justify those decisions. But they weren't required to report school-based arrests. This had a very unfortunate side effect on student discipline ― at least in Baltimore.
"It created this perverse incentive where you couldn't suspend a kid because the standards were too high and you had to show reason, but you could arrest them," Egan said.
That's what makes the Justice Department's analysis of the Baltimore School Police so disturbing. An already flawed school police force is traumatizing kids in an overwhelmingly black school system. If that force is also working in tandem with a broken city police department, more African-American kids will be funneled into the criminal justice system just as their lives are starting.
REAL LIFE. REAL NEWS. REAL VOICES.
Help us tell more of the stories that matter from voices that too often remain unheard.