As Freddie Gray's funeral was taking place in Baltimore in April, students were playing baseball at his alma mater, Carver Vocational-Technical High School. When helicopters began circling overhead, varsity baseball coach Michael Rosenband had a decision to make.  
Rosenband knew police were clashing with protesters -- and even considered canceling the game taking place five blocks from where Gray was arrested. But ultimately, he and other coaches decided to let the students continue playing.
"We were able to keep kids out of harm's way for however many more hours -- that's important," he says in "Baltimore and Beyond," a new video from Brookings Creative Lab. The video highlights the racial and economic inequities of West and North Baltimore by talking to black high-school students living in these communities and letting them explain the flaws in a system they've experienced firsthand. 
"Everything is still segregated and the opportunities are different," Uiseng Francois, a student, says in the video. "Kids aren't allowed to go to certain schools -- or, even if they do, they'll go there but they won't feel comfortable. They'll feel outcasted in those different schools."
In September 2014, 98 percent of Carver's student population was African American and only 1 percent was white, according to an analysis by Mother Jones. This makes it what UCLA's Civil Rights Project calls an "apartheid school." Baltimore is home to several other "apartheid schools," which have led to high levels of income inequality and low opportunities for college preparation.
This helps explain the disparities in college education attainment levels between black and white residents of Baltimore: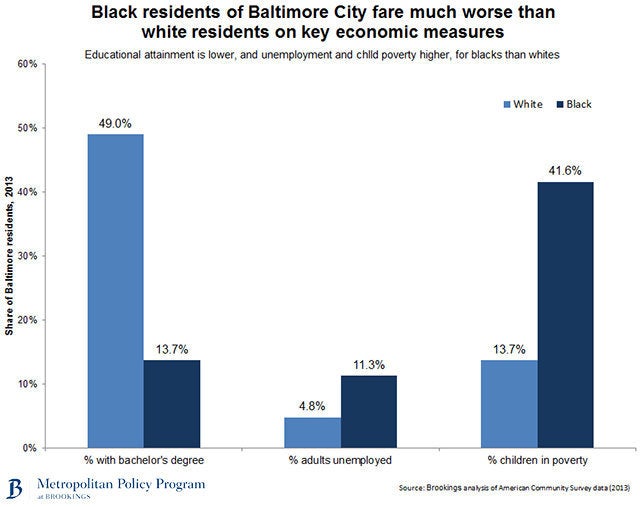 "My neighborhood ... is boarded up and it has trash on the streets," Calvin Pitts says in the video. Later on, he mentions the poor educational opportunities available to people in his neighborhood. 
Baltimore's concentrated poverty levels and income equality are similar to those in other urban areas such as Detroit and Chicago. But what arguably makes Baltimore different is the history of conscious efforts by the city to make sure black residents stayed on their own "side" of the city.  
After a black Yale graduate moved into a white neighborhood in 1910, Baltimore's city government implemented an ordinance segregating black people to the city's slums. Richard Rothstein, a research associate for the Economic Policy Institute, noted in a blog post that when the decree was ruled unconstitutional by the Supreme Court seven years later -- mainly because it imposed on white property owners' right to choose who they sold their homes to -- Baltimore's government tailored its discrimination approach.  
"Baltimore's mayor responded by instructing city building inspectors and health department investigators to cite for code violations anyone who rented or sold to blacks in predominantly white neighborhoods," Rothstein wrote. "Five years later, the next Baltimore mayor formalized this approach by forming an official Committee on Segregation and appointing the City Solicitor to lead it." 
Jennifer Vey, a fellow in Brookings' Metropolitan Policy Program featured in the video, points out that this history rarely receives due diligence from the media.
"The media tends to focus a lot on the distress in these neighborhoods, but the fact is, many people call these neighborhoods home," she says.  
And because this is their home, Baltimore's black residents are taking matters into their own hands by assessing the community's issues and seeing what they can do to alleviate the problems. Teens expressed wishes for new youth centers, after-school programming and, most poignantly, an understanding of where they're coming from.
"To further this community, we all need to come together," said Kory Sanders, a black teenager featured in the video who helps produce a feminist zine with friends to "give young girls a voice."
Mecca Lewis said people shouldn't stereotype the city's black populace, and economic resources should be provided to schools.  
"Money needs to go toward schools so we can raise these 'thugs' -- as our representatives of the country would call us -- to become future leaders and we can then move on and become functional members of society," she said.
Watch the entire video above.  
Calling all HuffPost superfans!
Sign up for membership to become a founding member and help shape HuffPost's next chapter