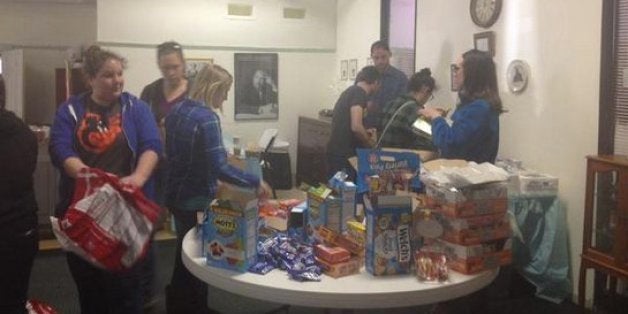 A vast majority of Baltimore's 85,000 public school students are eligible for free and reduced-priced meals, and the city's school closings Tuesday have left thousands of children without access to that food. Thankfully, volunteers and community organizers are working to meet their needs, providing safe spaces and free food for public school students throughout the city.
Hallie Hough, a student at Towson University, heard about #BaltimoreLunch at a protest last night. This morning, she and roughly 30 other volunteers put together bagged lunches, and they have spent the day distributing them throughout the city, she told The Huffington Post.
"Everyone keeps seeing the hashtag and seeing that we're actually out here," she said, adding that more volunteers continued to join her group throughout the day.
Hough's team has been distributing lunches at churches that generally serve breakfasts and dinners to community members in need. The group has also been handing out packed lunches at local playgrounds and around schools.
Charles Wade, a co-founder of Operation Help or Hush, drove from St. Louis to Baltimore on Tuesday morning to help. Volunteers distributed about 110 extra-large pizza pies and well over 1,000 snack packs, he told HuffPost. If school is canceled on Wednesday, they will continue handing out food, he said.
"I don't think Michelle Obama would appreciate us giving pizza every day," Wade added, "so we're trying to make it a little more balanced tomorrow."
While the schools remain closed, some community centers are staying open for students. Red Emma's, a "radical gathering place" that serves as a bookstore, restaurant and cafe, is serving free lunch and advertising itself as a safe space for students.
"We wanted to really be there for them today," Cullen Nawalkowsky, one of the co-owners of Red Emma's, told HuffPost. They put out a call for donations this morning, and as word spread on social media, food and supplies have been pouring in. By 2 pm, at least 50 children, along with residents from a nearby housing project, had picked up food. Meanwhile, an educator from the Maryland Science Center, also closed Tuesday, has spent the day playing science-based games with kids at Red Emma's.
Baltimore's 29th Street Community Center also offered food and activities for children Tuesday. After lunch, a few dozen children remained on the premises doing arts and crafts, watching movies, playing basketball in the gym and using the playground.
"We are really committed for this to be a space that feels like home for our kids," Hannah Gardi, the center's director, told HuffPost.
She said that staffers are open to having difficult conversations about what's going on in the city with the children -- or to just letting them "be kids."
"We have been incredibly, incredibly blessed with the amount of volunteers and donations that are coming in," Gardi added, noting that some of the volunteers helping out, including many teachers whose schools are closed, are organizing activities such as a steel drumming workshop.
Gardi said the center will stay open as a resource for children for as long as schools remain closed.
"We believe in Baltimore, and we believe that this city is strong and its citizens are strong," she said. "It really feels like the community is wrapping its arms around itself. We can rise from this, and we can see a more hopeful tomorrow, especially with our kids."
The story has been updated with comment from Charles Wade of Operation Help or Hush.
Related