Like most big American cities, Baltimore has both its boosters and its detractors--often the same persons, including waggish local boys like H.L. Mencken and John Waters. Alternately called "Charm City" and "Mob Town," Baltimore has all the best and worst of any modern city, but at its core, this is still one of America's most historic and cultured metropolises, and no longer just a gateway to Washington, DC. Indeed, the National Register of Historic Places lists 280 properties in Baltimore.
The city's native sons and daughters include Edgar Allan Poe (who has a museum in town that never seems to be open), "Eubie" Blake and Billy Holiday, Babe Ruth, and Barry Levinson, who's shot several movies in his cherished hometown, including Diner in the photo above, which made the Fells Point Diner a pop culture tourist attraction. (Ironically, there never was a diner on that location; Levinson had one moved there, then moved it back again. Today the location is a brick condo.)
Baltimore's schools, like John Hopkins University and Loyola have enviable national reputations, as do the Walters Art Museum and the Baltimore Museum of Art, this year celebrating its 100th anniversary. Baltimore's sports teams--the Orioles, Ravens, and Mariners--draw crowds from all over the Mid-Atlantic region. It's also the country's leading producer of straw hats. Who knew?
The development back in the 1970s of the Inner Harbor, which includes Harborplace, most certainly brought light, safety and tourism to a once derelict part of the city. Sadly, though, Harborplace has become nothing more than yet another shopping center, with all the usual national brands and restaurants, from Hooter's to Bubba Gump Shrimp Co.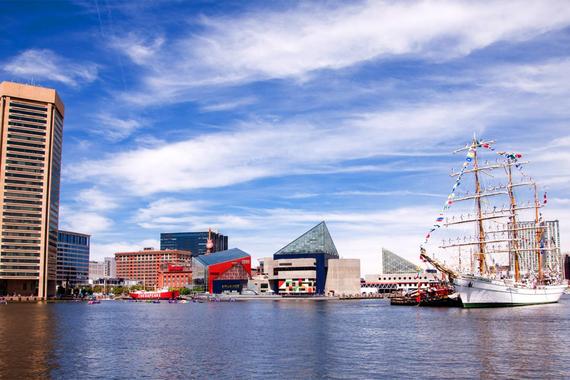 Baltimore is actually an easy one- or two-day visit by train from NYC, Philadelphia, Wilmington and DC. On my last trip I stayed at the Hotel Monaco, which appears to be a stately old grand dame of a hotel but is actually a conversion of the historic and majestic B&O Railroad Headquarters, done in a stunning Beaux Arts architecture (it's well worth reading the building's history, posted on the mezzanine).
With only 202 rooms, there is plenty of space for bed and bath, including bunk beds for families of six, complimentary Wi-Fi and morning coffee and tea, hosted evening wine hour, and free use of public bikes.
Baltimore's restaurants are as varied as in any big city right now, so avoiding the banal offerings in Harborplace is easy. The city's Little Italy neighborhood is within walking distance, with the usual Italian-American style restaurants, all serving pretty much the same menu, though Aldo's is several cuts above most, and actor Chazz Palminteri runs a first-rate Bronx-style pizzeria under his name.
Right on the water is Fleet Street Kitchen (1012 Fleet Street; 410-244-5830; http://fleetstreetkitchen.com), set between Little Italy and Harbor East. Modern and beautifully lighted, the establishment has a convivial bar and tavern room, with plenty of space between tables. In the main dining room plaid banquettes, chandeliers, ceiling lights, and splashes of flowers make this it one of the city's most romantic spots to dine, helped along by a wide-ranging wine list. The Baltimore Sun named it one of the best restaurants of 2014.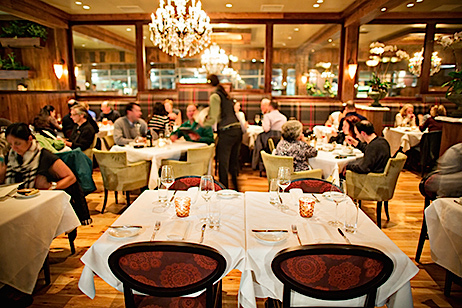 Chef Michael Correll delivers unexpected pleasures like chilled ratatouille soup ($9), with a nicely spiced piperade of peppers. Ricotta-filled ravioli ($13) came with a truffle essence, a poached egg, fennel, brown butter cream and Easter egg radish--a complicated dish whose overkill of ingredients caused the pasta to cool while all the rest of the ingredients were added.
Two main courses were outstanding--a perfectly seared and juicy halibut with glazed baby carrots, the tang of lemon, the crunch of hazelnuts and sweet carrot butter ($30); and roasted pork, impeccably cooked to pink, with a nice crust on the outside, served with charred radicchio, green beans, and sautéed leeks ($30).
There's a four-course dinner men at $65, whereby you choose whatever you like from the menu; a chef's tasting menu of seven courses ($85), and a vegetarian tasting menu ($65); each may be paired with wines for a supplement.
There's no let-up in proportions with the wonderful desserts like honeycrisp apple napoleon with cardamon-flecked cream, almond-pecan granola, and apple sorbet ($9), or the frozen pumpkin mousse with pumpkin seed toffee pomegranate ($8).
The wine list is one of the best in town, but pricey, with too few whites under $50 and top heavy with reds above $100, though they are of good value.
The appropriately named Waterfront Kitchen (1417 Thames Street; 443-681-5310; waterfrontkitchen.com.) is a fairly new, handsome, broad and wide 78-seat restaurant that sets just the right balance of sophistication and casual chic. A canny use of rustic and polished woods along with heavy draperies and woven fabric chairs might only be improved by having soft tablecloths rather than hard surfaces, but the view at twilight of the harbor has enormous charm seen through the 35-foot tall glass windows of the restaurant.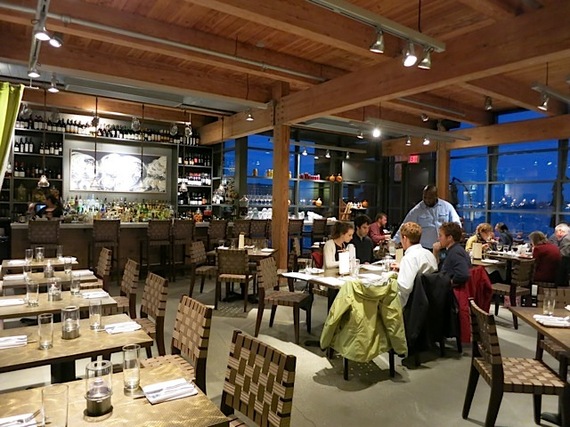 The restaurant also has a "mission statement," which usually means fatuous seriousness, but in fact that mission is to support urban gardening for students (the kitchen has its own garden and greenhouse), and they are involved with a program to hire disadvantaged Baltimoreans.
The ebullient Chef Jerry Pellegrino is a man of good appetite, as you can tell by the generosity of his plates and the emphasis on American tradition. He turns out food that has vigorous flavor and genuine nuance in dishes like pan-seared foie gras with a red wine and fruit compote and spiced nuts ($16) and duck leg confit with plum compote and greens ($12); entrees with heft, like braised lamb shank with crispy smashed potatoes ($32) and pan-seared scallops with roasted pumpkin, crispy polenta and pea tendrils ($30). There is also an array of housemade charcuterie ($9-$11)
As at Fleet Street Kitchen, the 600-label wine list at Waterfront Kitchen seems weighted towards the higher priced bottlings, but they are of high quality too.
Lunch and dinner Tues - Sun.
The odd name of Parts and Labor (2600 North Howard Street; 443-873-8887; http://partsandlaborbutchery.com) derives directly from its having recently been a car garage of the same name (below), and the long lines and wide space of the dining room give it a proletarian grandeur that has been packing people in here as the city's new hot spot since opening last spring. The slowly gentrifying neighborhood has a ways to go before it loses its edginess, but apparently that's part of the restaurant's inherent cool.
Owner Spike Gjerde also runs Woodberry Kitchen in town, with a butcher shop right on the premises of his new place. There hang beef carcasses, dry aging on the walls in order to supply Gjerde's restaurants while allowing him to sell retail to the public.
Inside the stark, deafeningly loud dining area is a 10-foot high soapstone hearth fireplace where all that meat is roasted, grilled and turned on a rotisserie, so the aromas are enough to alert everyone coming through the door just what they're in for. Executive chef and butcher George Marsh offers a short menu that changes all the time, so you might find the cuts of meat changing--he favors the less known, like bavette--so the superb charcuterie served here may one night include kielbasa, ham hocks, and wursts befitting Baltimore's Eastern European immigrant food culture, on another whatever is fresh from the butcher. There are also salted meats, including a coriander flavored mortadella (below).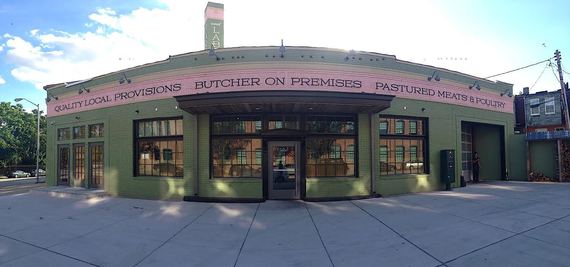 Offal is the pride of the kitchen, so cuts like pig liver, brains, sweetbreads and blood sausage show how every scrap of meat is utilized. There are also a few seafood items, and most of the first courses are vegetables, like grilled broccolini with pecorino, sesame, and fried egg ($13).
Portions of meat are deliberately on the modest size, and are priced accordingly, like a sox-ounce tenderloin at $18. But there are also "Large Bastard" platters for tables of three or more that include a 45-ounce cote de boeuf with potatoes ($100), ten pieces of fried chicken with mashed potatoes, corn and collards ($75), and braised veal shank ($75).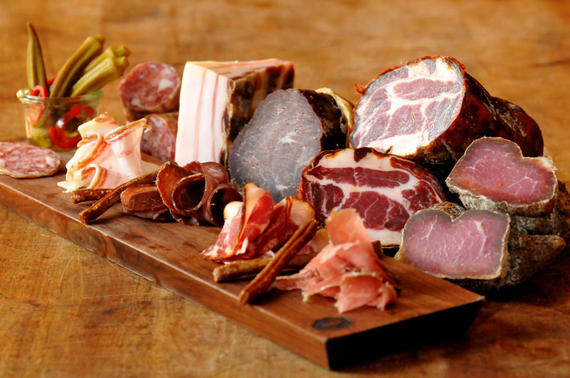 The food comes out when it's ready, so don't expect three timed courses, though the wait wont be very long in any case.
Now about that dry-aged meat: Marsh proudly buys grass-fed beef only, for reasons that range from sustainability to healthfulness, but truth be told, you are never going to get the marbled inner muscular fat and sweet flavor from grass-fed beef that you would from those raised or at least finished on corn.
As a result, the hamburger that was so highly recommended was actually a bit bland, and the steak lacked that richness I seek at a beef-centric restaurant. I'd rather go back for more of the charcuteries and offal, ending off with a dessert like the banana split doughnut with ice cream, which must surely have been raised on corn.
The wine list is nothing to speak of--18 reds, 9 whites--but I can rave about the screed of beers and the huge spirits list here that offers specialties like Lot 50 Single Copper Pot Still Rye, Havana Clun Añejo rum, and Oban 14 Year Old Scotch.
Open Tues-Sun. for dinner. Brunch on Sunday.