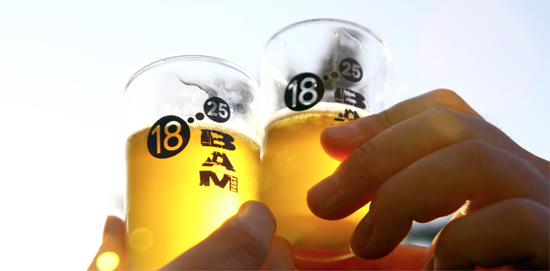 18th Street Arts Center is a celebrated art complex in Santa Monica. Known for its support of the arts, it is home to artist residencies...welcoming international and local artists and encouraging unique installations and performance artists. Seven years ago, it created BAM Fest (Beer Art & Music Festival), an annual fundraising event. "We really have all the local brewers to thank for it," said Jan Williamson, Director of 18th Street Arts Center. "This event could not happen without them and their support of 18th Street. They generously donate 100 percent their time and their delicious brews to BAM fest every year, so that 100 percent of the ticket price is supporting 18th Street's art programs throughout the year."
Each year the event features new artists, plus new brews and musical acts. Also offered at this year's BAM Fest... thirty minute workshops called Crash Courses taught by the brewers themselves. Here the public can learn about craft beer.
"18th Street Arts Center is absolutely an amazing place," said artist Hao Ni. "Everyone here is always very devoted to promoting arts and culture to people in the area. I have met many amazing artists and curators working in wide range of disciplines such as performance, music, painting, and sculptures." Ni is a Taiwanese artist in residence at the art complex, sponsored by the Ministry of Culture in Taiwan. Ni immigrated to Canada at the age of fourteen, and later received a BFA at School of the Art Institute of Chicago, and MFA at the Rhode Island School of Design. 
Ni's residency has just come to an end (one week prior to BAM Fest), and the artist and curator has organized a group show. "I am very excited to see how different artists "filter" their everyday experiences to give us fresh perspectives to our daily rituals, and I hope by having a group show together we can start a larger conversation with the viewers at the festival." 
The title of this show is "Dirty Particles." According to NI, this exhibition imagines the space as an air filtration system, where filters become paintings, contaminants and residues become sculptures. Through these filtration process, artists from different places and backgrounds use different methods and mediums to examine, exercise, exorcise our day to day rituals.
The artists participating in the group exhibition are: Chris Papa, Andy Giannakakis, Roque Montez, Sarah R. Pater, Gail Dodge, Anna Garner, Hao Ni, Martin Smick, Rui Hu, and Michael R. León.
BAM Fest features a full day of beer tasting, live music and of course art! See the website for a full list of art events, the music line up and participating breweries. The public is encouraged to take a car service or the metro which is one block away, at 17th St/SMC.
BAM Fest takes place this Saturday, September 24th, from 1:00 pm - 5:00 pm. 18th Street Arts Center is located at 1639 18th St. Santa Monica, 90404. Tickets run from $20 - $50 per person. To purchase tickets or for more information about BAM Fest 2016 and 18th Street Arts Center visit: http://18thstreet.org
REAL LIFE. REAL NEWS. REAL VOICES.
Help us tell more of the stories that matter from voices that too often remain unheard.