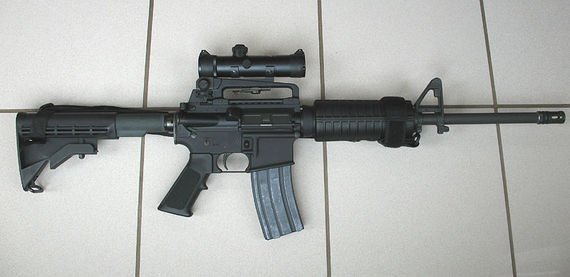 In so many places in scripture, God's judgment means nations have to choose whether they will pursue violence or whether "They will beat their swords into plowshares and their spears into pruning hooks." (Micah 4:3; Psalm 46:9; Isaiah 2:4)
So far, in the United States, too many of our leaders choose the pursuit of violence by failing to reign in the instruments of violence. They protect the profits of gun manufacturers over the lives of our citizens. Amazingly, even after the massacre in San Bernardino Republicans blocked a bill to keep terrorists from buying guns.
We need to seriously ask ourselves about God's judgment on those politicians, or on a political candidate like Donald Trump who responds to a mass shooting by advocating more guns, not less.
We know the results of these moral failings in leaders and would-be leaders. We are once again standing hip deep in the blood of our fellow citizens, crying out in grief and anger at sudden death visited upon our communities. Forty-nine people have been killed and 53 others injured in a mass shooting at a popular gay nightclub in Orlando, Florida.
Every three months analyses show this scourge of mass murder is visited upon the citizens of the United States. Motives and victims differ, but there is one staggering commonality: assault weapons.
What other than senseless death unites children in Newtown, Connecticut, college students, moviegoers, California social workers and so many more?
All of these different Americans were killed with assault weapons, the AR-15 semi automatic version of a U.S. Military assault weapon.
These weapons were banned in 1994 after a number of mass shootings in the '80's and '90's. Ten years later, the ban was lifted and since then the number of mass shootings in the United States has skyrocketed. Yes, the assault weapons ban worked to reduce mass shootings.
There is only one possible faith response to this horrific national moral failing and that is to once again ban assault weapons.
Here are some things you can do right now to try to work to renew the ban on assault weapons:
1. Vote your views. The single greatest obstacle to legislation to ban assault weapons and provide sensible gun control legislation is the legislators we elect. Vote to elect those who will protect the American people from gun violence
3. Join organizations such as Everytown for Gun Safety or Moms Demand Action for Gun Sense in America and support their advocacy.
4. Call or visit your current members of Congress and tell them you support an assault weapons ban.
5. Call the offices of your religious organization and ask them to speak out to ban assault weapons and for gun control. I am proud to say my Christian denomination the United Church of Christ has done so.
6. Organize and/or join interfaith public prayer vigils on banning assault weapons and providing sensible gun control for our nation.
Pray for the victims and their families and friends of the daily gun carnage all over this country.
Our failure to act to prevent these gun deaths is a moral catastrophe of biblical proportions.
Calling all HuffPost superfans!
Sign up for membership to become a founding member and help shape HuffPost's next chapter