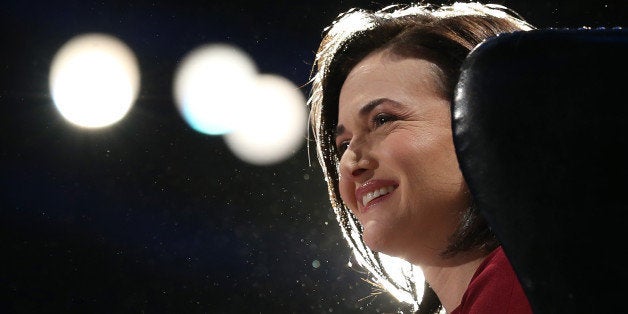 We're picking hash tag sides again. This time it's #BanBossy versus #EmbraceBossy. In the past we've had #LeanIn and #OptOut. #SAHM versus #WorkingMother helped create the so-called #MommyWars.
While it's helpful to raise awareness of real issues facing women and girls, Sheryl Sandberg's #HashTagGospel needs to be seen for what it is: good, old-fashioned marketing.
I don't doubt that Sandberg is passionate about girls and leadership. It's also obvious that she's an advocate for women in the workplace. Sandberg, estimated to be worth $1 billion, is the COO of Facebook, a multibillion dollar corporation whose majority of users are women. Because of initiatives like Lean In and Ban Bossy, Sandberg has become the spokesperson for my gender.
I believe in PR and marketing. It can make or break a company and often isn't given enough credit for a company's success. Maybe because I'm a marketer myself, the connection between Facebook and Sandberg's pro women and girls campaigns disturbs me more than most. I see the marketing and PR machine hard at work. Facebook knows its audience and with Sandberg, it's reaching us.
It's a brilliant strategy and I don't fault Sandberg or Facebook for it at all. Why wouldn't you make your female COO an expert on issues facing your biggest target market? But it's a dangerous game, making one woman, so closely tied to corporate interests, the spokesperson for women around the world.
Because there are so few women in positions of power, it's easy to see why Sandberg is able to represent all of us. This would never happen if Facebook's COO was a man because he'd be just like almost every other C-level executive in the country, male. Being a female in a position of power in a major company is a huge deal, but it shouldn't be. If more women were in top positions, we wouldn't be debating Sandberg's opinions because it wouldn't be news. She'd be just another COO and it wouldn't be enough to feed the marketing machine.
So instead of focusing on one woman's opinion of banning bossy or leaning in, let's turn the conversation to how we can collectively change the workplace. Let us focus on changing the outdated systems and male dominated culture upon which these corporations were built. Let's start companies that foster balance between our work lives and personal lives. Make a space for women leaders to work in a way that makes sense for them as women and mothers and still advance in their careers.
Hash tag campaigns fueled by corporate marketing initiatives, while brilliant, are not enough to #makeachange.
Calling all HuffPost superfans!
Sign up for membership to become a founding member and help shape HuffPost's next chapter