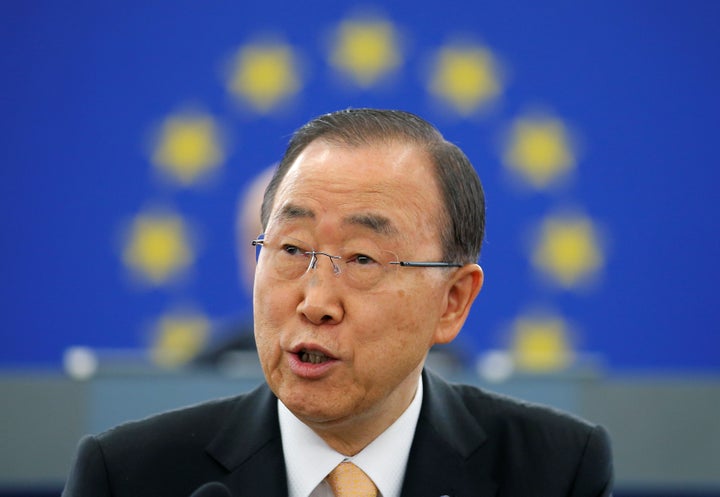 COLLEGE PARK, Md. ― United Nations Secretary-General Ban Ki-moon rebuked politicians who "divide people" on Friday, urging leaders to "build bridges" instead of "erecting walls and barriers."
That sounded like a veiled swipe at Republican presidential nominee Donald Trump, who has repeatedly promised to build a wall along the U.S.-Mexico border.
"Let us build bridges of mutual understanding and mutual support, instead of erecting walls and barriers," Ban said during a speech at the University of Maryland, College Park.
"By respecting diversity, you can have much more strength," the U.N. chief said. "When you respect all the traditions, and their cultures and their languages ... it can have a much more powerful force and energy."
Ban's remarks were a more subtle version of the Trump criticism that has come from Zeid Ra'ad al-Hussein, the U.N.'s human rights chief. Zeid first criticized the Republican nominee, among other right-wing politicians, last month in a statement condemning "populists, demagogues and political fantasists."
That prompted a rebuke from Russia, a powerful U.N. player with a permanent position on the Security Council. The Russian representative to the U.N. called for Zeid to take back his comments about Trump and similar politicians in Europe, all of whom deny ties to Russia while praising its leader.
Ban, who has served two terms as secretary-general, will step down at the end of the year. The former South Korean foreign minister has presided over the U.N. during a tumultuous decade that saw a global recession, multiple uprisings and refugee crises in the Middle East and Africa.
During his tenure, Ban became known as a powerful advocate for more international action to fight poverty and climate change. But he also struggled to overcome a perception that he was a weak and aloof leader.
The U.N. General Assembly voted Thursday to approve former Portuguese Prime Minister António Guterres as his successor. Ban and others had urged the organization, ultimately without success, to select a woman to be secretary-general – the first in the U.N.'s 70-year history.
Ending the war in Syria, which has claimed about half a million lives and forced millions more out of their homes, will be a top priority for Guterres, who most recently served as the U.N. high commissioner for refugees.
Ban said Friday that no country alone could solve the problems posed by mass global migration. While he did not directly address Syria's war, he said that nations need to step up their efforts to aid in the refugee crisis, which is majorly driven by the situation in Syria.
But the U.N.'s credibility in that country has plummeted because of controversies over the international organization's distribution of aid. Critics say that U.N. agencies and other humanitarian groups have allowed the regime of Syrian President Bashar Assad to direct most outside help to regions under his control, leaving some of the neediest civilians in rebel-controlled areas without food and medicine. Businessmen close to Assad have won tens of millions of dollars in U.N. contracts, the Guardian revealed recently, and The New York Times found earlier this year that the U.N.'s World Health Organization had hired the wife of a top Assad official.
Related
Popular in the Community