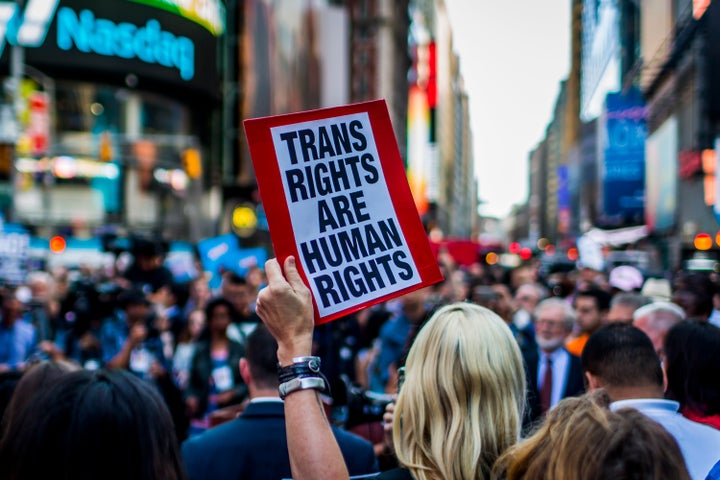 I am a retired veteran after 20 years of honorable service in the United States Air Force. I am also a transgender woman who like many other transgender veterans, endured having to deny who I was just to be able to serve in the military.
President Trump's tweet that transgender people will not be allowed to serve in the military will greatly reduce our military readiness. There are approximately 15,000 active duty transgender service members whose lives and careers will be ended if this becomes the policy adopted by the Department of Defense. Much work was put into allowing open transgender service and has had no impact on military readiness.
"Tremendous medical costs," were cited as a reason for this decision. The actual cost to cover transgender healthcare, according to CNN, is between $2.4 million and $8.4 million and is limited to counseling and hormone therapy which does not affect the service members' readiness to deploy. The military is not performing expensive gender-affirming surgical procedures that would drive the cost up significantly. For the President to make one trip to Mar-a-Lago, it costs us taxpayers approximately $3.6 million, according to a Government Accountability Office report.
Transgender Americans have been told by their President that they are less than and are not welcome to serve this nation in the armed forces. For those that choose to remain closeted, their integrity has been violated as they are now once again forced to lie about their gender identity just to be eligible to serve.
Transgender Americans have served honorably for decades, the only difference is that until this morning, those presently serving were allowed to serve openly. A recent survey of transgender Americans revealed that 20 percent of those participating have served or are currently serving in the military.
What about the 15.000 transgender service members presently serving? Is the United States going to dismiss these Americans who have dedicated their lives defending our freedom? The cost to train 15,000 replacements far exceeds that of treating these service members through transition. You can't replace their years of experience either.
As a transgender veteran, I am appalled at this declaration by our Commander in Chief. I can't help but wonder what marginalized group of American citizens will be next to be told that they are not worthy to serve. I served for 20 years and lived a lie each and every day to avoid prosecution and being discharged under other than honorable conditions just for being me.
Thank a veteran for their service regardless of their sexual orientation or gender identity. They put their lives on the line to protect the rights that we as Americans now so often take for granted.
Served in the U.S Air Force from May 1981 to June 2001
BEFORE YOU GO