Clean waters mean healthy communities.
That's why there's been a renewed push to care for the waters surrounding New York. More attention paid to the water around us means healthier ecosystems, which affect the food we eat, the work we do, and the recreational activities we enjoy.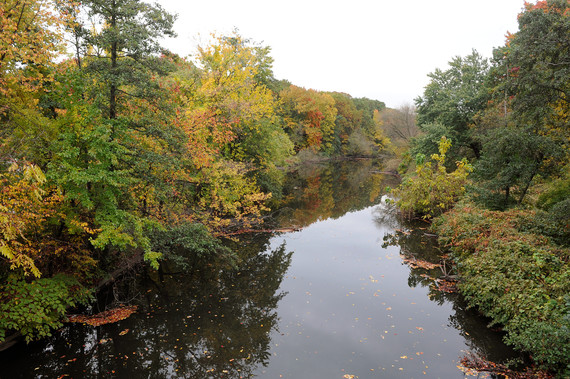 The Bronx River suffered from centuries of abuse and neglect. In 2001, thanks to federal funding distributed to 22 organizations, restoration crews have hauled out more than 30,000 tires, appliances, bicycles and pieces of furniture, along with 26 cars and six motorcycles. Photo by Julie Larsen Maher ©WCS
Ironically, one of the ways modern society has invented to keep itself clean is having a decidedly unclean affect on our waters. Microbeads, those tiny plastic particles that have recently been added to cosmetic products to add "abrasion and exfoliation," are finding their way into our lakes, rivers, streams and the ocean. Because they are too tiny for sewage treatment plants, many are not filtered out of the effluent that runs into our waterways.
The beads have chemicals contained in the plastic and also collect on their surfaces other pollutants from the waters, including DDT and polychlorinated biphenyls (PCBs), which are highly toxic to living organisms. The particles are then ingested by fish, amphibians, and other small animals, which mistake the microbeads for food, and then become part of the food chain as larger animals eat the smaller ones.
The problem is massive: a new study published in Nature estimates that 8 trillion microbeads per day are emitted into United States waterways alone. Some states, including New Jersey, have used this information to ban microbeads locally in recent years, but more needs to be done.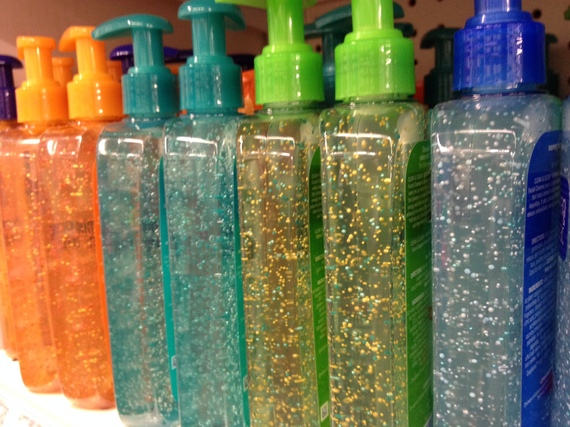 Microbeads, the tiny plastics found in beauty products and toothpaste, harm the environment. Photo by Chip Weiskotten ©WCS

This should be an easy problem to solve nationwide. There are already natural alternatives to microbeads on the market, and cosmetics and personal care companies are slowly phasing out plastics in response to consumer pressure. But the products containing microbeads remain widely available despite overwhelming evidence of their harm.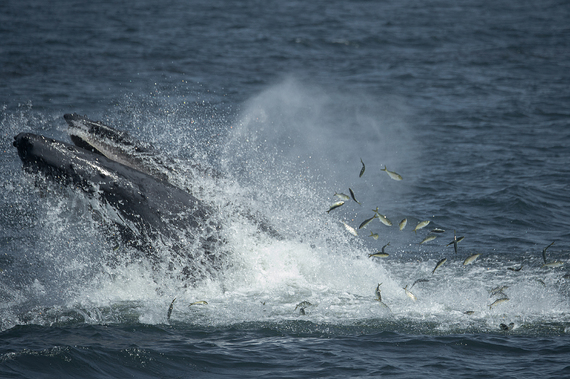 A humpback whale lunge feeds on menhaden in the waters of the New York Bight. Photo by Julie Larsen Maher ©WCS
These tiny terrors are catching the attention of some legislators at the federal, state and local level who want to ban the microbeads to improve our waterways. One upstate New York community has decided to blaze the trail. Earlier this year, faced with data that showed that microbeads account for an estimated 90 percent of new plastic pollution in Lake Erie, the Erie County legislature unanimously passed a law that bans retailers from selling the harmful products. A bipartisan mix of Buffalo-area Democrats and Republicans saw that this is an easy way to help protect our waters and wildlife.
Today, I participated in a press conference at WCS's Central Park Zoo at which New York City Councilman Dan Garodnick introduced a bill to ban products containing microbeads within the city limits. The passage of a ban in New York City would have a multiplying effect on this effort by raising nationwide awareness of this crisis and building upon the momentum.
Why have other states and the federal government been so slow to do something about this?
There is political will for this type of action at the state and federal levels, but the progress has been incremental. New York's Attorney General Eric Schneiderman has been urging the state legislature to pass a ban for two years, but it has stalled twice. He has committed to continue to push for this legislation, and the actions taken by Erie County and in New York City can stand as an example.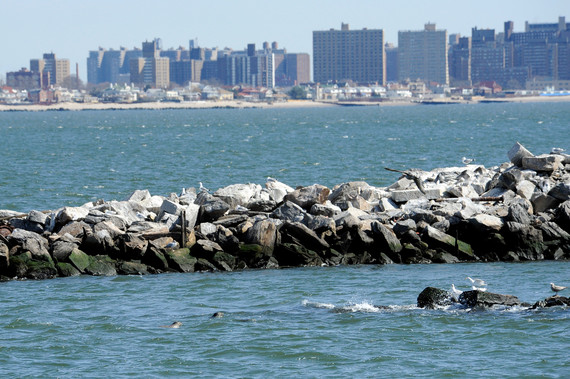 The New York Seascape is WCS's local marine conservation program designed to restore healthy populations of local marine species and protect our waters, which are vital to wildlife and key to the area's economic and cultural vitality. Photo by Julie Larsen Maher ©WCS.
In the U.S. Congress, New York Senator Kirsten Gillibrand, Ohio Senator Rob Portman, New Jersey Congressman Frank Pallone, and Michigan Congressman Fred Upton, along with others, have introduced bipartisan federal legislation entitled the Microbead-Free Waters Act. The bills are currently being reviewed and it will be our collective responsibility to make sure our public officials realize that we want action on this issue.
New Yorkers are increasingly recognizing the importance of the waters of the New York seascape, and the benefits that come from keeping those waters clean and healthy. Banning microbeads is a common sense solution to a harmful problem that would result in little to no additional cost to consumers or corporations. This is a step that would improve the health of our waters and by extension our communities. It will take all of us working together to make sure this is on the radar screen of our elected officials. Let's make it happen.
Calling all HuffPost superfans!
Sign up for membership to become a founding member and help shape HuffPost's next chapter