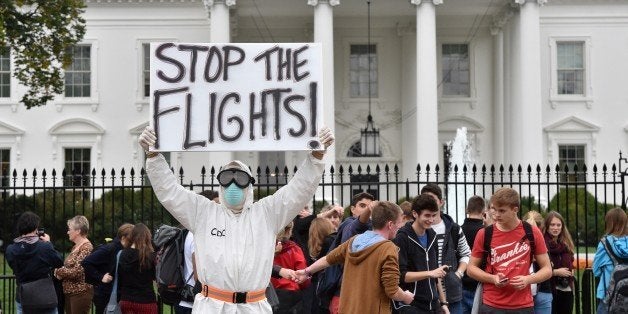 Donald Trump has called President Obama "psycho" for not banning all flights from Liberia, Sierra Leone, and Guinea. Rush Limbaugh has (again) questioned the president's patriotism for his refusal to protect Americans by banning flights, and that man in the Hazmat suit in front of the White House holding the sign "Stop the Flights" seemed to be on the front page of every newspaper this weekend.
Americans are being scared into a frenzy that every day, planeloads of disease-infected Africans are arriving at major airports. I decided to conduct a non-scientific survey of friends and neighbors about how many direct commercial flights from Liberia, Sierra Leone and Guinea arrive daily to all the American and Canadian airports combined. I got answers ranging from 20 to 200. No one was even close.
The correct answer is zero.
There isn't a single direct commercial flight to North America from any of these three countries. From Sierra Leona and Guinea, the only flights to Western countries are to Paris and London, and from Liberia, there is a flight to Brussels (which is how Mr. Duncan, the first person diagnosed with Ebola in the United States, eventually made is way to Dallas). All of that data is easily available online if you go to Kayak, Travelocity, or any number of websites such as openflights.org that publish diagrams of all current airline route maps.
There are no direct flights, and as a result, President Obama cannot ban them. They do not exist.
I've been to West Africa, working as a music journalist, and to get there from the United States is not easy. I was based in Ann Arbor at the time, and had to take four flights to get to Mali, connecting in places like Amsterdam and Zurich along the way.
Why are there no direct flights? There simply is no demand. The United States Department of State reported that in 2013, a total of 13,500 visas were issued to residents of Liberia, Sierra Leone and Guinea combined. That works out to about 36 a day (or, if the visas were distributed evenly, about 12 a day per country). Delta, Northwest, United and American are not about to set up direct New York to Conakry routes to serve 12 Africans a day that come here from Guinea, plus however many aid workers, journalists and missionaries need to return home. It is almost impossible to get a visa to the United States if you live in West Africa. There are no Liberians who can decide, "Let's take the family to Disney World on our next vacation." Such a visa request would be surely denied. The visas that are issued are predominantly to visit family members (such as the one for Mr. Duncan who came to see his son's graduation).
Should we then relax because there are only a few dozen from the Ebola-epidemic region arriving each day? Absolutely not. It just underscores the problems that the CDC is facing. Can the United States suspend the visas of those three-dozen or so from these three countries that travel daily? Maybe. But since people in those countries are free to leave, such a visa suspension would probably just result in travelers being stranded at airport hubs across Europe (and that wouldn't stop passengers with dual nationalities from flying, or possibly infected Americans from returning home).
Most Americans think that setting up quarantines is a good idea. But since there are no direct flights to the United States, such a program would be much more practical if it was set up where the flights actually arrive, in Europe or other African countries. The bottom line is that there aren't any easy solutions.
On the positive side, there are two Ebola vaccines that are undergoing human trials. If they prove successful, they would be first given to health care workers, which would go a long way to get this disease under control.
Until then, Americans should worry about something that is more likely to kill them. According to the CBC, over 53,000 people die every year from influenza and pneumonia. So far this year, just one person has died in the United States from Ebola.

Dan Rosenberg is a journalist based in Toronto, Canada. He has traveled the globe, reporting about music for Afropop Worldwide, CBC radio, and currently produces CDs for the Rough Guide to World Music series.
Popular in the Community