With back-to-school starting, we look for breakfasts that can please the whole family and fuel you up. My favorite: a stack of lightly sweetened pancakes. Traditional pancakes normally do not satisfy me -- although I love the taste of them. Because most pancakes are not very nutrient-rich, I end up craving more protein, and feel more heavy than energized once that stack is gone. So, we came up with a smarter pancake... one that is high in fiber and protein, and although it satisfies the comfort food that pancakes do, it leaves you feeling fueled and light. This is the kind of pancake that could be eaten more than just on an occasional weekend -- this is great for the whole family, and can be whipped up in no time with those ripe bananas you have on your counter.
Our Smart Banana Bread Pancakes recipe is chock full of natures finest ingredients with bananas, coconut milk, almond flour, and oat flour. As a bonus, they are sugar free, gluten free, and dairy free, but that's our little secret. These pancakes have a depth of banana flavor, with just a hint of nuttiness from the almond flour. We guarantee they will make your house smell like a loaf of banana bread, but with half the mess and half the time! Start your day off right and make these pancakes for a decadent breakfast for all ages.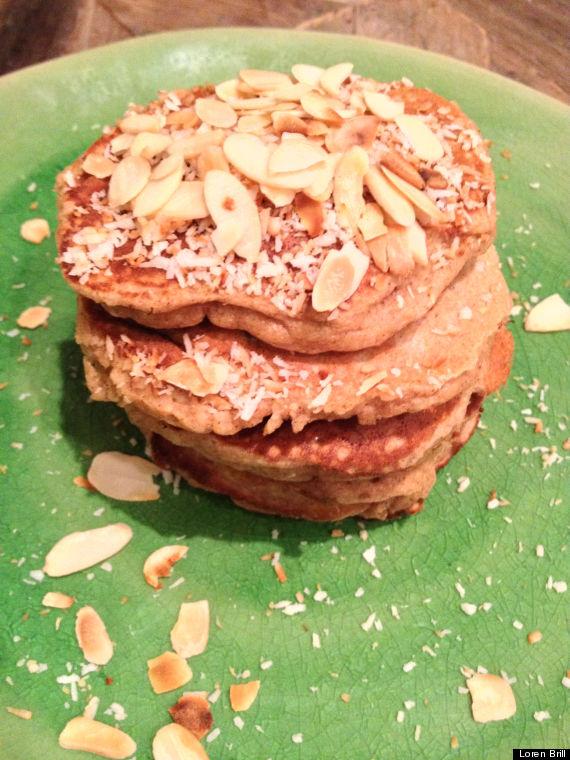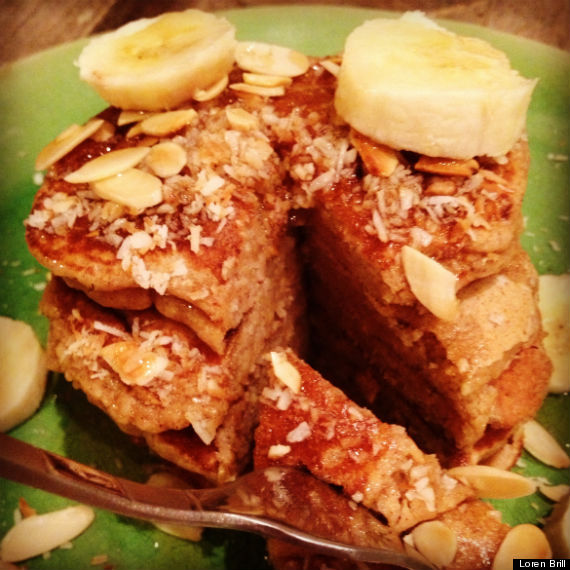 gluten free, dairy free & sugar free
2 ripe mashed bananas (86g)
1/2 cup coconut milk (94g)
1 1/4 tsp. vanilla extract (5g)
2 eggs (97g)
1/2 cup finely ground almond flour (86g)
1/2 cup gluten free oat flour (56g)
1 1/4 tsp. baking powder (7g)
pinch of salt
1 1/4 tsp. cinnamon (3g)
pinch of nutmeg
toasted almonds & toasted coconut; for serving
coconut oil for frying
Combine all wet ingredients (banana, coconut milk, eggs, vanilla) with a whisk.
In a seperate bowl, whisk together all dry ingredients (almond flour, oat flour, baking powder, salt, cinnamon, and nutmeg.)
Add dry ingredients to wet ingredients using a wooden spoon. Mix just until combined, and until no lumps are visible. (Overmixing will cause tough pancakes!)
Melt coconut oil over low heat in a saucepan. Drop 1/4 cups of dough and fry over medium heat, 2-3 minutes per side. Pancakes are ready when they are golden brown on both sides, and cooked through.
To serve, top with toasted almonds, toasted coconut, and maple syrup. Enjoy!
***Variation: For a sweeter pancake, add 1/4 evaporated cane juice to the wet ingredients, proceed with recipe as directed. You can also add 1/2 cup mini-chocolate chips or 3 tablespoons nut butter of your choice mixed into the batter for added protein.