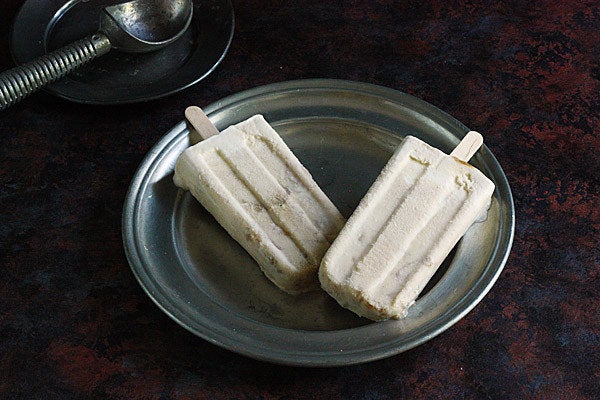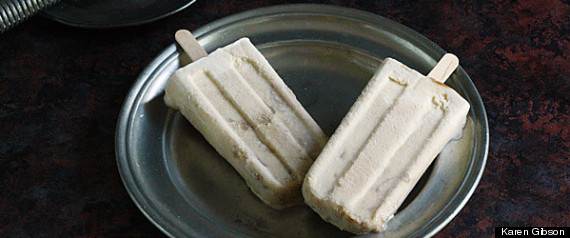 My childhood home was located in a sort of shallow geographical bowl, where the neighborhood streets circled up and out from ours -- a twisty terrace of bland suburban houses -- in all directions. One of the benefits of this layout -- second only to the uninterrupted maze of downward sloping streets, perfect for coasting one's bright pink, banana seat Huffy all the way home (hands-free, of course. Sorry, Mom!) -- was the way that sound carried from all directions and swooped down our street, clear and bright. Lifeguards' whistles from the swim club to the west. Fire engines pealing to the north. School bus brakes squeaking and squealing to the south. Shouts from a front-yard pick up game to the east. And best of all, the tinny, calliope music of the blue and white Mr. Softee ice cream truck beginning its slow, winding descent to our street.
Plenty of time to run home from wherever we were, brush the dirt from knees and elbows, and smooth fraying braids in a hopeful effort to look like Mom's perfect angel who unquestionably deserves ice cream. Quarters in hand, we'd tear across the street and queue up, standing straight and tall in an army-perfect line so that Mr. Softee wouldn't possibly confuse us with ruffians horsing around in an insincere, ice-cream-unworthy line, and drive by without so much as a glance backwards. (We believed Mr. Softee judged us like Santa Claus -- good kids got ice cream; the bad, not so much.) Nothing was better than Mr. Softee's soft-serve ice cream. Not even the electric blue Slushies at the convenience store down the street. Ice cream -- truck-delivered or otherwise -- was a real treat, not an every day thing. Homemade ice cream was an event involving lots of rock salt and muscular arms: if there wasn't a captive audience observing the spectacle (and willing to take a turn behind the crank, natch), it was hardly worth doing.
Today, ice cream fanatics can have their cravings tamed 24/7 -- even Target sells ice cream. And ice cream made in the comfort of one's own air conditioning is only 30 no-physical-labor minutes away, thanks to self-churning units and stand mixer attachments. In fact, homemade ice cream is a creative cook's dream -- experimenting with flavors and add-ins is fast and low-cost, and taste-testing ice cream is an entirely unsucky way to spend an afternoon.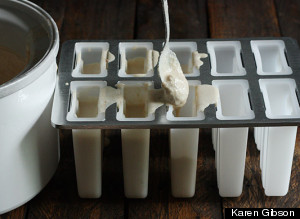 That's exactly how these Bananas Foster Creamsicles came to be. Having recently revisited an old recipe for that famous -- and fabulously simple -- dish, it was a short leap of inspiration to swirl those sweet-and-saucy bananas into fresh, vanilla bean ice cream. Inspiration really set in, however, when I tossed a big pinch of salt into the bubbling rum sauce. Bananas Foster is basically a simple rum-spiked caramel sauce with bananas. And you know what salt + caramel means. Thaaat's right: salted caramel. Salted caramel sauce and bananas stirred into vanilla ice cream. With rum. On a stick. Move over, Mr. Softee, it's time for grown-ups to enjoy their ice cream.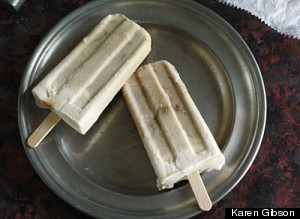 Bananas Foster Creamsicles
For the bananas foster mix:
(adapted from the original at
)
6 tablespoons butter, unsalted
1 cup dark brown sugar
1/2 teaspoon cinnamon
1/8 teaspoon of freshly ground nutmeg (3 or 4 passes across a grater)
1/4 cup dark rum
2 tablespoons heavy cream
big pinch of salt
2 bananas, cut in half lengthwise, then sliced into thin half moons ice
cold water
For the vanilla bean ice cream:
1 cup whole milk, chilled
3/4 cup granulated sugar
2 cups heavy cream, chilled
2 teaspoons vanilla bean paste, or 1 whole vanilla bean, sliced open, seeds scraped
Makes about 24 creamsicles
Prepare the bananas foster mix:
Melt the butter in a deep skillet over medium heat. Stir in the brown sugar, cinnamon and nutmeg until dissolved and syrupy.
Carefully add the rum - the mixture will sizzle and bubble enthusiastically. Allow to cook until the bubbling calms, then add the heavy cream and salt, stirring well to create a smooth mixture.
Add the banana slices and cook for 2 to 3 minutes until the slices are soft. Remove skillet from heat.
Fill a large bowl halfway with cold water and ice. Pour the mixture into a smaller bowl and nest that bowl in the ice water. Keep the mixture cooling over the ice water while you prepare the ice cream, replenishing the ice as it melts.
Prepare the ice cream:
In a medium bowl, whisk the milk and granulated sugar until the sugar is dissolved. Stir in the heavy cream and vanilla.
Process in your ice cream maker according to the manufacturer's directions. During the last five minutes of processing, spoon out about 1/2 cup of the vanilla ice cream into a small bowl and set aside. Add about 3/4ths of the cooled bananas foster mix into the ice cream maker and allow to blend.
Just before you turn off the machine, add the remaining mix and let it swirl briefly in the ice cream.
Spoon the bananas foster ice cream into your popsicle molds, leaving about 1 inch of head room, then top off each mold with some of the plain vanilla ice cream. Freeze according to the molds' directions (don't forget to insert the sticks*).
Depending on the size and quantities of your molds, you might have leftover ice cream. Tragic. If so, store in an air-tight container and enjoy sneaking spoonfuls at your whim. *Some popsicle molds have issues with the sticks shifting out of place during freezing. To avoid this, allow the ice cream to freeze part way, then insert the sticks.
Popular in the Community